This week we're sharing stories from members of Springer Nature's employee network for LGBTQ+ staff and allies, SN Pride. In honor of SN Pride's first anniversary. Read more from Springer Nature staff below and check back for new stories every day this week here on The Source.

Written by Alfredo Carpineti, PhD

Chair and founder of Pride in STEM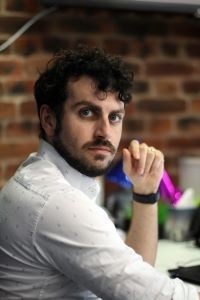 July 5th will once again be the International Day of LGBTQ+ people in Science, Technology, Engineering, and Maths. When we launched it for the first time last year we could not imagine how many people would want to take part in it. Tens of thousands of tweets carrying the hashtags were shared, focusing on raising the profile and discussing the many barriers for LGBTQ+ people in STEM.
My wish for this year is that more and more people, allies and not, become pro-active in tackling discrimination. And while my focus as chair of Pride in STEM is LGBTQ+ issues, many challenges are shared among all the underrepresented groups.

It is important that hate is called out. Silence doesn't help anyone. It takes so little to be vocal and support underrepresented groups, to amplify their voices, to give them space. And it makes a world of difference.

In the report on "Exploring the Workplace for LGBT+ Physical Scientist" an anonymous cisgender heterosexual man has this to say about investigating the quality of life in the UK for LGBT+ people working in Chemistry, Physics, and Astronomy.

University is meant to be a professional working environment. So, as to why this questionnaire is asking such childish questions is beyond me. Outside of the physics department, in more a social setting, this would be fine. But inside the department we are all just scientists, regardless of gender or sexual orientation, etc.

This is an attitude that we personally have seen time and time again. Being your whole self in a work environment (and that goes beyond gender identity and sexuality) is seen as unnecessary and sometimes inappropriate by people who have never had any aspect of their identity questioned.

When these opinions are challenged by allies, and at an institutional level, they are often simply considered inappropriate or rude, but no more than that. Homophobia, biphobia, transphobia and equally racism, ableism, and misogyny are not just outdated opinions and unsavoury jokes. They are something dangerous. They are a real threat to people.
Trans women of colour, one of the most marginalized groups in our community, continue to be harmed and killed. In 70 countries, same-sex relationships are illegal, and in seven it carries a penalty of death. Transphobia is endemic in the media discourse in the UK, which translated to a surge of transphobic aggressions. A small group of scientifically illiterate academics want LGBT+ training scrapped from universities, as they prefer to discriminate under the guise of "academic freedom." More than 50 percent of British non-binary people in the UK physical science institution do not feel comfortable being there.

This is just a taste of the terrible stats for LGBTQ+ people worldwide. And this is why it is disheartening seeing scientists and engineers who are openly against LGBT+ rights continue to advance in their careers, being given platforms in media and by learned societies. Every underrepresented group will have examples of successful people whose hostility towards a minority group has not hindered their career at all.

The overwhelming amount of support seen in the two letters condemning transphobia in UK universities with many thousands of signatories shows that people want to stand up to hate. It was truly great to see.

My wish for the future is that this becomes more and more of an "action" rather than a reaction. That we are constantly discussing the issues faced by any underrepresented group, that we give space and support to these people. That we support them and that soon everyone will be able to feel that they belong in STEM.

I know that it is a utopic goal with incredible challenges, but what's the point of science if we are not striving for the impossible?

Dr Alfredo Carpineti (he/him) is an astrophysicist, science journalist, and social activist. He is the chair and founder of Pride in STEM, an award-nominated British charitable trust dedicated to supporting and showcasing LGBT people in science, technology, engineering, and maths. Pride in STEM and other sibling organisations launched and continue to promote LGBTSTEM Day, the international day for LGBTQ+ people in STEM, happening globally this July 5th. He works full time for IFLScience where he writes about astronomy, technology, and physics.
Read more about Springer Nature's employee network for LGBTQ+ staff and allies, SN Pride, and read more stories from Springer Nature staff:
Beyond the Binary by Laura de Kreij
Stonewall 50: A personal reflection by William Curtis, PhD
You might not know me by an employee of Springer Nature
Celebrating one year of SN Pride by Lewis Miles