Tackling the climate crisis requires rapidly exchanging knowledge across geographic, economic, and disciplinary boundaries. That's why the theme for Open Access Week 2022 is 'Open for climate justice'. To mark this, we're talking to researchers who've published open access climate research under Springer Nature's Transformative Agreements to find out more about their work and why they feel open access is so vital for tackling climate change.
In this blog, we hear from Johann Stiepani, a PhD candidate at Uppsala University in Sweden who is studying the sustainability of tropical coastal ecosystems.
Johann Stiepani's research is focused on the coastlines of the Indo-Pacific region – an area that is incredibly vulnerable to the climate crisis. The World Bank estimates that by 2050, the 'South Asia' and 'East Asia and Pacific' regions could see as many as 89 million internal climate migrants – people displaced within their own countries.
"Vulnerable people and societies in tropical coastal areas are disproportionately affected by climate issues," says Johann. "That's why filling in knowledge gaps with innovative research is of highest priority to highlight climate solutions that will make coastal societies more resilient."
"My work aims to address climate justice issues that might not be obvious and find solutions to address food security, gender disparities, and a degrading environment – all of which are worsening in our current climate crisis."
Johann's research published with Springer Nature, in Ambio and Regional Environmental Change, looks at how small-scale fisheries are being impacted by both the human population and environmental changes.
"My work uses a social-ecological lens to address sustainability concerns," he explains. "It focuses on small-scale fisheries across the tropical coastlines of the Indo-Pacific and highlights detrimental impacts of climate change. For example, the impact of shifts in seasonality on coastal fisheries and the effects of coastal environmental degradation. I study how humans and nature can interact and how we can anticipate and react to the effects of a changing climate in the context of environmental management and governance."
Climate justice and the role of open access
Across the globe, researchers, campaigners, politicians, policymakers – and society at large – need access to research about the climate crisis. For Johann, whose work focuses on regions which are already being impacted by the effect of climate change, this need for open access (OA) feels particularly important.
"My work focuses on regions of the world that are highly marginalized and face extreme changes in the current climate crisis," he explains. "The articles I produce focus on regional solutions to environmental policy, management, and governance. The regions of focus in my research would have limited access to these results and recommendations without open access publication. I believe the ability to get research to society and to people should be one of the highest priorities for researchers, universities, and publishers."
Johann published his research under the BIBSAM Transformative Agreement. This meant that as a corresponding author affiliated with a participating Swedish institution, he was eligible to publish OA with all the publication fees covered. His most recent article has over 3,000 accesses.
"When looking to publish my research, the ability to publish open access is one of my highest priorities," he explains. "I want to get the results to the people, leaders, and institutions that will benefit the most from my research efforts. If open access is not an option then they may not be able to use solutions that are highly relevant for them."
Open access and the SDGs
The UN Sustainable Development Goals (SDGs) are directly linked to the climate crisis in a number of ways, but particularly relevant to Open Access Week is SDG 13: Climate Action.
Studying, understanding, tackling, and mitigating the impact of climate change has to bring together research from across disciplines. From climate policy to climatology and meteorology to green energy to infrastructure and more this SDG needs support from across the sciences. To answer this need, we've brought together curated research on subjects bridging climate policy, social impact, meteorology, food production, physics, chemistry, and more.
For Johann, publishing OA meant he felt he was contributing towards the UN SDGs.
"Publishing open access has been great for a variety of different reasons," he says. "I feel making my research accessible means that it can contribute to global solutions by forwarding knowledge relevant to the UN Sustainable Development Goals. This is because I'm able to share my work freely with the people that will benefit the most from it. In this way, I believe open access will improve the use and impact of my research."
About Johann Stiepani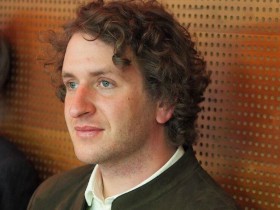 Johann Stiepani is a doctoral candidate at Uppsala University within the Department of Earth Science and the Natural Resources and Sustainable Development programme. His research interests include integrated coastal resource management, social-ecological system analysis, numerical ecology, sustainable development, and global change. Johann is a social-ecological analyst and uses biogeographical data, socio-economic surveys, and remote sensing to investigate coastal social-ecological systems as in fisheries. Previously, Johann Stiepani has conducted research in Tanzania, Malaysia, and the Philippines to address rural livelihoods and food security concerns.