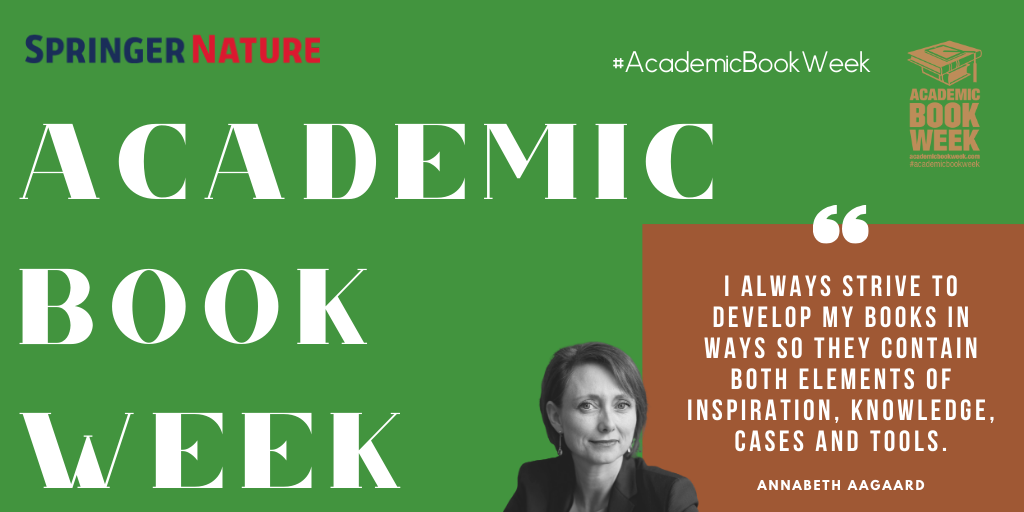 In honor of this year's Academic Book Week* theme, 'The Environment,' we asked our book authors who have published research in related fields to share their thoughts on the future of the academic book as it relates to climate change, how they engage with audiences beyond their scholarly circle to make an impact, and much more.
Read our interview below with Annabeth Aagaard, author of Palgrave title, Sustainable Business Models: Innovation, Implementation and Success.
Why did you choose a book as the medium for publishing your research?
As a researcher you are measured on your scientific publications. Typically research is published in scientific journals. However the review processes and formats of these journals do typically not foster fast dissemination and/or dialogue with industry. Books on the other hand allow for approaching a wider audience including public and private organisations and political systems and provide a platform for testing new ideas and a format for elaborating on these ideas across a number of different angles and contexts through the different chapters of the book.
What do you think the future of books looks like, especially those on topics related to climate change?
We need solutions and fast in trying to solve the severe sustainability and environmental challenges of the world. In 2018 the UN Intergovernmental Panel on Climate Change (IPCC) stressed that we have twelve years to keep global warming to a maximum of 1.5°C and that way preventing the worst of floods, droughts, storms and resulting human deaths. To be able to leverage this, we need new knowledge to be developed and shared – fast and to the relevant audiences - who seek the inspiration and knowledge to innovative and design the proper solutions and systemic changes in limiting climate change and reducing the negative consequences hereof.
Books can serve as a media, but in a digital form, as this is much faster to publish and disseminate - and also avoids that the (physical) production and disposal of the books end up polluting, which would be really ironic and counterproductive!
What impact would you like to see your book have?
I always strive to develop my books in ways so they contain all elements of inspiration, knowledge, cases and tools. You need to understand a topic before you can do something about the specific challenge or issue that the book is raising awareness about. Then you need best practices and/or cases and tools to help guide the readers in applying the new knowledge and insights provided in the book into their own context. Whether this being in a business, a municipality, in policy making or something totally different.
How can publishers work with you to make sure your research can make a difference on environmental issues?
Publishers need to understand the need for speed in these times of change. More elaborate and efficient digital learning and knowledge sharing platforms may be the way to increase speed, but also to make the book easier to access and easier for those who need it to operationalize the knowledge into real actions. Maybe also providing platforms for engaging with the authors directly could work in getting the network for change created across science/research, industry, state and policy. However, the need for speed should not diminish the level of quality as this is a must in research and also in dissemination hereof, which the publishers also need to be a guarantor for.
How do you engage with practitioners, policymakers and/or the general public to make a difference through your research?
All my research is conducted with and for public and private companies and organisations (e.g. NGOs and public agencies) and hopefully influence policy makers through the more public disseminations I also make of my research in reports, magazines and newspapers. If you as a research want impact in society, you need to step down from your 'scientific ivory tower' to communicate in ways so that people, companies and politicians understand what you say and mean with your research and how they can apply it in their unique contexts. This does not imply that researchers should not publish in highly ranked A-journals or conduct research of high quality and rigor, quite the contrary. However, it implies that you practice and master the skill of explaining your research in different ways and formats to ensure that it is well understood across different contexts, backgrounds and networks/ecosystems for it to hopefully have real and positive impact in society.
About Annabeth Aagaard
Annabeth Aagaard (Ph.D., MSc) is an Associate Professor at Aarhus University in Denmark and the Centre director of the Interdisciplinary Centre for Digital Business Development. Her research is focused on business development and innovation in a sustainable and digital context, which are also the main focus areas of the research center and her PhDs. She has 20 years of experience working in these fields drawing on her experiences in the academic, public and private sectors, where she was formerly a manager and management specialist. She has published twelve textbooks and over 100 scientific papers and conference papers and over 250 public articles on innovation, sustainability, business development and digitalization.
*Academic Book Week is a celebration of the diversity, variety and influence of academic books throughout history run by the Booksellers Association, returning for a fifth year from 9-13 March 2020. The theme for 2020 focuses on the environment, a topic which strongly aligns with Springer Nature's commitment to supporting the Sustainable Development Goals (SDGs). We aim to share the discoveries that address the world's challenges of sustainable development, which is more easily achievable through publishing open research.