As part of the Economic and Social Research Council's (ESRC's) Festival of Social Science, Palgrave Macmillan is hosting the free panel discussion "Beyond Borders: Reframing the Migration Debate." Register here, and read on to learn more about the event.
By Tamsine O'Riordan, Editorial Director for Social Science, Palgrave Macmillan
Across the Palgrave Macmillan social science publishing portfolio, a topic that doesn't cease to grow in significance is migration. Dynamic and rapidly evolving across disciplines—particularly in the face of political developments across the globe—it is an issue that too easily attracts myths and bias, and social science holds a crucial role and responsibility to inform the debate.
On 7th November, in collaboration with the UK's Academy of Social Science, we will host the panel discussion and debate, "Beyond Borders: Reframing the Migration Debate," in Springer Nature's London offices. The event will bring together leading academics, journalists and policy makers in discussion and will use insights from the latest social science research to challenge misinformation and demystify, reframe and broaden migration debates.

What can you expect to hear?
A variety of multi- and interdisciplinary approaches, taking into account intersectional perspectives such as the gendered aspects of migration, human rights, citizenship, identity and belonging, borders (real and imagined) racism and xenophobia, indigenous rights and the climate crisis
A discussion of migration as a two-way process and a problematizing of myopic national mythologies
Socio-linguistic perspectives that include questioning fundamental definitions such as "migrant" versus "ex-pat" and exploring linguistic-diversity as an asset
Scrutiny of the concept of borders as informing and regulating identity and belonging
Analyses of the role of migration expertise in the public debate, the challenges "expertise" brings, and consideration of how migration expertise can be communicated better
The Speakers
Dr Rita Gardner CBE FAcSS, Chief Executive of the Academy of Social Sciences and its Campaign for Social Science
Professor Nando Sigona, Chair of International Migration and Forced Displacement at the University of Birmingham, UK
Dr Michaela Benson, Reader in Sociology at Goldsmiths, University of London
Dr Gabrielle Hogan-Brun, Senior Research Fellow at the University of Bristol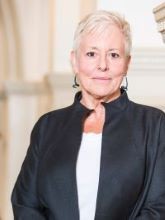 (Above, the panelists for the "Beyond Borders" discussion. From left to right: Dr Rita Gardner, Prof Nando Sigona, Dr Michaela Benson, and Dr Gabrille Hogan-Brun)
Palgrave Macmillan, as part of Springer Nature, runs Social Science Matters to provide a platform for researchers to discuss developments in the social science communities, promote research impact and signal our on-going, profound commitment to championing original and authoritative research within the social sciences.
Tamsine O'Riordan is the Editorial Director, Social Science books, for Palgrave Macmillan as part of Springer Nature. She has been with Palgrave Macmillan since 2012 and before that spent the last 18 years building successful teams and programmes for a variety of social science scholarly, trade and professional publishers, including Earthscan and Zed Books.