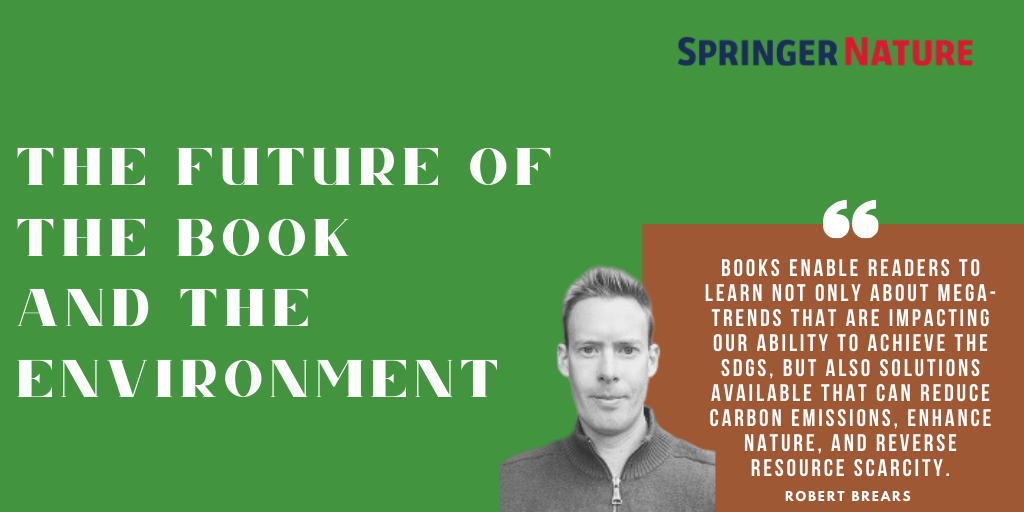 As an extension of this year's Academic Book Week* theme, 'The Environment,' we asked our book authors who have published research in related fields to share their thoughts on the future of the academic book as it relates to climate change, how they engage with audiences beyond their scholarly circle to make an impact, and much more.
Here Palgrave author, Robert Brears, discusses some of the biggest challenges the world is facing today and why books are an exceptional medium for tackling these issues with a wider audience.
The 21st Century is becoming known as the century of mega-challenges: climate change, resource scarcity, rising population growth, and urbanisation are all impacting humans and nature in a variety of adverse ways.
Some of the main solutions proposed by researchers and practitioners around the world to these mega-challenges include decoupling economic growth from resource consumption, reducing water-energy-food nexus pressures, restoring and enhancing nature, and creating liveable cities that improve the health of humans and nature, all of which ensure we can achieve the SDGs.
These solutions are not theoretically discussed but are being actioned at various scales globally, from the city-level right up to the international level. Cities are taking the lead in developing various plans to enhance resilience to climate change, mitigate emissions, become more water-secure, and increase food security while regional and national governments are implementing strategies that develop economic sectors while restoring natural capital. Internationally, countries are joining forces to develop trade policies that promote environmental technologies, implement solutions that restore nature, and protect transboundary resources.
The circular economy is alive and thriving in many locations, with cities implementing a variety of policies and technologies to reduce food wastage, lower energy consumption and carbon emissions, and enhance water efficiency, with significant progress being made towards decoupling economic growth from resource usage.
Scientists and policymakers are developing innovative solutions to reducing water-energy-nexus pressures. Such as developing technologies on farms to produce more food from the same drop of water. At the same time, renewable energy solutions are being devised to lower demand for fossil fuels, for example, the construction of solar-powered desalination plants to meet the increasing demand for water.
Economic growth and land-use changes from urbanisation have led to environmental degradation and biodiversity loss globally. To reverse this, there are growing calls for nature-based solutions, such as blue and green infrastructure to create liveable cities that prevent localised flooding during heavy storm events while creating inner-city habitats for various species of plants, animals, and birds.
Meanwhile, internationally, countries are pooling their resources to protect nature that crosses multiple political and administrative borders such as creating wildlife corridors that protect species while enhancing the resilience of local communities to climatic extremes.
However, these innovations mentioned above are far from being considered mainstream. Instead, there are many barriers to their widespread adoption, one of the main ones being the lack of education and awareness.
I believe the medium of books is one of the best tools available to raise awareness of these challenges and provide solutions that can be implemented anywhere in the world. Books provide knowledge, they mainstream ideas, they influence current and future researchers and practitioners alike, and they are respected as trusted sources of knowledge.
With regards to the above-mentioned challenges, books enable readers to learn not only about mega-trends that are impacting our ability to achieve the SDGs, but also solutions available that can reduce carbon emissions, enhance nature, and reverse resource scarcity.
Books have wide appeal and readership as they have been for thousands of years the source of trusted knowledge. Because of their wide appeal, books provide foundational knowledge for all readers, whether it be a policymaker wishing to learn about best practices around the world, a researcher formulating their research question, or a concerned citizen wishing to implement a community project based on tried and tested knowledge.
Rather than becoming obsolete, books are adjusting to the new century with hardcopy, softcopy, and e-books available to meet consumers' preferences. This increases the chance of authors reaching their audience as the format of the book is tailored to the preference of the reader. Also, e-books increase awareness of titles as they contain thousands of keywords and phrases all discoverable through search engines. The Internet has increased the ability of authors to reach potential audiences too, with social media, such as LinkedIn, Twitter, and other platforms enabling authors to promote their books to a far wider audience than in the past.
As a practitioner-researcher, focusing on various topics including water resources management, the circular economy, blue-green infrastructure solutions and so forth, I engage practitioners, policymakers, and the general public through a variety of mediums – including blog articles with multilateral organisations, such as the World Bank and the OECD/UNEP/World Bank's Green Growth Knowledge Platform, magazine articles for water industry publications, and my magazine and online channel Mark and Focus.
About Robert Brears
Robert is the Editor-in-Chief of the
Palgrave Handbook of Climate Resilient Societies Major Reference Work
and author of several Palgrave Macmillan books, including
The Green Economy and the Water-Energy-Food Nexus
,
Blue and Green Cities: The Role of Blue-Green Infrastructure in Managing Urban Water Resources
,
Natural Resource Management and the Circular Economy
,
Climate Resilient Water Resources Management
, and
Developing the Circular Water Economy
. He is the editor of the
Palgrave Pivot Climate Resilient Societies book series
. Robert is a contributing author for the World Bank's Water Blog, Asian Development Bank's Blog, United Nations Industrial Development Organization's Making It Magazine, and Green Growth Knowledge Platform. He is Founder of Mitidaption, Mark and Focus, and Our Future Water.
*Academic Book Week is a celebration of the diversity, variety and influence of academic books throughout history run by the Booksellers Association, returning for a fifth year from 9-13 March 2020. The theme for 2020 focuses on the environment, a topic which strongly aligns with Springer Nature's commitment to supporting the Sustainable Development Goals (SDGs). We aim to share the discoveries that address the world's challenges of sustainable development, which is more easily achievable through publishing open research.