As part of the Springer Nature Sustainable Development Goals (SDG) Programme, we're interviewing leaders and researchers about the work they're doing to address the 17 SDGs outlined by the United Nations. Read on for our interview with Radhika Iyengar, Director of the Center for Sustainable Development at Columbia University.
by Angie Voyles Askham, Content Marketing Intern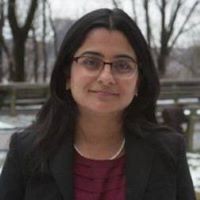 Radhika Iyengar is the director of the Center for Sustainable Development (CSD) at the Earth Institute at Columbia University. In our interview below, she explains how her work is addressing the UN's Sustainable Development Goals.
What is the Center for Sustainable Development (CSD) doing to address the UN's 17 Sustainable Development Goals?
The Center for Sustainable Development's work is to be applied. The Center uses existing literature, drawing important lessons and developing frameworks and strategies for field-based practical applications. While doing so, the field-based applications provide an opportunity to widen this literature-base by showcasing real-life applications of theoretical concepts. The Center's work is development agenda driven. Starting with the Millennium Development Goals (MDGs) and now with the Sustainable Development Goals (SDGs), the Center uses the goals, targets, and milestones as a compass to guide its education strategies.
For the Education goal, the Center uses the SDG 4 framework to engage with NGOs, as well as local and national governments to use action research on lifelong learning opportunities internationally. The team works at the intersection of environment, education, gender, social justice, and economic development. Sustainability is at the core of CSD-Education's program design and research, as well as partnership building.
What do you think is the most relevant way to measure success against these goals?
Each goal has its own set of indicators and milestones. The indicators have been categorized to Tier 1 (top priority) and Tier 2 indicators. On an international level, various wings of the UN track the SDGs. For instance, Education indicators are tracked by the Unesco Institute for Statistics. The World Bank also maintains a database which tracks the SDGs. The countries, through their various Ministries along with their Statistics division, track the progress towards these indicators nationally.
However, nationally and internationally these indicators are mere numbers. The real impact of these indicators is when the data is collected and utilized locally. The Center has been spearheading real-time data collection in various parts of sub-Saharan Africa since 2011. We have been using real-time data collection systems using Android phones in the most rural parts of Africa to make a difference on the Millennium Development Goals locally. The real-time data collected by health clinics, Community Health Workers, Schools, and Headmasters was processed quickly to give feedback to the same stakeholders to motivate action. If the data showed that student attendance was an issue, the project team would discuss with the local district education officials and provide extra support to the relevant schools. We no longer had to wait for an entire year to pass in order to assess the problem and find a local solution. Therefore the use of real-time data applied locally is the most powerful SDG monitoring tool. If this can be done in rural parts of sub-Saharan Africa 10 years ago, this could certainly be done now in most parts of the world.
Sometimes, the national SDG indicators do not match up with the reality locally. Geography is a factor in some cases. For instance, if the country is landlocked, the SDGs related to oceans may not that be relevant. Similarly, the Education goal requires "learning" to be defined locally. The Center for Sustainable Development helped local government bodies in Ghana to come up with their own version of localized SDGs. We saw that these indicators had a lot of buy-in as they reflected the local reality and context very well.
As a more meso-level, the Center works with geospatial experts at Columbia University on creating geospatial maps that are depicting a policy. For instance in Nigeria, it is mandated that all primary schools need to have preschools. Geo-references maps are created to see if this is actually true and if not, which area is lagging behind. The Center is working at the Local Government Area (equivalent to a district) in Nigeria to work with statistics and Nigerian Education policy experts to create maps that are aligned to policies. Using geo-referenced data to address policy issues at a regional level is key to understanding the implementation gaps.
In brief, the most important way to measure SDGs is local and using the data to make local-level changes is more useful than simply collecting the data to go in national level reports and for international data banks. Data and action needs to be local.
Are there differences in how the CSD approaches these goals in the global north versus the global south?
The Center operates mostly in the global south due to our genesis and mandate that comes from working on Professor Jeffrey Sachs's Millennium Villages Project in 10 countries in sub-Saharan Africa. Having said that, we do see some trends. The Millennium Development Goals were seen as goals for the poor. It was seen as a way to uplift the economically poorer parts of the world. However, this is no longer the case with the Sustainable Development Goals. SDGs are for everyone. SDGs bring everyone under the same umbrella. Therefore, no country at this point in time can say that they have met the SDGs. We are all progressing towards the SDGs.
Another important point to notice here is that the challenges of the global south and the north in meeting the SDGs are very similar. We all work in silos and we are working within line ministries. The Education experts do not interlink with health and environment much and vice-versa. However the conceptualization of the SDGs and the way they are framed and worded is very cross-cutting. No one has the luxury to be working in sector silos. This cross-cutting of sectors in design and implementation is a challenge in many countries, irrespective of them being in the global south or the north. Therefore SDG challenges are the same across the continent and the approaches to meet the SDGs should be the same as well.
Quick data to make real-time decisions is still a distant dream. Technology has not been fully employed towards these goals. Many countries like India and the United States are now rolling-out 5G, however, there are hardly any discussions on how 5G could play a role in meeting the SDGs. Concurrently, good quality data remains a challenge. Many (long) surveys are done on paper still, the data goes to some government office to be cleaned and compiled and the people who can benefit the most from this data never see the data again. These challenges are continent-wide and need to be resolved at the earliest to meet the challenges of SDGs.
What does the relationship between the CSD and the research community look like?
CSD believes in conducting research that helps to understand the design and implementation of the SDGs. We also do a lot of cross-cutting research projects. An example of this is our work on education around fluoride in water with the District Government of Alirajpur, Madhya Pradesh in India. The research study is designed with geochemists and water scientists from Lamont and Columbia University, along with Economists at the University and Education experts like myself. Therefore, our research becomes very multidisciplinary as well as multi-institutional. We work across the Columbia campus, cutting across various disciplines. We welcome collaborators who would like to see impact on the ground. Most of our work is action research and thus we rarely do effectiveness studies. Our work is to ensure that research helps to course-correct the program design and implementation. There are multiple international research agencies and universities that we work with. For example, TERI University in Delhi, India, and multiple District Teacher Training Institutions help to keep us grounded and build on our research rigor.
What do you think is the most productive way that researchers can engage policy makers in their work? Are there resources that you know of to help researchers make their work more accessible?
I see this as a work in progress. There is no magic formula. It starts with trust and listening to what policy makers have to say. On any average day, the policy makers are juggling with multiple demands and have a huge responsibility on them. Researchers cannot come in with pre-set research agendas and expect that policy makers will be eager to listen to them. The relationship must go both ways in terms of listening, discussion and collaboration on effective solutions. I am always very humbled when I meet with policymakers here in New York during the United Nations General Assembly or during Columbia's World Leaders Forum just by hearing the wealth of information they bring to the table. Listening and giving them space is the key.
I am very old school and feel that personal meetings cannot be replaced by technology. There is a growing body of literature and work that showcases the use of psychological models that help with policymaking decisions and effective communication on climate research. What are the right mental models that one should tap into? What are some strategies to make communication about research effective? These psychological models on communicating research on climate change could be useful to communicate for education SDGs as well.
What are your short- and long-term goals for the Center for Sustainable Development?
The goal of the sustainable development framework was to operationalize the notion of sustainability, building on the process of forming action plans on sustainable development that had already begun with the "Means of Implementation" of Agenda 21 (United Nations Conference on Environment and Development, 1992) and expanded upon with the 2002 "Plan on Implementation" (World Summit on Sustainable Development, 2002). To tackle any sustainability issue, all the four pillars of Sustainable Development needs to be addressed. These 4 pillars are – economic wellbeing, social wellbeing (health, education etc.), environmental wellbeing, and good governance (peace and security).
The Center's goal is to carry out its integrated approach on sustainable development through its research along with its local partners. Integrated research requires much deliberation and planning. In the short-term, we aim to build partnerships and trusts among many stakeholders including NGOs and governments. I hope to see education not just limited to schools, but also in communities and informally so that we are also able to connect with hard to reach communities.
In the long-term we hope that we can see many lives being impacted through fruitful collaboration and through designing effective implementation strategies.
For the readers reading this post, let us not give up hope in the SDGs. Agenda2030 should be integrated in all our courses, books and articles to ensure that we are doing all we can to make it possible. It's time we all become activists in our own communities and become the change makers ourselves.
Radhika Iyengar has a Ph.D. in Economics of Education from Teachers College, Columbia University, and Masters degree in Economics from the Delhi School of Economics in India. She recently co-edited the book South Asian Education Policy, Research and Practice.


Angie Voyles Askham is the Content Marketing Intern for Springer Nature's Research Marketing team. She received her PhD in neuroscience from NYU in 2015 and has since worked in radio journalism and academic publishing, with the goal of communicating science and research to a broad audience.