Serving as an editor takes dedication, time, and passion. Regardless of a journal's discipline focus, editors can learn from each other's successes. We asked some of our exceptional editors at Springer Nature to share initiatives that took their publications to new heights. Their stories of success highlight the impact that even a small change can have. Whatever the goal may be, big or small, be it growth, a major change-up, or a refinement of a process, we hope that the stories from our Exceptional Editor Case Study Series will help inspire new ways that editors can help advance their publications.
The goal
SN Applied Sciences, a fairly new multi-disciplinary, peer-reviewed journal for the disciplines of Chemistry, Earth and Environmental Sciences, Engineering, Materials Science and Physics has the unique privilege of leadership from five in-house managing editors. They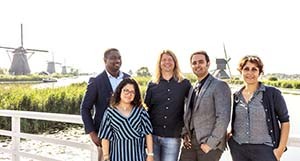 bring with them varied and extensive experience and qualifications. Joining together over their mutual desire to jumpstart the new journal's growth, they set their sights on the goal of reaching a milestone of 4,000 published articles in the first two years of publication.
Having a solid publication record would help establish the journal newcomer in the research community. Publishing a large amount of high quality papers initiates a cascade effect in terms of indexing, citations, and downloads that would result in better visibility -- crucial to the success of a new journal.
How it was accomplished
The editors determined hot topics in the various fields the journal publishes in and got started by commissioning topical collections from Guest Editors, many recommended from the networks of colleagues and Editorial Board members
Starting an interdisciplinary section helped successfully attract interesting articles across several disciplines
A renewed focus on the review process ensured that delays to publication were minimized, and allowed for clear lines of open communication with authors and external reviewers
Inviting authors from focus countries to submit review articles, and directly approaching scientists who might be interested in publishing
Setting up direct transfer pathways with other journals
Staying active on social media, sharing newly published papers, calls for papers, and other publisher-led initiatives
Encouraging board members to actively speak about the journal and spread the word to their networks
Challenges
As a new journal, a lack of robust metrics and indexing created obstacles in convincing authors to choose the journal. Finding the right authors and approaching them successfully was difficult at times. Once submissions picked up speed there were moments where it became challenging to keep up with the workload in a timely and organized way. A big thank you goes to the external reviewers and guest editors for their support and patience as the system evolved into a more streamlined process.
Lessons learned
Organization and efficient processes were key to reaching the 4,000 article milestone. Good clear and direct communication is the best way to ensure success, and it goes a long way in showing that you are engaged with your authors and reviewers. Creating a pathway for exchanging information with authors played an essential role in building trust in the journal, securing the possibility of gaining future submissions and recommendations.
Would they repeat it?
The knowledge acquired during the process is already being implemented again now that SNAS embarks on its next chapter as an Open Access journal. The groundwork that has been built set a path to success that is sure to overcome any initial hesitancy about publishing in the OA model.

Hear more from the editors of SN Applied Sciences, and learn more about the journal here.