Springer Nature actively celebrates and promotes diversity across the entire business. With this commitment, Springer Nature recognizes that Diversity, Equity & Inclusion (DEI) are essential to achieving its mission of opening doors to discovery, enabling everyone to contribute their best and thrive. One of the core pillars that underpins the DEI mission are the Springer Nature Employee Networks. The employee networks promote a culture where communities of people connect and empower one another to thrive professionally and share their unique perspectives for the benefit of the organisation as a whole.
With this in mind, Springer Nature's Black Employee Network is launching a Speaker Series that aims to inform our audiences and those entering the industry of the Black contribution that is present in the fields of Science, Technology, Engineering & Mathematics (STEM) which has not always been widely recognized, and to showcase Black Excellence.
Featuring speakers from partner organizations from different sectors of STEM, we will be discussing their career paths, role models, mentorship and diversity in STEM in line with our wider commitment to the Sustainable Development Goals, such as SDG 10 (Reduced Inequality).
In our first installment of the series, Devin Williams, Associate Marketing Manager for the Nature Portfolio, interviews Dr. Antonio T. Baines, associate professor and a cancer researcher in the Department of Biological and Biomedical Sciences at North Carolina Central University.
You can view the full interview with Dr Baines on Youtube here.
About Dr. Antonio T. Baines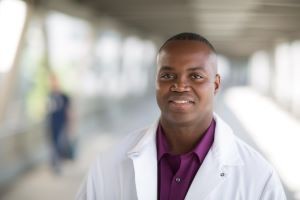 Antonio T. Baines, Ph.D., serves as an associate professor and a cancer researcher in the Department of Biological and Biomedical Sciences at North Carolina Central University (NCCU). Baines has presented his research at numerous universities and scientific conferences across the U.S. His most recent manuscript titled, "Application of Integrated Drug Screening/Kinome Analysis to Identify Inhibitors of Gemcitabine-Resistant Pancreatic Cancer Cell Growth," was published in collaboration with colleagues from the University of North Carolina at Chapel Hill (UNC-CH). He joined the faculty at NCCU in 2006 after completing his doctorate in pharmacology and toxicology from the University of Arizona and his postdoctoral fellowship in pharmacology at the Lineberger Comprehensive Cancer Center at UNC-CH. He earned a bachelor of science degree in biology from Norfolk State University where he graduated as a science honors student. In addition to being an associate professor, he holds a joint appointment in the Cancer Research Program in the Julius L. Chambers Biomedical/Biotechnology Research Institute at NCCU. Also, he is an adjunct associate professor in pharmacology in the School of Medicine and a member in the Curriculum in Toxicology and Environmental Medicine at UNC-CH. Baines constantly uses his teaching and research experiences in the sciences to help mentor the next generation of students.
(Photo credit: Brain Strickland)