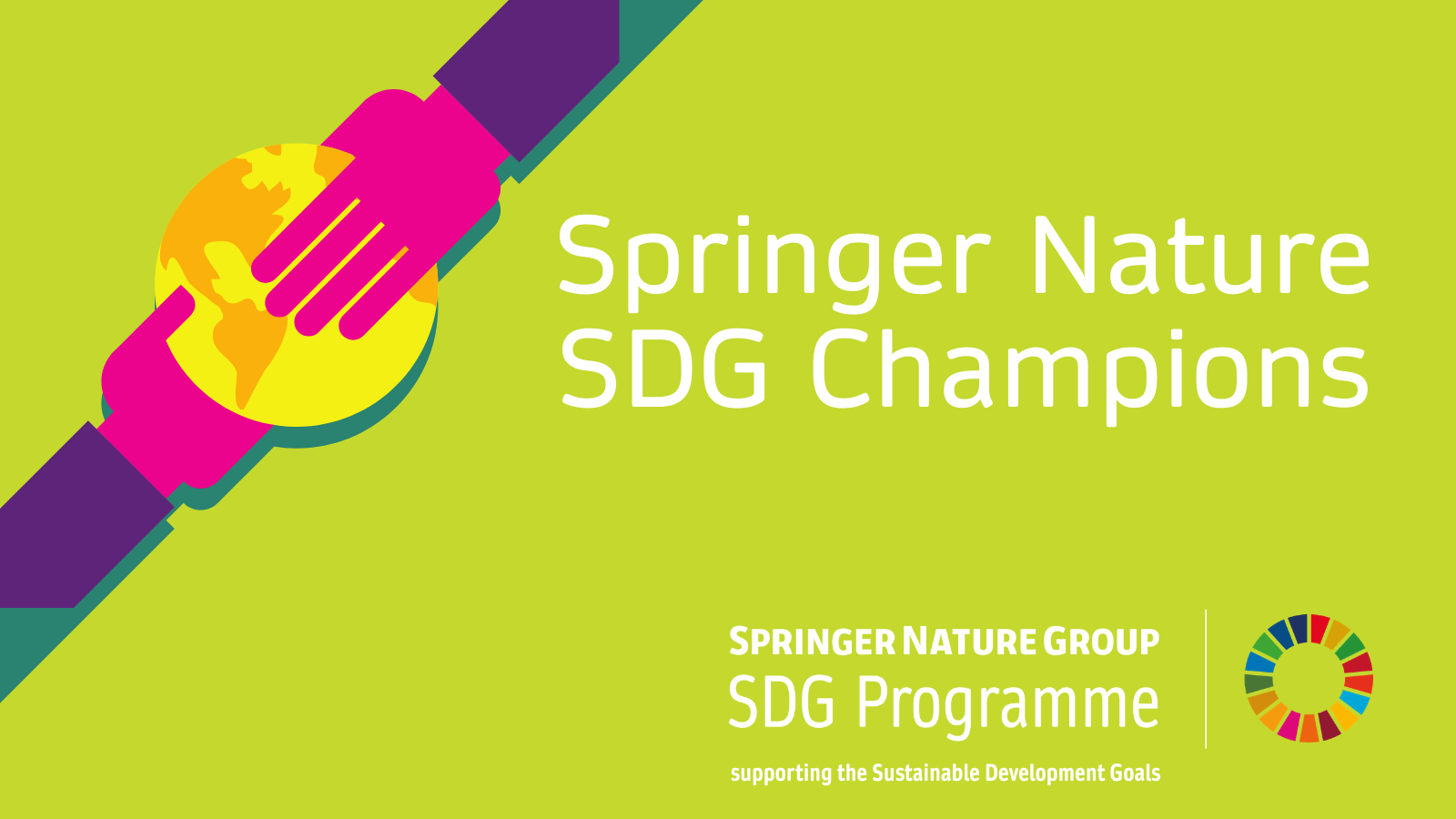 One of the most noteworthy highlights in the Springer Nature Group's 2020 Sustainable Business Report is that 2020 is the year that Springer Nature became carbon neutral. We are committed to continuing to work to reduce the wider environmental impact of our publishing and we want to highlight our employees' commitment to addressing the Sustainable Development Goals as well.
In this new series we're sharing the thoughts, opinions, and contributions of Springer Nature staff who are members of our 'SDG Champions' network. In this week's profile we meet Juliana Pitanguy, Editor for Springer's stellar Urban Studies books programme. Juliana tells us how the programme developed and why she signed up to the SDG Champions Network.
What is your role at Springer Nature?
I am a Books Publishing Editor at the Geography and Environment department at Springer based in Dordrecht, the Netherlands. I run the urban studies, planning and urban geography program. The audience is mostly urbanists, geographers, planners, political scientists, architects, and engineers. When I started working for Springer, I was asked to develop a program that interested me at the department. It felt natural to me to work on urban related titles because they were closely related to society and to the environment. At the time, the company was trying to move away from architecture and so it seemed like a bad idea to tread on a related path, but the opposite turned out to be true. We had a small and scattered program in the beginning, mostly related to spatial science, buildings and architecture. With time we expanded the program to cover the diversity of audiences specialized in urban related topics which meant that I travelled to a variety of different conferences (some more policy based, others more environment, others more geography) and we worked extensively in marketing our program. I noticed the switch when I no longer had to introduce the program – people would tell me that they were well aware of our titles in the field. It is now an established, but ever so dynamic, program.
Why did you become an SDG champion at Springer Nature?
I became an SDG champion because I see it as an opportunity to be involved with colleagues and to develop strategies that will benefit the program and the community. It is a chance to work together, but also to reflect on the bigger questions of sustainable development goals and how what we do collaboratively can influence society. I think if we are naturally interested in SDGs, interacting with society and each other in trying to answer the questions of our time, then we will feel that our work is valuable.
Which SDG most resonates with you, personally?
Being an urban studies editor, I am naturally interested in SDG 11: Sustainable Cities and Communities and questions around urban development and the expansion of cities. All of the other SDGs are somehow connected to it as urban becomes the reality for most of the world's population. Today, cities are home to 54% of the population, and by the middle of this century that figure will likely rise to 66%.
I am not interested in SDG 11 because I am an urban type of person. If you think you can picture me surrounded by skyscrapers, a cup of coffee and breathing in the urban cool vibes, that couldn't be more far from the truth. I very much enjoy nature and all the benefits it brings. I have wonderful memories of growing up spending holidays and weekends at a farm in a very rural place surrounded by cattle, horses, and wild life. I am intrigued by SDG 11 because of its relevance to society and to how it questions the way we are living and how we established ourselves as society. Could there be another way to develop without compromising greening and without having a negative impact for communities? What can we learn about innovations in planning and the development of cities – the way we can incorporate nature and local communities in our cities, and how we can influence governmental bodies to bring about change through policies that will take us where we would like to be as a sustainable society.
How do you think a publisher like Springer Nature can make a difference to the Sustainable Development Goals?
I think we can make a difference by publishing insightful research on SDGs that brings about discussion in the academic community, but which also has strong applications to the outside world and that government can grasp to make informed decisions. We can make our views explicit and influence change as a major publisher – it is clear that continuing down this path is not doing us much good, so how can we move forward. We can publish research that tries to answer these questions and engage with professionals and government to inspire change.
Tell us about someone from outside Springer Nature who inspires you by their work to address the world's largest challenges.
Carolyn Steel is very inspiring in the food in cities front: Carolyn Steel: How food shapes our cities | TED Talk . We tend to take food for granted. We also don't think about food production and how our meal gets to our plate. Steel makes us reflect and question the way we took food production outside of cities – which has been costly and inefficient – it has made us disconnected to our most essential good. It is literally food for thought.
About Juliana Pitanguy
Juliana Pitanguy is a Books Publishing Editor at the Geography and Sustainability Research department at Springer. She develops the urban research program publishing books on urban studies, planning, urban geography, spatial science, design and related disciplines. She has been an editor at Springer for seven years and has helped build the program from the start. SDGs are of great importance to her program, especially SDG 11, because cities and urban research cut across many, if not all SDGs.
Explore highlights from Springer Nature's 2020 Sustainable Business Report
Other blogs you might find interesting: