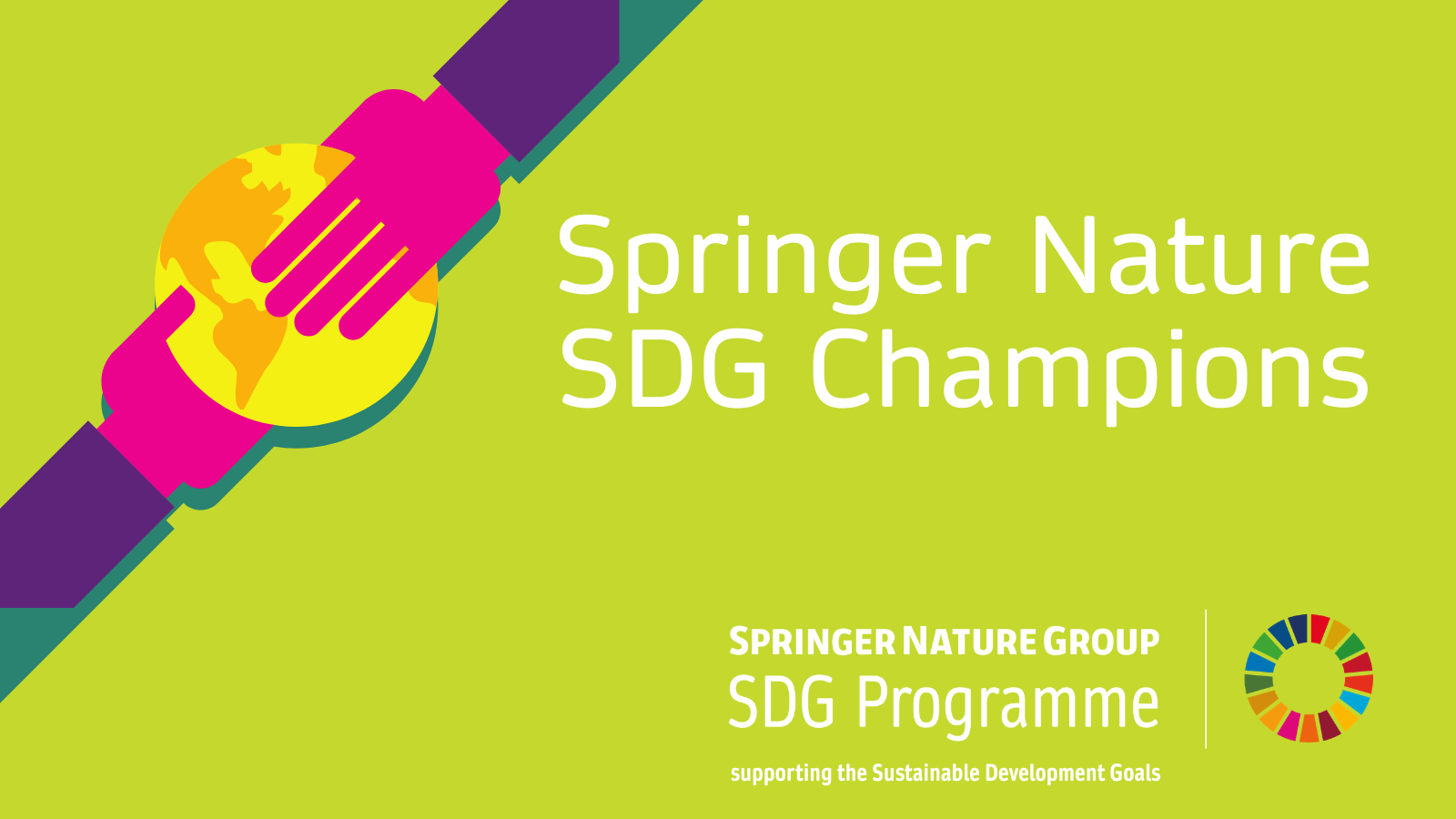 One of the most noteworthy highlights in the Springer Nature Group's 2020 Sustainable Business Report is that 2020 is the year that Springer Nature became carbon neutral. We are committed to continuing to work to reduce the wider environmental impact of our publishing and we want to highlight our employees' commitment to addressing the Sustainable Development Goals as well.
In this new series we're sharing the thoughts, opinions, and contributions of Springer Nature staff who are members of our 'SDG Champions' network. In this week's profile we talk to Alina Yurova, Senior Editor for Development, International Relations, and Security Studies, at Palgrave Macmillan.
What is your role at Springer Nature?
I am a Senior Editor for Development, International Relations, and Security Studies at Palgrave Macmillan, based in New York City. It is my sixth year with the company where I focus on cutting-edge research in the fields of political science, international relations, and sustainable development in the Global South. I publish scholarly research monographs, edited collections, handbooks, and Palgrave Pivots. Additionally, I am a co-chair of the Green Office Network program and a United Nations Sustainable Development Goals champion. All this combines my passions for excellent academic research, sustainable development, and corporate social responsibility, and grants me the opportunity to work with exceptionally interesting high profile authors who contribute to making this world a better place through their rigorous work.
Why did you become an SDG champion at Springer Nature?
Over the last few years I have become really invested in the UN Sustainable Development Goals Program. My publishing program covers multiple SDGs, including SDG 2: Zero Hunger , SDG 6: Clean Water and Sanitation , and SDG 5: Gender Equality, just to name a few. The concepts of social justice, climate change, environmental politics, and economic development have always been important to me, so as soon as I heard about the opportunity to become an SDG champion, I seized it right away. Being an SDG champion was a natural progression of my career. Given that we, as a nation, are facing a lot of pressing environmental issues, I am glad that I can contribute to resolving them though my work at Springer Nature by publishing important academic research and by working together with the sustainability team on making Springer Nature a more sustainable business.
Which SDG most resonates with you, personally?
It is hard to pick only one because it is extremely important to make sure that all goals are equally pursued and none are left behind. Currently, I am most interested in SDG 6: Clean Water and Sanitation , which focuses on avoiding wasting water and providing clean, accessible water for all populations; and SDG 12: Responsible Consumption and Production , which is closely related to my work at the Green Office Network initiative on implementing better recycling systems at the New York office. Today, landfills in New York State are much bigger than they were just two decades ago, and a growing number of them is reaching full capacity. New York City generates 14 million tons of solid waste annually, and it entirely outsources its trash burden to other communities, mostly to New Jersey and upstate New York. It is important to note that New York City has the lowest recycling rate among big cities in North America: 20% compared to 80% for San Francisco and 63% for Vancouver. Many places are struggling with the effects of New York's garbage, as landfills that accept garbage from New York City have nearly reached their capacity. Communities that are often categorized as "economically disadvantaged" live near landfills and experience negative effects of the toxic fumes released by the waste. Because of the health hazards of solid waste, it is important to consider how its burdens are distributed in New York State. Therefore, it is extremely important for me to address this issue through my work as an editor, sustainability professional, and SDG champion. It is endlessly satisfying to take a deep look into these issues and act as a problem solver.
How do you think a publisher like Springer Nature can make a difference to the Sustainable Development Goals?
I am proud to be a part of Springer Nature's imprint Palgrave Macmillan, which was one of the first publishers to offer an open access option for HSS disciplines and the first major publisher to offer CC BY for OA books. Our commitment to excellence and wide dissemination of academic research helps to freely share research with academics and practitioners from the Global South. One of the most recent OA books from my list was published in the Rethinking International Development series . The project, Disrupted Development and the Future of Inequality in the Age of Automation , examines the future of inequality, work, and wages in the age of automation, with a focus on developing countries and closely relates to SDG 8: Decent Work and Economic Growth. Another excellent Open Access project on my publication list would be The Palgrave Handbook of Development Cooperation for Achieving the 2030 Agenda: Contested Collaboration which analyzes international development cooperation for achieving the United Nations 2030 Agenda and examines an evolving academic and policy-related debate on the increasingly disruptive nature of development cooperation.
Tell us about someone from outside Springer Nature who inspires you by their work to address the world's largest challenges.
There is so much inspiration in this world! I have been very fortunate to work in a field that aligns very closely with my personal interests. I am a big fan of Jeffrey Sachs's work as he is the world's leading expert on economic development and a UN SDG advisor. I have a background in economics and I find his work absolutely fascinating! My former research advisor and mentor Dr. Steve Cohen from Columbia University inspires me by sharing his thought-provoking pieces in his State of the Planet Blog. I love reading the New York Times' Climate Fwd: newsletters as they always include interesting articles.. I am a feminist and I am always inspired by strong women such as Ruth Bader Ginsburg, Sanna Marin, Rachel Carson, Jacinda Ardern, and, of course, my two incredible moms. However, the biggest inspiration is my amazing husband who supports not only my career ambitions, but also my attempts to live a sustainable and healthy lifestyle, and never fails to satisfy my curiosity about the world around us.
About Alina Yurova
Alina Yurova is a Senior Editor for Development, International Relations, and Security Studies, at Palgrave Macmillan based in the U.S. Previously, she served as the Japan Exchange and Teaching (JET) Program educator based in Akita, Japan. She holds an undergraduate degree in Economics from Fordham University and graduate degree in Environmental Science and Policy from Columbia University. Alina is passionate about sustainability, climate change, ballet, Pyotr Ilyich Tchaikovsky, and above all, being a new mom.
Explore highlights from Springer Nature's 2020 Sustainable Business Report
Other blogs you might find interesting: