The innovative, open access journal Architectural Intelligence aims to contribute to the progress towards addressing SDG11: Sustainable PyramidCities and Communities, by establishing a leading international platform that fosters dialogue and knowledge sharing and exchanging between designers, scientists, engineers, and other academics.
With featured research focused around three future scenarios of smart habitat, virtual habitat, and space habitat, Architectural Intelligence encompasses the entire lifecycle of architecture.
Find out more about the journal, its contribution to SDG11, and how to maximize the societal impact of research in the interview with Philip F. Yuan, Editor-in-Chief of Architectural Intelligence.
What is the focus of Architectural Intelligence? Could you elaborate on the three habitats that inform the journal's publications and their relevance to sustainable cities?
Architectural Intelligence is an open access, peer-reviewed journal for original research papers focusing on the three future scenarios of smart habitat, virtual habitat, and space habitat, as well as emerging digital technologies in the whole lifecycle of architecture, including design, simulation, optimization, construction, operation, and inhabitation.
Our research on Smart Habitat focuses on developing sustainable, intelligent living environments that foster well-being and inclusivity. We place a strong emphasis on reducing carbon emissions and addressing embodied carbon in the built environment. By integrating innovative materials, construction methods, and technologies, we aim to create low-carbon, energy-efficient urban spaces that are resilient to climate change and other environmental challenges.
In the context of Virtual Habitat our work explores the potential of digital technologies to improve urban planning, design, and management. Virtual habitats enable the simulation of urban environments, allowing us to test and optimize solutions for sustainable development. By applying these innovations to real-world settings, we can help create more sustainable cities and communities.
Finally, in the realm of Space Habitats we research how to optimize life-support systems and resource utilization, and explore the use of in-situ resources and 3D printing for construction. Furthermore, we investigate the role of robotics in the operation of space habitats and examine the health and adaptation challenges faced by inhabitants in these environments. By studying the challenges of creating self-sufficient, closed-loop systems in space habitats, we can identify innovative solutions for resource management, waste reduction, and energy efficiency, promoting more sustainable practices in urban environments.
How do you understand the role and contribution of Architectural Intelligence to SDG11: Sustainable Cities and Communities?
With the journal Architectural Intelligence, our aim is to contribute to the progress towards addressing SDG11, which focuses on making cities and human settlements inclusive, safe, resilient, and sustainable.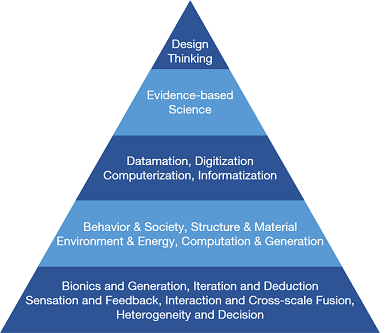 The pyramid illustrates our commitment to adhere to one fundamental principle: design thinking-oriented interdisciplinary integration emphasizing one starting point: evidence-based science.
Architectural Intelligence reconstructs the architectural knowledge system and creates an international academic platform of multi-disciplines, establishing a new paradigm for sustainable development. We aim to build a leading international space to enable the exchange of scientific and technological knowledge between designers, scientists, engineers, and other academics, and merge science and research with academia.
Combining insights from and between various academic disciplines, enabling and promoting a dialogue with other relevant stakeholders, and generating innovative and trailblazing thinking are the essence of research and science's contribution to the attainment of the Sustainable Development Goals.
Through the publication of cutting-edge research, promoting interdisciplinary collaboration, and supporting the development of innovative solutions, Architectural Intelligence aims to make a significant contribution to the global efforts towards achieving SDG11.
How do you encourage effective communication to support innovative thinking and impactful research outputs?
I believe that interdisciplinary research methods combined with interdisciplinary teams and transdisciplinary fr
ameworks can help make communication more effective and research more meaningful.
Encouraging researchers from different disciplines to work together on a project as an interdisciplinary team can facilitate the sharing of knowledge, methods, and perspectives, ultimately leading to more innovative and impactful outcomes.
Utilizing transdisciplinary frameworks that transcend disciplinary boundaries, such as systems thinking or sustainability science, can help researchers address complex challenges that require input from multiple fields.
Architectural Intelligence incorporates these interdisciplinary research methods, and aims to foster effective communication and collaboration among researchers from various fields.
Societal impact is important for research, especially when it comes to supporting the SDGs. Specifically for early career researchers, what can help them maximize the societal impact of their work?
The journal Architectural Intelligence is supported by DigitalFUTURES, an online platform for architectural education which provides resources for early career researchers to maximize their societal impact:
Workshops: Encouraging early career researchers to propose and lead workshops, like those offered at the annual DigitalFUTURES event, can help them develop their skills, gain visibility, and establish connections with other professionals in the field.
Networking: Facilitating networking opportunities and fostering a sense of belonging within a larger community, such as Architectural Intelligence, can enable early career researchers to collaborate, exchange ideas, and learn from their peers.
Publication and dissemination support: Assisting early career researchers in the publication process and promoting their work through various channels, such as social media and public lectures, can increase their visibility and enhance their societal impact.
By offering these types of support, we can empower early career researchers to maximize their potential, drive innovation, and contribute to addressing global challenges in a meaningful way. Furthermore, Architectural Intelligence is an open access journal, and fully sponsored by Tongji University, which means that authors do not need to pay an article processing charge.
Publishing open access significantly widens the reach of an academic article so that it is available to scholar, policy makers, practitioners, and general audiences. This is particularly important for early career researchers, and generally to scholars working on SDGs-related research, to ensure maximum impact for their work.
What do you think makes Architectural Intelligence stand out from other journals in the field?
Our journal stands out in several areas that set us apart from other journals in the field:
Interdisciplinary focus: Our journal encourages interdisciplinary research, recognizing that solutions to complex problems often require a combination of perspectives and expertise from different fields. By promoting cross-disciplinary collaboration, we aim to foster innovation and facilitate the development of novel solutions.
Emphasis on science communication: Our journal recognizes the importance of effectively communicating research to diverse audiences. We encourage authors to make their findings accessible to both specialists and non-specialists alike and provide support for creating clear, engaging, and impactful content. For example, we have a special "commentary" section in every issue: theoretical scholars of the field are invited to share insightful "comments" and thus open a dialog between science research and society.
Active engagement with the research community: We maintain strong connections with the research community, regularly participating in conferences such as the International Conference on Computational Design and Robotic Fabrication (CDRF), workshops, and other events such as DigitalFUTURES talks to stay up-to-date on the latest developments in the field and to create opportunities for collaboration and knowledge exchange.
All of the above, combined with our dedication to publishing high-quality, impactful research, create an academic platform of multi-disciplines, establishing a new paradigm for sustainable digital futures.
Publish your SDG11-related work where it can make an impact: Find out now about Architectural Intelligence's aims and scope and the journal's submission guidelines. Architectural Intelligence is an open access journal, and fully sponsored by Tongji University, which means that authors do not need to pay an article processing charge.
For the latest on sustainable cities, explore Springer Nature's SDG11 Hub, part of the Sustainable Development Programme.
About the author:
Philip F. Yuan, FAIA, Editor-in-Chief, Architectural Intelligence
Professor of the College of Architecture and Urban Planning (CAUP), Tongji University, China