As this year's World Economic Forum kicks off in Davos, we speak to Hanna Lehtimäki, Professor of Innovation management at the University of Eastern Finland on the importance of re-imagining sustainable futures in business.
Please tell us about the nature of your work in relation to SDG8.
My research examines sustainable innovation and creativity in strategic management, leadership, and entrepreneurship. I am particularly interested in increasing understanding business and management in the intersection of social, environmental, and economic sustainability, and I seek to promote humanist views in business and organizational development.
Currently, I lead and collaborate in several multi-disciplinary research projects to advance multidisciplinary social sciences research agenda for sustainability transition in business and society. In one project "Circular Economy Catalysts: From Innovation to Business Economy Catalysts", close to 50 researchers are examining ways to accelerate the sustainability transition in business and society through circular economy. The results show that there is great enthusiasm among the forerunners in circular economy and there is a great potential to combine social, environmental, and economic value creation in the activities of circular economy. Another project, a Finnish-Indian consortium "Circular Economy Solutions for Microplastics", has increased our understanding of contextual factors involved in implementing circular economy in plastic waste management in the global North and Global South to tackle the problem of increasing plastic pollution in water and soil. Finally, in a third project, "Multi-level governance of critical materials for future electric mobility", we explore sustainable business models and identify ways to advance circular economy in the global value chains of battery metals.
How does your work directly address ways in which we can address global challenges in a fragile world? If so, in which way?
We are dealing with the wicked issue of climate warming, biodiversity loss and increasing pollution. Innovation and creativity are needed to re-invent and implement sustainability as a practice in design, production, and consumption of goods and in waste management. I work with scholars from a variety of academic backgrounds and local municipalities, government agencies and companies to understand what the most urgent issues are to be solved and how to move forward to a sustainable business and society.
My research seeks support the fundamental change in our ways of working and thinking so that we can win the battle for sustainable futures. Changes need to happen in the individual behaviour and the operations of organizations. To create sustainable pathways to future, we need to radically re-imagine "what was", "what is" and "what might be" on the smaller scale of individual behaviour and the bigger scale of business and institutions to innovate strategies to operate in less wasteful and harmful ways. My research on innovation and creativity shows that imagination plays an important role in pursuing more sustainable futures. Our forthcoming book with Palgrave will show the ways in which art is a way to inspire and nurture our imaginative capabilities and to support the sustainability agency of people in the fragile world.
What are the short and long-term goals of your work?
The short-term goal of my work is to lead sustainability research in international and trans-disciplinary co-operation. Also, I seek to encourage young scholars and business students to study sustainability issues in business and make an impact in business and society.
The long-term goal of my work is to make an impact in sustainability change so that business can become more inclusive, humane, and environmentally sustainable both in the Global North and South. I seek to help entrepreneurs and companies drive the sustainability transition.
What do you think is the most productive way that organizations in the private and public sectors can co-operate to address urgent challenges?
The most productive way for private and public organizations to co-operate is to break the siloes and engage in appreciative dialogue with each other. Appreciative dialogue involves reframing, appreciating the positive and acting so that the desired future can unfold from the present. The challenge is that the urgency of environmental crisis ignites a firefighting mindset. Over a period, the firefighting mindset may trap leaders in a path of a single-trajectory problem-solving style. In consequence, opportunities for innovation and creativity might be lost and time is spent attending to what is urgent as opposed to what is important. Reframing means seeing socially and environmentally sustainable economic growth as a novel purpose for joint action across organisations to create opportunities for sustainable innovation. As an example, even though the science about climate change is solid, the doomsday crisis mentality generally pushes people to resort to a reactive way of thinking and responding. Reframing encourages new relationships and dependencies among stakeholders from the public and private sectors and government agencies.
Appreciating the positive is about intentionally seeking the generative vocabulary that looks at what works in a system as opposed to what does not. Often, the most well-meaning leaders in sustainable development are unconsciously participating in all-pervasive deficit discourse with a vocabulary consisting of hundreds of negative words about the ecological crisis awaiting us. Appreciating the positives allows for shifting the viewpoint from visibly insurmountable macro-level issues to small changes that are possible to attend to at the individual and local levels. Such reframing encourages action towards a sustainable future instead of helplessness and procrastination in the face of incomprehensible change.
Seeing how the future unfolds from the present directs attention to what to do in the present moment. The future possibility must be realised in the current reality through purposive action so that it becomes easier to join the action rather than remain an outsider and criticise, dismiss, or neglect the sustainability transition. That way we start noticing and valuing the actions that are taken by investors in for-profit corporations for the public good and by the citizens and legislators in different countries, local settings and globally. Through such dialogue, ministries, governments and private and third sector organizations can start exploring opportunities for innovation, co-operation and learning about sustainable and inclusive practices together.
What does public engagement look like in your field and how important do you think it is for researchers to make a societal impact with their work?
Public engagement in my work involves interaction with national and local government agencies and companies both large and small. The engagement involves close listening to the practitioners and dialogue for knowledge sharing. Public engagement is essential, because impactful sustainability research cannot be done in academic siloes.
What progress would you like to see happen at the World Economic Forum this year?
Sustainability transitions do not provide everyone with equal opportunities or positive outcomes and therefor addressing the marginalized and vulnerable is of importance. The idea that not everyone is willing to engage in or collaborate on sustainability transition initiatives raises questions: Who is not included in the advancement of sustainable and inclusive solutions? Why is there resistance to taking up sustainability transitions? What is it about sustainability concepts that some find upsetting, creating contradictory and non-engagement stakes? More attention needs to be paid to translating sustainable business discourses and representations into political action and the active roles that public authorities and citizens could take in this process. Corporations should not underestimate fringe stakeholders' potential because in a connected world, remote groups can find common cause to pressure and question a given firm's legitimacy and right to operate. As part of risk management, companies and global leaders should proactively seek out fringe voices related to social and environmental concerns.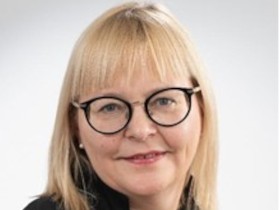 About the Author:
Hanna Lehtimäki (Ph.D., Title of Docent), is a Professor of Innovation Management at the University of Eastern Finland Business School. Her research examines sustainable innovation and renewal with theoretical frameworks on strategic management, leadership, ecosystems and entrepreneurship. Currently she is working on transitions to a sustainable circular economy. Her research articles have appeared in academic journals internationally and she has authored and co-authored several books on strategic management and leadership. Her forthcoming book "Art and Sustainability Transitions in Business and Society - Theoretical Insights and Engagement" edited by Hanna Lehtimäki, Steve Taylor and Mariana Galvão Lyra is expected to be published by Palgrave in Autumn 2023.
For more information about Hanna Lehtimäki's work