Written by Imran Khan, Editorial Board Member & Editor, Engineering Topical Collection, SN Applied Sciences / Associate Professor, Dept. of EEE, Jashore University of Science and Technology, Bangladesh.
Electronic waste (e-waste) management in developing countries is a serious concern as these wastes are not handled safely and hence impose a great threat to human health and the environment. However, per capita, e-waste generation in developing countries is comparatively lower than the developed ones.
According to the global e-waste monitor 2020 report, e-waste generation in Africa and Asia were found to be the lowest as 2.5 and 5.6 kg per capita, in 2019, respectively. In contrast, the highest was in Europe (16.2 kg per capita) followed by Oceania (16.1 kg per capita) and the Americas (13.3 kg per capita). Along with the economic factor, one of the crucial reasons for this low per capita e-waste generation in low-income countries in Africa and Asia might be a sustainable practice – repairing faulty electrical or electronic devices.
Sustainable development depends on many different factors. One such crucial factor is sustainable consumption and production. As per United Nations' SDG report 2022, irresponsible consumption and production are the predominant causes of negative climate change, loss of biodiversity, and environmental pollution. Un-managed electronic wastes (i.e., e-waste) around the globe are thus included in irresponsible or unsustainable consumption and production pattern. The amount of e-waste is increasing due to a number of reasons including short product life, growing consumption, and minor repairs. However, the global e-waste collection rate is about 22.8% and only these wastes are collected and managed in an environment-friendly way. Of which, Europe and Northern America were at the top with a 46.9% collection rate followed by Eastern and South-Eastern Asia (11.9%). In contrast, the lowest collection rate was found in Latin America and the Caribbean with a 1.2% collection rate followed by Sub-Saharan Africa (1.6%) and Central and Southern Asia (4.6%).
Although it is true that the e-waste collection and management rate is high in developed economies, the repairing practice for faulty electronic or electrical devices is very limited. For instance, people in developed countries still prefer to buy a new electrical or electronic device rather than taking an attempt to repair the malfunctioned device or electrical appliance even though there is growing interest in the re-use of electronic devices for various reasons. And this is one of the crucial reasons for the growing e-wastes globally. On the other hand, in the developing world, people try to repair faulty devices or appliances several times before they throw them away. Hence, people in developing countries follow a sustainable or responsible practice toward consumption and production. There are several reasons behind this responsible practice adoption in the developing world:
Economic or financial benefits: Predominantly, mass people in the least developed countries are financially weak. Therefore, before buying any new device or appliance they always try to repair the faulty one as it could save money.
Availability of repair shops: Almost every market in each locality in all the districts has at least a repair shop, in which people can get basic repair services for their appliances, particularly, electrical appliances. For example, in Jashore, the oldest district of Bangladesh there is at least a repair shop in each locality. In addition, there are clusters of specialized repair shops such as repair shops specialized in refrigerators, water pumps, and air conditioning systems (see Figure 1-a,b,c).
Figure 2 (a,b,c) shows a cluster of mobile or cell phone repair shops along with individual ones in Jashore, Bangladesh. Most of the shops sell cell phone accessories and they have a separate section within the shop, where they repair not only cell phones but also other electronic devices such as Tab.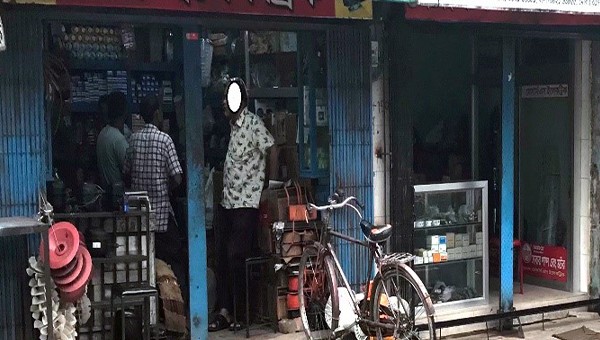 Figure 1 (a)
Figure 1 (b)
Figure 1 (c)
Figure 1: Clusters of repair shops specialized in (a) refrigerators, and air conditioning systems, (b) water pumps and motors, and (c) a technician repairing an electrical motor in his repair shop. Note: The names of the shops and the faces of the people are blurred.
Figure 2 (a)
Figure 2 (b and c)
Figure 2: Cell phone repair shops in Jashore, Bangladesh: (a) cluster of repair shops, (b) a repair shop, with two technicians working behind the glass partition, and (c) a cell phone accessories shop along with a repair facility separated by a glass partition. Note: The names of the shops and the faces of the people are blurred.
Availability of skilled manpower: The technicians in the repair shops are skilled enough to conduct common repairs. However, highly skilled technicians would be available in big markets only.
Availability of parts: As there are many repair shops for electrical and electronic appliances or devices, if the faulty cell phone is not repairable, they collect different parts from that one and preserve them as spare parts. As the cost of importing cell phone parts from China is comparatively cheap, new repair parts are also available in local markets of Bangladesh.
Moreover, this sustainable practice enables consumers to save money, as purchasing a new device costs more than repairing it. Second, it helps to conserve resources. For instance, if consumers buy fewer electronic devices due to repairing the old ones the production of that device would be lower as the production depends on current market demand. Thus, less production ensures reduced use of manufacturing resources. Third, it would be reducing the negative environmental effect. For example, "if a washing machine is used for just five years, its annual energy consumption and greenhouse gas potential are about 40% higher per year compared to a machine which lasts 20 years, even factoring in the improved energy efficiency of modern washing machines." Importantly, repairing underpins reducing e-waste.
Although vast people of least developed countries do not know much about sustainability or responsible consumption or production, they practice it as they have no other options because of their living conditions. However, safe e-waste management rules and regulations are yet to be developed in developing countries such as Bangladesh. In addition, more research should focus on this sector particularly investigating new ways of waste-to-energy generations in developing countries, for instance, see the ongoing Topical Collection 'Sustainable Energy Trends in the Developing Economies' of the journal SN Applied Sciences.
Therefore, for sustainable consumption and production, the 3R rule for the waste management needs to be updated with the inclusion of a fourth 'R', that is, 'Repair' at least for the developing world as shown in figure 3.
Figure 3: The 4R rule for e-waste management toward sustainable consumption and production
About the Author:
Imran Khan received his Ph.D. from the Centre for Sustainability and Department of Physics at the University of Otago, New Zealand. Currently, Dr. Khan is serving as an Associate Professor in the Department of Electrical and Electronic Engineering (EEE), Jashore University of Science and Technology, Bangladesh. He leads the Energy Research Laboratory at the same university. At present, he serves as an Editorial Board Member for the journal SN Applied Sciences published by Springer Nature and he is a guest Editor for an Engineering Topical Collection "Sustainable Energy Trends in the Developing Economies". Dr. Khan has authored and co-authored numerous research articles in reputed refereed journals and conference proceedings, in addition to several book chapters published by many reputed publishers including Springer Nature. 'Renewable Energy and Sustainability: Prospects in the Developing Economies' is Dr. Khan's latest book.