Dr. Malti Goel is President of the Climate Change Research Institute and was Senior Advisor and Scientist 'G' in the Ministry of Science & Technology (MST), the Government of India. She shares with us her perspectives on changes and issues we face in Climate Action from her over 25 years of experience as a scientist working in the public sector.
How do you work directly to address SDG13: Climate Action?
UN Sustainable Development Goals (SDGs) are a global agenda to resolve social, economic and environmental imbalances for the whole world population by 2030. The 17 SDGs address various elements of the agenda. The sub-goals of these elements are interrelated and there are overlaps among these. The SDG 13: Climate Action is guiding nations with action to be taken in their pursuits of sustainability in the era of anthropogenic climate change.
The climate crisis is looming large worldwide. Alps glaciers have lost the highest mass in the last 60 years. It is reported that Theodal Glacier lost almost 25% of its mass between 1973 and 2010. Not to mention the devastation in the South Asian region caused by prolonged heat waves, frequent flash floods and extreme weather events, Europe, America and Africa are facing crises by persistent heat and increasing wildfires. Global warming and climate change are manifested as the most urgent risks, impacting our social fabric.
Over my 25+ years career in public service I have had many policy level interactions in climate action for India's energy security. As Scientist 'G' in the Science & Technology ministry of the government of India, I worked to recognize the need for long- term weather data collection, monitoring and spearheading research to combat climate change. Most predictions about climate change were very uncertain in the 1990s. In 2009 when I founded Climate Change Research Institute (CCRI) a society, public perception about climate change was very different. The uncertainty about future predictions continued, very little public awareness and any investment was considered a burden on GDP. In 2022 we are acknowledging the climate change emergency and the need has arisen to educate the public to take action to minimize its consequences and to adopt scientific solutions. Cost of inaction is higher than the cost of Climate Action.
Paris Agreement on Climate Change, 2015 includes commitments from all countries to reduce their GHG emissions substantially to limit the global temperature increase in this century to 2 degrees Celsius, while pursuing efforts to limit the increase to 1.5 degrees. It calls countries to work together to adapt to the impacts of climate change, and to strengthen their commitments over time. India has committed in COP26 to reduce its GHG emission by 45% by 2030 and become carbon neutral by 2070 with its ambitious goals for renewable energy and Green hydrogen.
The CCRI is working in mission mode to create environmental awareness and inform the youth in schools and colleges about the ecosystem changes and consequences of climate change through education, training and capacity building on topics of scientific & societal interest which include energy, health, water and air pollution among others. We regularly hold networking campaigns, lectures, and capacity building workshops. We disseminate knowledge through bulletins, newsletters and books. With our work we connect to SDG13 so that the actual impact can be understood by our stakeholders, especially youth in schools, colleges, universities, industries and society at large.
How can scientific research be best applied in real social settings to reach the SDG13 goals?
The current perception of climate change is dominated by its impacts and adaptation to it. The perception is largely dependent on media reports and adaptation is the least cost option. With astounding growth of Science, Technology and Innovation; willingness of scientists to take up problems concerning the common man and woman and increasing convergence and collaboration between public and private sectors to address socio-economic issues, the situation is changing and we are getting familiar with the many dimensions of climate change, namely; Science of climate change, Impacts, Adaptation, Climate modeling, Mitigation actions and technologies, Finances and Social transformations etc.
Given that a vast panorama of scientific research exists in the country, a thematic workshop of CCRI was held in 2017 on the role of Science, Technology and Innovation (STI) in advancing SDGs. It gave a unique and first of its kind platform for multi-stakeholder consultations from academia, industry and policy makers in importance of scientific research applied to real social settings and on-going practices in India. How to address collectively SGD 13: Climate Action, and its sub-goals while chartering a path for identifying the role of innovation in accelerating achievement of SDGs. Uncertainty remains in Climate Action to find innovative solutions for achieving energy security, reduction of GHG emissions and the resource consumption without compromising development needs.
What are the short and long term goals of your work?
In the world today as far as the climate crisis is concerned, there is a disconnect between rich countries and emerging & developing economies. With growing geopolitical and economic intervention, the countries' focus on climate change mitigation strategies is rapidly changing. India has set a target of achieving 500GW of Renewable Energy (RE) capacity by 2030 and has announced National Green Hydrogen Policy in February 2022. Energy-Climate Change nexus demands a more pragmatic approach to include Carbon Capture and Utilization (CCUS) and Direct Air Capture (DAC) technologies besides energy sourcing from RE sources. Hydrogen use as energy fuel and energy carrier has emerged as a global technology challenge for sustaining renewable energy contribution in the energy sectors. Globally extensive work is being carried out in this field. International collaborations in scientific research and adoption of new technologies for country specific climate technology solutions are imperative.
What progress would you like to see next towards addressing SDG13?
'Rapidity of changes taking place in our environment and increasing vulnerability to impending climate risks are demanding climate change education at all levels'
India's climate policy is the guiding force to pursue future expectations to address SDG13. Talking of frontline technologies such as Green Hydrogen or CCUS, it is expected that attaining success in achieving the set targets would require policy incentives. For example, today globally 60-70 Mt of hydrogen is consumed, 95% of it is produced from natural gas. To increase the production of green hydrogen to 400 MT in 2050, more than 40 countries have identified national strategies and roadmaps for hydrogen development. Besides investment in technology and infrastructure development, it would require human resources which need to be trained and skilled consequently.
Globally, climate change education has been discussed in various negotiating platforms of the UN Framework Convention on Climate Change. Article 6 of UNFCCC and Article 12 of the Paris Agreement affirm the importance of education, training, and public awareness at all levels in meeting the commitments of nations. The formal and informal education system would prepare youth by educating and mentoring about various climate change complexities. However, very few universities have climate change as a distinct course at the undergraduate level.
It remains a subject of research and higher education in the academic institutions either on modeling or mitigation of climate change impacts, or on developing teaching methodology. One of the most important aspects would be to develop course curriculum and bring climate change education into the mainstream. We would need to invest in Climate Action with tangible and intangible resources viz., human & financial and expertise & time to educate youth to act smart in both climate change adaptation and mitigation for a sustainable future and achievement of SDG 13.
Visit the Springer Nature's SDG13 hub to explore more blogs, the latest research highlights, and more.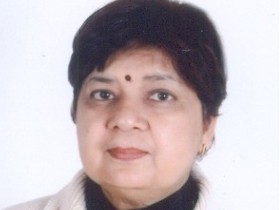 About Malti Goel
Dr. Malti Goel is a Ph.D in Physics and expert in communicating science with the public about climate change and its mitigation solutions. In 1990, she spearheaded India's first Monsoon Experiment to understand boundary layer physics in monsoon prediction. She has 25+ years of working in public service and was Senior Advisor and Scientist 'G', Ministry of Science & Technology (MST), the Government of India. She was nominated to represent India in the Carbon Sequestration Leadership Forum in 2006. She has been a CSIR Emeritus Scientist, Jawaharlal Nehru University (JNU), New Delhi, in the Centre for studies in Science Policy. She was a designated scientist emeritus, Indian National Science Academy, and Professor (Adjunct), Jamia Hamdard University in 2008. She was named Energy Champion by the India Member Committee of the World Energy Council in 2010 and was conferred LifeTime Achievement Award in 2016 for her outstanding contributions and achievements in climate change research in India.