The world today faces a number of challenges, and, in the hope of improving the lives of generations to come, it is vital these challenges are tackled urgently. The recently published Springer Nature Sustainable Business Report aims to outline the key approaches to unlocking the potential of open science and research to accelerate solutions to the world's most urgent challenges.
In this blog, which is the second in a series created to accompany the publication of Springer Natures' Sustainable Business Report 2022, we will discuss the importance of mental health, along with Springer Nature's involvement in Community Support following the COVID-19 pandemic.
The COVID-19 pandemic proved to be an incredibly difficult time for people all over the world, greatly affecting free movement, social interaction, education, business, and more. This in turn highlighted and exacerbated the already existent challenges of poverty, isolation, and not least, mental health. According to mental health charity Mind "Around a third of adults and young people said their mental health got much worse since March 2020".
With it no secret that mental health services are underfunded and understaffed, these startling statistics brought into sharp focus the importance of mental health and its impact on society. At Springer Nature, this did not go unnoticed and to mark World Mental Health Day 2022 the company donated to the charity MQ Mental Health Research.
MQ understands the importance of research in transforming mental health and, through consistent investment, strives to create a future where mental illnesses are understood, effectively treated and one day prevented. The donation is supporting MQ's data science programme, funding data science meetings and workshops for early career researchers in 2022 and 2023, with a total of 200 attendees.
Springer Nature already has strong links with the charity, through Editor-in-chief Sir Philip Campbell, who is part of the MQ Science Council, and Springer Nature recently hosted the first in-person MQ Data Science Meeting since the pandemic with Deutsche Bank. Sir Campbell said of the donation:
"By supporting MQ's data science programme, we hope to help build a diverse and influential community that will ultimately enable major improvements in mental health care and treatment and improve the lives of many in the years to come."
For years mental illness has not been taken as seriously as its physical counterpart, and, due to chronic underfunding, it is clear that mental health services require outside investment. It's for this exact reason that Springer Nature felt it necessary to support MQ through this donation. However, as the world continues through the post-pandemic mental health crisis, it's plainly obvious that other businesses must also show their commitment to their communities.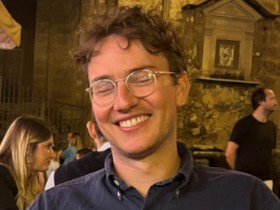 About the Author
Ben Hunt: Previous to joining the Copywriting and Translations team at Springer Nature, Ben marketed for the open access journal Scientific Reports, and before that worked in publishing within the media sector.