Sabine Andert is an expert in weed science and Integrated Weed Management. In this interview, she presents insights from her AC/DC-weeds project and explains how it contributes to protecting and restoring ecosystems and habitats.
What inspired you to pursue a career in the field of weed science and Integrated Weed Management, and what do you find most rewarding about your work?
I grew up in an agricultural environment on a family farm in Germany. I know what it means to grow crops and have a good or bad harvest. As a young girl, I saw how my father, an arable farmer, struggled with problematic weeds in his fields. This experience motivated me to look for solutions. As a weed scientist, I am currently part of the SusCrop-ERA-net project AC/DC-weeds which aims to implement more and better agro-ecological management for creeping perennials in arable farming. Creeping perennial weeds are a great threat in conventional and organic systems, and controlling them is a continuous challenge for farmers. The overall objective is to reduce inversion-tillage in organic and conventional farming – and to replace glyphosate use in the latter also.
How do you see weed science and Integrated Weed Management impacting biodiversity conservation and sustainable use?
Weeds remain a major obstacle to increased yields. Indeed, past reliance on chemical herbicides is no longer sufficient with increasing concerns about environmental effects, regulation, and resistance. This has led to the development of Integrated Weed Management (IWM) which includes herbicides as part of a broader array of cultural, physical, and biological methods of control. Using IWM is the way to go for sustainable and resilient agriculture.
Can you explain the role of weed science in promoting sustainable agricultural practices?
Weed management in Europe will become more environmentally friendly if the concept of IWM takes more hold on European farms. However, agroecological farming significantly shifts farmers' knowledge and behavior. For this purpose, communication and dissemination are essential between weed scientists and farmers. I like to give an example from the AC/DC-weeds project. We developed novel videos which support farmers with specific information on the spatial growth of perennial weeds, allow exploring how management practices affect the growth, and assist in understanding the consequences of different applications of disturbance and competition on field infestations.
Moreover, judicious use of advanced technologies, such as site-specific weed management systems and decision support modeling, will contribute towards more sustainable weed control. Effective linkages between farmers and weed researchers will be necessary to facilitate the adoption of technological developments.
How do you see your research contributing to protecting and restoring ecosystems and habitats?
Our research in the ACDC-weeds project strongly contributes to the responsibility for production as it supports the management of creeping perennial weeds while minimizing the use of herbicides and intensive physical soil interventions in arable cropping systems. Using fewer herbicides will improve the quality of groundwater, surface water, and soil. Inversion-tillage by plowing consumes much energy, compacts the ground, and diminishes soil biological activities. Agro-systems in which these management options are replaced by the cover, low interfering physical and naturally based chemical options put less pressure on the environment and are strengthened in their ecological resilience. Due to the continuous build-up of perennial field infestations, this counts also in the long term. Arable systems with less herbicide use to control perennial weeds would allow more biodiversity in annual weed vegetation. Though not the primary focus of farming, species-rich annual weed vegetation with flowering and desired species serve the public interest in the conservation of wildlife. Species-rich arable weed vegetation can buffer challenges resulting from invasive weed species. Under future climate change these are predicted to more and more enter arable fields, and competitive and diverse field vegetation contribute to preventing this. Species-rich arable systems are less vulnerable in their plant diversity with all known consequences for the food web of arable sites.
What advice would you give young women interested in pursuing a career in weed science and Integrated Weed Management?
Pursuing an agronomy degree is an opportunity to do stimulating and meaningful work. To rise as a young woman in this space, it is crucial to build up your confidence and stand up for yourself. You have to remain motivated and keep moving forward because a Ph.D. and/or Postdoc could be long and tough. I had the opportunity to work with outstanding weed scientists at the University of Rostock. I think selecting the right Ph.D. advisor and a subject you are interested in are the most important aspects of being successful. This can have a major influence on your career later on.
About the author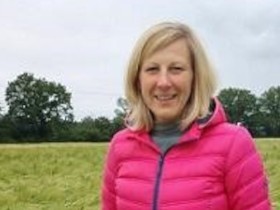 Sabine Andert is a weed scientist, with extensive experience in Integrated Weed Management (IWM) strategies. She has a background in agricultural science and is a graduate of the University of Kiel in Germany. Sabine received a Ph.D. from the University of Rostock, on the topic of on-farm pesticide use in Northern Germany. Her focus is on sustainable weed control strategies that minimize the use of herbicides and other chemical inputs while promoting ecological diversity and improving soil health.
Sabine is a frequent speaker at international conferences and has published many scientific papers on IWM.
She is an associate editor of Journal of Plant Diseases and Protection.