This article was originally published in 2019 and was last updated in August 2023.
Springer Nature conducted a survey of 6,500 authors who recently published an article in one of our journals. Our aim was to find out if, how and why our authors promote their articles when they are published. We discussed the survey results and what practical actions authors and publishers can take away with Anna Sophia Pinck, Research Analyst in the Strategy and Market Intelligence team at Springer Nature.
1. Why did you decide to conduct this survey?
Our main goal with this survey was to find out whether our journal authors already engage in activities to promote their published articles and what methods and channels they are using. We also wanted to understand their motivation for promoting their research, and barriers preventing them from doing so. Ultimately, we wanted to learn how publishers can provide tailored support to authors to help them promote their work.
2. Why is article promotion so important for authors?
After an article has been published, many authors assume that their work is complete and that their research will reach interested readers. For some articles this may be true, but for others, promotion upon publication may be useful to ensure that the research is read by the relevant communities. Fortunately, many authors now appreciate that promoting their article after it has been published can have a direct and real effect on how many people see and read it. A recent study, for example, showed that authors who tweeted about their publications had a higher number of downloads one year after publication than publications that were not tweeted.
3. How are authors currently promoting their published articles?
Our survey showed that the top three ways authors promoted their published article were: presenting at a conference, using a professional website, and engaging on scientific social network sites. These preferred ways of promotion indicate that authors want their article to be visible to researchers working in their own or similar fields.
More than half of authors we surveyed also said that they would like to take part in public engagement activities, upload their findings to a repository, or get their institutional press offices involved in promotional activities.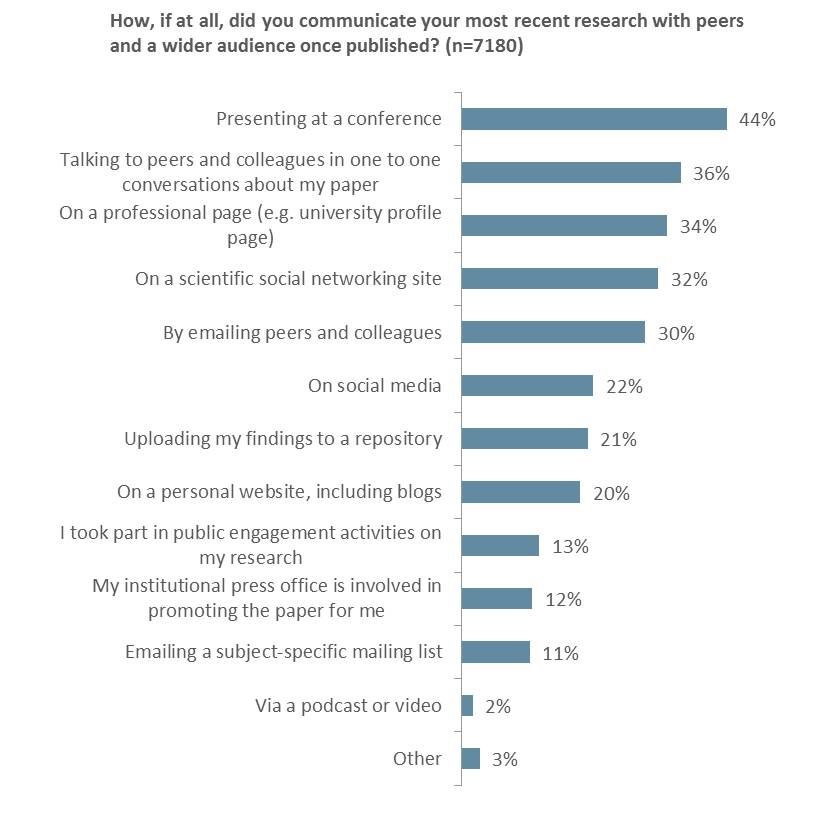 4. What are the challenges and barriers authors face when promoting their content?
Forty-nine per cent of authors surveyed said that they did not have time to promote their work after it was published, while forty-four per cent said that they did not know how to effectively promote their research.
One author mentioned that she did not promote her work as she didn't have much knowledge about the possible methods, and another explained that ignorance of mechanisms was a reason he didn't promote his work.
Other authors commented that they were concerned about copyright issues or whether they were legally allowed to share the research following publication. Almost a third of authors asked said that they did not have funding to support promotional activities.
5. How can publishers help authors promote their work?
The survey results clearly show that authors would like support from their institution and publisher to help them promote their work after it has been published. The type of support authors identified included highlighting publications on social media, providing social media friendly links, sharing abstracts and content, drafting press releases and organizing special training.
6. How does Springer Nature support authors in the promotion of their articles?
Our role and involvement in the publication process does not end when an article is published and there are a number of clear implications that we can draw on from these findings.
There are currently many ways that Springer Nature supports authors who wish to promote their research.
As a publisher, we:
Have a dedicated international press office who promote particularly noteworthy and media-friendly research content to global media outlets and contact press offices at research institutions around the world to notify them of their upcoming publications in flagship journals. This team also provide further information and support to authors and their press offices.
Help authors promote and share their work through two major industry-leading content-sharing initiatives:

SharedIt - Springer Nature provides authors with shareable links to view-only versions of their article so they can share research with colleagues and general audiences
Our newly expanded pilot with ResearchGate - Full-text articles published in select Nature and Springer journals are made automatically available on authors' profiles for all ResearchGate users to access, read and share.

Work on assisting those authors who are not yet promoting their work, but who would like to.
Encourage engagement and training through our online resources.
Encourage authors to involve their co-authors in the promotion process.
Work with authors to understand the barriers they face when promoting their work.
By understanding the major barriers authors face when promoting their work, we can develop tailored approaches involving key partners to make sure that we support researchers in our mission to advance discovery.
Springer Nature has compiled free tips and tools for how you can promote your work beyond publication. Check out the free promotional resources from around Springer Nature:
Nature​​​​​​​