At the recent STM publishing industry US conference in Washington DC, I had the pleasure of chairing a discussion about how we can work together to meet the Sustainable Development Goals. It's been eight years since the UN pulled off the incredible diplomatic feat of getting all 191 UN member states to sign up to the SDG framework which covers 17 goals and 169 measurable targets. Yet despite this auspicious start, progress since then has been slow. Panellist Jaron Porciello, an Associate Professor at the University of Notre Dame, pointed to a 2022 UN report which stated that the SDG agenda was in 'grave danger' and called for partners to double-down their efforts. Importantly, the report also made clear that science is the best bet towards achieving these ambitious goals.
But just how well understood are the SDGS amongst researchers? Each year at Springer Nature, we check in with researchers and librarians via surveys and interviews on a number of topics. In a sample of c3k respondents, we found that just over a half of those interviewed told us that they were both familiar with the SDGS and felt they were important. In a very unscientific digital hands up in the STM conference room in Washington, I found that just over half of those who took part said that they knew the SDGs and knew them well.
So what can we all do to 'double down' on support for SDGs as the UN has asked?
Well, Ann Beynon, Lead Partnerships Manager for the Institute for Scientific Information at Clarivate, gave us some encouraging news. By deep diving into Web of Science data (publication years 2018-22), she found that SDG research already accounts for almost half of all indexed research (45%) and covers a wide variety of subject areas. Importantly, given the UN's wish for research to be made fully accessible, 38% of these were either gold or hybrid gold OA making them instantly accessible around the world. The other good news is that SDG articles have been increasing over the period, with Environmental Sciences leading the way.
Jaron then took a subsection of this research – content made available via Research4Life (R4L) (peer-reviewed content provided at no or very low cost to institutions in lower income countries) – and using AI, conducted a deeper dive into the research. Her aim was to find out whether there are: major areas of focus across the 17 goals that are not adequately covered by materials produced by publisher; which publishers publish SDG related material but don't yet participate in R4L; and whether there are publishers who currently participate in R4L that could enhance research in support of the SDGs.
This work is ongoing but early results certainly look like they can help answer these questions. Jaron took a deep five into SDG2, the UN Goal to 'Achieve Zero Hunger by 2030, and five of the underlying indicators.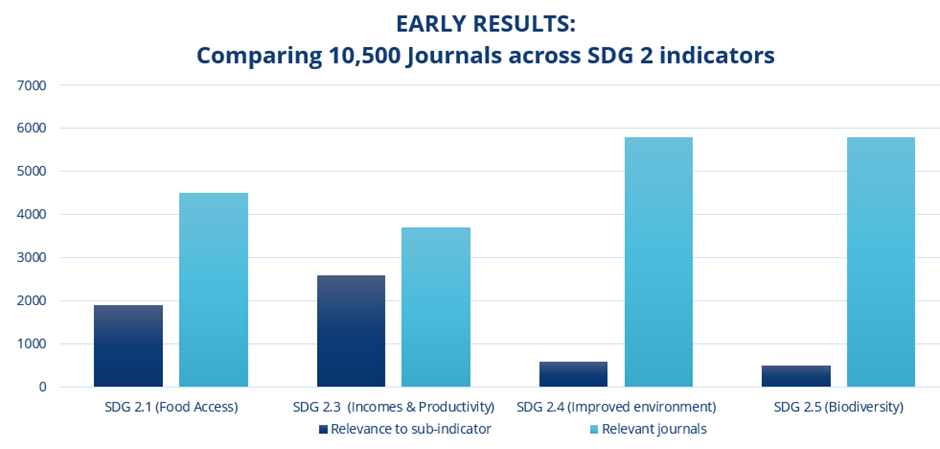 The results highlight a potential disconnect between journals that seem relevant to the SDGs but may not be publishing content that is directly relevant to the indicators – which is how the SDG community determines progress towards the Goals. They also show that not enough is being published from the implementation and development communities. This opens the path for R4L to work with existing and new publishers to fill the gaps with new interdisciplinary and solutions-oriented publications to ensure that impact continues well beyond 2030.​
There is certainly commitment by the publishing community to support the SDGs. Already 300 Publishers have signed up to the SDG Publishers Compact since launch in Oct 2020 and have committed to a range of commitments including prioritization of the goals, generating awareness and taking actions. Dana Compton, Managing Director, & Publisher, American Society of Civil Engineers (ASCE) ended the panel discussion with a really positive and practical example of what form this support could take. She took us through the various developments that ASCE has driven over the past few years including an SDG library portal, individual SDG-related collections and the launch of ASCE's 1st gold open multi-disciplinary journal in which authors are encouraged to submit research that advances practical solutions to global grand challenges. ​
Dana had a positive message for all those in the room – just get started! She reminded all publishers of the unique contribution they can make toward promoting SDGS and to help those who have yet to make their first move, she previewed an STM SDG digital roadmap which is being designed to help publishers step by step with tools and resources.
The engaging discussion that we had at the end of the panel left me feeling very positive. Whilst there is still much to be done there is clearly forward momentum. Developments are happening at both the individual publisher level and at an industry level as STM prioritises support. More to come!
You may also be interested in reading Nature's EiC Magdalena Skipper's speech to the UN Science Summit, where she called on the UN to recognise the role of Science.