This is the third year that Scientific American and Nature Research—part of Springer Nature— are hosting Science on the Hill, an ongoing series of events to connect experts in the scientific community directly with lawmakers on Capital Hill. Here we ask Rachel Scheer, who oversees PR for Scientific American, how the series came about and what we can look forward to from this year's event in Washington, D.C.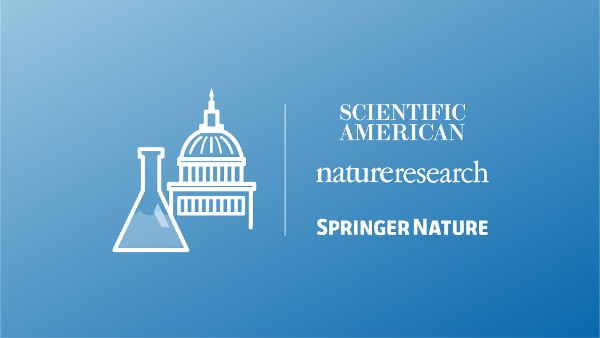 1. How did the idea for Science on the Hill come about?
In 2017, Mariette DiChristina and I visited Rep. Jerry McNerney, a Democrat of California and a devoted reader of Scientific American to discuss ways we could collaborate to connect experts in the scientific community directly with lawmakers on Capitol Hill. Ultimately, we settled on a series of panel discussions that became "Science on the Hill." The Science on the Hill event series is part of Springer Nature's commitment to advance discovery by bringing together thought leaders in the science and political communities to discuss the most important science topics of the day.
2. What do you think are the most valuable aspects of hosting this type of event?
The Science on the Hill series facilitates dialogue between the public (including politicians, nonprofits, leading corporations, etc) and scientific/research communities. It is very exciting to see these connections be made as they have the potential to help guide Congress as they make important legislative decisions.
3. What have been the outcomes of these events in the past?
The response from the community has been fantastic! Sunya Bhutta, Scientific American's Engagement Editor, live tweeted the event, posted images and stories on Instagram and created a Facebook event page. That combined with the blog leading up to the event lead to a reach of about 277,000 people. The response from congressional staff was very rewarding. They were very excited to see us, a publisher, facilitate these important discussions and expressed interest in having move. Needless to say, we are excited to return in June to discuss the topic of "Solving the Plastic Waste Problem."
4. How did you decide on this year's topic, 'Plastic Waste'?
We chose the focus of this Science on the Hill event to be "Solving the Plastic Waste Problem" as its an important topic that affects everyone on both an individual and cultural level. Our expert panel, Dr. Morton A. Barlaz, April Crow, and Dr. Kara Lavender Law, will address how plastic waste is a threat to the environment and how providing solutions can be a boost for businesses and lead to job growth. We also chose it as it is an issue related to the UN's Sustainable Development Goals.
5. How can people join the conversation and tune in to this year's Science on the Hill?
Join the conversation on social media with our hashtag #ScienceOnTheHill. We will be sharing tweets, Facebook posts and Instagram stories before, during and after the event. Steve Mirksy, Scientific American's Senior Multimedia Editor, will be creating podcasts with the panelists and members of Congress. People can also read relevant content on Springer Nature's Grand Challenges Portal and Scientific American's Special Report.
Rachel Scheer is Head of Communications, USA at Springer Nature where she oversees the PR efforts for Scientific American and works on communications for initiatives across all of Springer Nature. She was previously an Assistant Editor at National Geographic Adventure. Rachel has her BA in Geography from Penn State University.