The theme of this year's World Economic Forum is "Cooperation in a Fragmented World" with a focus on public-private collaboration. Maria Alejandra Gonzalez-Perez, Professor of Management at Universidad EAFIT, Colombia discusses her work on the importance of public-private collaboration for the success of SDG08.
Over the last two decades, I have dedicated myself to studying the sustainability of multinational companies from emerging market countries from various perspectives. Firstly, I research the contribution of these companies to sustainable development in the territories where they operate. We study and measure their impact on nature, markets, and society (poverty reduction and peacebuilding), looking at how they seek to accelerate the fulfilment of the SDG agenda in the places where they produce, serve and invest. Secondly, I study the future viability of companies over time. I rely on different approaches, such as internationalization, futures studies, and risk management, with a particular focus on climate and energy transition risks.
How does your work directly address ways in which we can address global challenges in a fragile world? If so, in which way?
I maintain great closeness with the private sector to participate in collective initiatives of the private sector. Through academia, I aim to influence how companies assume their commitments to sustainability and internalize their externalities moved by conviction and ethics or driven by the need to manage different risks, anticipate regulations, enhance their relevance to local communities and improve relationships with stakeholders and maximize together their competitive advantages.
What are the short and long-term goals of your work?
In the short term, I aim to maintain the relevance of my work for the sustainability of companies in emerging countries. In the long term, the goal is to be able to make exponential (through work with suppliers of companies, with students, investors, and citizens) the adoption of tools, strategies, behaviors, and mindset that allows companies to maximize their positive impact on nature, markets, and society.
What do you think is the most productive way that organizations in the private and public sectors can co-operate to address urgent challenges?
Many companies may have the resources to face significant challenges individually. However, a company can only sustainably contribute to society and the environment in collaboration with other companies, community organizations, or local or national government. In our book "Business, Government and the SDGs: The Role of Public-Private Engagement in Building a Sustainable Future", launched at COP27, we find that the outcome would be much more effective when the private sector partners with national and local governments for long-term growth and value creation.
What does public engagement look like in your field and how important do you think it is for researchers to make a societal impact with their work?
We academics must increase our responsibility with real and critical challenges and conduct responsible research. Responsible research implies boosting scientific rigor, working with other actors (companies and governments), and identifying the potential for positive (and negative) impact of our areas of expertise and interest in meeting the goals of the 2030 agenda. Based on this identification, academics should prioritize and structure our research projects to catalyze changes in mentality, financing, and regulatory frameworks that are required to face the urgent and pressing challenges: poverty, hunger, debt, loss of biodiversity, energy transition, and climate action.
What progress would you like to see happen at the World Economic Forum this year?
2023 will be a year where orchestrated coordination between companies and governments is required to decisively address critical issues such as inflation, debt, deglobalization, food crisis, mental health, deforestation, and the financing of the energy and climate transition.
I hope to see happen at the World Economic Forum visible coalitions of companies committed to radically ambitious goals of accelerating decarbonization and energy transition in an orderly and coordinated manner and taking pragmatic responsibility to respond to demands for climate justice.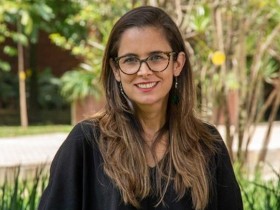 About the Author:
Maria Alejandra Gonzalez-Perez is a Full Professor of Management at Universidad EAFIT, Colombia. She was the Vice-President of Administration at the Academy of International Business (AIB) (2015-2018), the regional chapter chair for Latin America and the Caribbean (AIB-LAC) (2018-2021), and a board member of the AIB Shared Interest Group (SIG) on Emerging Markets from 2022.
Maria Alejandra has authored or edited 17 books, including The Palgrave Handbook of Experiential Learning in International Business (2015), The Palgrave Handbook of Corporate Sustainability in the Digital Era (2021) and Business, Government and the SDGs (2022).