In honor of World Water Day (March 22nd), we have invited a few field specialists to share their thoughts with us on the nature of their work and their commitment to addressing the SDGs. These experts translate science into realities that can provide solutions to our challenges and nurture the grass-root community collaboration. We asked how they address issues directly related to Sustainable Development Goal (SDG) 6 – Clean Water and Sanitation. Here we are sharing thoughts from Helder I. Chaminé, Professor at School of Engineering (ISEP), Polytechnic of Porto, in Portugal and who is also an editorial board of the SN Applied Sciences.
My research and practice — from groundwater systems complexity to design with nature, hazards, society and geoethics
Water is often seen as a life and precious natural resource. All of the water systems on Earth makes the hydrosphere. This system is interrelated with the Earth's other systems, such as geosphere (lithosphere and atmosphere), biosphere, and the human-related anthroposphere. For example, fresh submarine groundwater discharge insignificant to the oceans is essential for nutrient inputs to coastal biodiversity and ecosystems [1].
Water is critical to the normal functioning of geosystems, ecosystems and society. Water is the most widespread substance in nature and is often drawn by a dynamic water cycle. That discontinuous systems are fluid and frozen forms and make up the oceans, lakes, streams, glaciers, and groundwater. The so-called surface waters are the most visible dimension. However, the water cycle's most hidden and invisible component is groundwater, but its impact is visible all over. Thus, the groundwater blueprint is frequently seen as a finite and vulnerable natural resource to be protected environmentally, sustainable and ethical. Water supply, sanitation systems, farming, industry and ecosystems are backed by groundwater. Unfortunately, human activities led frequently to mismanagement, overexploitation, contamination, and even pollution of groundwater systems. Therefore, groundwater will play a key role in sustainable development, supply, irrigation, and climate change adaptation. United Nations (UN-Water) highlights that over 2 billion people currently live without access to safe water [2]. For sure, a response to the pressure of human activities and climate change pass for better awareness of the importance of valuable natural resource with a new ethos and geoethical approach. Finally, water has also territorial, cultural and spiritual dimensions.
How to support a comprehensive approach to groundwater systems complexity and shifts in sustainable groundwater resources management towards designing nature-based solutions, hazards and society with geoethics? These are key research questions leading my research and evolving network. Much of my team research follows an inter and multidisciplinary methodology for undertaking that, including a transdisciplinary approach where the environmental agencies, Research and Development (R&D) consultancy practice and communities are keenly engaged in the research process.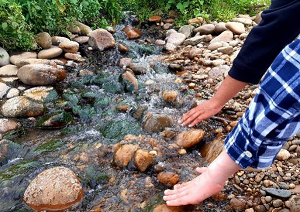 Monção thermal waters discharge to Minho River, Portuguese and Galician border (copyright H.I. Chaminé).




Tell us about your work and your commitment to the SDGs.
In my early career, I started as a mining geologist in a coal mine in northwestern Portugal, where I worked on water-inrush issues on underground mining and related impacts of mining on ground subsidence. That was a challenging experience where the geological mapping techniques, in multi-scale approach, fieldwork (surface and underground) combining geological mapping, mining geology, hydrogeomechanics and hydrogeology were decisive to a comprehensive model of functioning of groundwater systems and establishing geoenvironmental remediation measures on the land subsidence to the affected territories. Later, I had a chance to work in a colliery in the Asturias region, in northern Spain, with similar issues and gained sensitiveness about the role of water in engineering works. Several years later, I started a close cooperation with my mentor and former Professor of Hydrogeology and professional hydrogeologist, J. Martins Carvalho. With him, I had the luck to grow up in the last 25 years as an applied geologist and hydrogeologist in the practice, research and teaching, where an integrative perspective combining fieldwork, mapping, desk studies and modelling played a central role in decoding the precious hidden groundwater resource. During this period, I joined the academia where I developed my skills as a professor, researcher and communicator. As a result, I have been engaged with my team in over 50 R&D projects and consultancy in the GIS-based mapping and geovisualisation techniques for hydrogeology, exploration hydrogeology, environmental groundwater, hydrogeomechanics, thermomineral waters, geological hazards and geotechnics, urban groundwater, and water resources management (details in [3], [4]). In short, my evolution as a geologist slowly shifts from the water role in mining and geotechnical engineering works to the characterization, evaluation and protection of groundwater, thermal waters and water resources in research and practice. Lastly, my focus is on environmental safeguard and developing a transdisciplinary approach including hazards, societal and geoethical dimensions in use and water resources management.
Since 2005, another dimension of my team activities has been communicating with society the role of geosciences and groundwater included in the 'Ciência Viva' (Live Science) national programme. That has been an enriching and inspiring experience to get in touch with several generations, especially the younger ones.
'Ciência Viva' activities in Tibães springs and fountains, Benedictine Monastery of São Martinho de Tibães (founded around 1060), Braga, Portugal (courtesy of J.F. Trigo, ISEP; copyright).
What are the short and long term goals of your work?
My short-term goal is to promote comprehensive studies and develop multi-scale GIS-based mapping and geovisualisation methodologies for groundwater vulnerability in diverse hydrogeological contexts (e.g., urban areas, thermal waters, groundwater exploration for water supply, and contaminated areas hydrogeotechnics issues) and impacts on water resources management. Additionally, my team has started challenging topical research in rural communities and issues with groundwater resources management, fostering sustainable nature-based solutions, socio-hydrology, and ethical dimensions in the serviceability and affordability of water resources [5].
My long-term goal is to pursue an integrative water resources management methodology that shall be made an effort to be designed with nature-based solutions and add geohazards, societal and hydrogeoethical dimensions. The impressive words of Ian McHarg [6], in the early '70s, are still topical "(…) he must become the steward of the biosphere. To do this, he must design with nature" and guided my research team in the last 20 years. I hope they headlight my future research paths.
UN-Water wisely dedicated the year 2022 to the invisible water flowing in geological formations, with the inspiring motto "groundwater: making the invisible visible". World Water Day initiative will be formally launched on 22 March 2022. In fact, this UN-Water programme was tackled to inspire action towards Sustainable Development Goal (SDG) 6: "Ensure availability and sustainable management of water and sanitation for all" by 2030 (details in: https://www.worldwaterday.org/). Consequently, this SDG ensures widespread and equitable access to freshwater and sanitary issues to all. We must work hard as all to achieve that.
The success of the UN's 2030 Agenda depends on the relationship between the government, public institutions, agencies, and local authorities, not to forget stakeholders like representation of interests and water user communities, environmental partners, and academia. Furthermore, several studies [5,7] address the need to use a transdisciplinary approach to analyze groundwater interlinkages with SDG´s targets, supported by the clear identification of evidence-based and logical interlinkages. Finally, water is required for drinking purposes, support sanitation and hygiene, and sustain ecosystems and health. Therefore, the success of SDG6 goals should be taken by the quality water services, technical-scientific evaluations and proper communication with end-users and communities, including the feedback on the water quality status.
How has your work shifted given the impacts of the COVID-19 pandemic?
My work changed utterly. When I was forced to lockdown in mid-March 2020, all my routines shifted to online work. In addition, the teaching courses were suddenly adapted to the online format. I remember some anxiety in the early days, but slowly it vanished. At the research level, the communications and the work shift to online. I missed the possibility of the fieldwork activities only being allowed in some limited and short periods. As a result, we all learned quickly about the pandemic crisis to interact with all players.
However, I noticed the unique experience of organizing an international event planned to be held in person in May 2020. Given the restrictions imposed by COVID-19, the organizing committee had to make the urgent decision to hold the event online ("1st Congress on Geoethics and Groundwater Management", co-organized by IAH, IAPG and ISEP). At the time, it was a bold decision with many uncertainties. In fact, it was a double challenge: I) quickly learn to organize an online event with the enrolment of a digital partner from Ireland (Ex Ordo – Conference Management Software); II) the participation of over 175 delegates and the book of proceedings published by Springer [8], gathered 227 authors of the academy, research centres, state laboratories or industry from 47 countries of all continents. It was a fantastic journey with all, also extended to the experience to organize three topical collections (TC) by Springer journals portfolio. One was recently published by the journal Mediterranean Geoscience Reviews [9]. Two more TCs are ongoing and were supported by the journals Sustainable Water Resources Management and SN Applied Sciences.
What do you see as the role of funders and publishers in supporting groundwater science and practice? How can they best support early-career researchers and practitioners?
A major societal challenge is decreasing the gap between research and practice in sustainable groundwater resources management or making common ground with fewer barriers to solving real-world problems. So, research funding shall be oriented to solve problems and prioritize actions-projects encompassing industry, academia, and society. In my view, clear and synergistic communication with society is essential to protect the earth and environmental systems, mainly groundwater resources. That approach under the SDG6 framework will help to disseminate learning in real-world scenarios. The publishers have a crucial role in promoting a creative design of communication formats, whether printed or digital. In the last years, fully open access journals have been offered themed collections across all fields relevant to earth and environmental sciences or water; Springer Nature journals — SN Applied Sciences [10] and Discover Water [11] — are good examples.
A significant challenge of science recognizes the scientific and societal impact on transdisciplinary sustainable groundwater resources research. That is a big task for any scientist or practitioner. Even early-careers should gain experience in working with inter-and multidisciplinary methodologies in diverse and complex environments. Nevertheless, most importantly, they must learn to conceptualize multi-scale approaches in different contexts. It is also fundamental to work as a team with different generations of researchers and practitioners to obtain inter-generational mentoring and gain confidence in their thoughts, analyses, and solution proposals. Therefore, early-career researchers and practitioners need to get in touch with real-world oriented projects to conceptualize outside the box with integrity and geoethics. Straightforwardly they shall be compelled to make "boots on the ground" research and practice-driven with the integrative support of fieldwork and laboratory techniques and modelling tools. Above all, they shall learn to observe, analyze, model, and communicate to a comprehensive design with nature, hazards and society.
References
[1] Luijendijk E, Gleeson T, Moosdorf N (2020) Fresh groundwater discharge insignificant for the world's oceans but important for coastal ecosystems. Nat Commun 11: 1260. https://doi.org/10.1038/s41467-020-15064-8
[2] UN-Water (2021) The united nations world water development report 2021: valuing water. UNESCO, Paris. https://www.unwater.org/publications/un-world-water-development-report-2021/
[3] Chaminé HI, Carvalho JM (2015) Meeting sustainability and water resources: a dialogue about groundwater science and hydrogeology practice. Environ Earth Sci 73:2531–2542. https://doi.org/10.1007/s12665-014-3969-z
[4] Carvalho JM, Chaminé HI (2021) Over fifty years of hydrogeological practice and geoethics: an intergenerational view of a changing world. In: Abrunhosa M, Chambel A, Peppoloni S, Chaminé HI (eds) Advances in Geoethics and Groundwater Management : Theory and Practice for a Sustainable Development. Advances in Science, Technology & Innovation (IEREK Interdisciplinary Series for Sustainable Development). Springer, Cham, p. 297-303. https://doi.org/10.1007/978-3-030-59320-9_61
[5] Chaminé HI, Carvalho JM, Freitas L (2021). Sustainable groundwater management in rural communities in developed countries: some thoughts and outlook. Med Geosc Rev 3(3):389–398. https://doi.org/10.1007/s42990-021-00064-7
[6] McHarg IL (1992) Design with nature. Wiley series in sustainable design, 25th edn. Wiley
[7] Naves A, Samper J, Mon A, Pisani B, Montenegro L, Carvalho JM (2019) Demonstrative actions of spring restoration and groundwater protection in rural areas of Abegondo (Galicia, Spain). Sustain Water Resour Manag 5:175–186. https://doi.org/10.1007/s40899-017-0169-5
[8] https://link.springer.com/book/10.1007/978-3-030-59320-9
[9] Chaminé HI, Abrunhosa M, Barbieri M, Naves A, Errami E, Aragão A, di Capua G (2021) Hydrogeoethics in sustainable water resources management facing water scarcity in Mediterranean and surrounding regions. Med Geosc Rev 3:289–292. https://doi.org/10.1007/s42990-021-00069-2
[10] https://www.springer.com/journal/42452
[11] https://www.springer.com/journal/43832
About Helder I. Chaminé
Helder I. Chaminé is a skilled geologist (BSc, PhD, DSc) and professor of engineering geosciences at the School of Engineering (ISEP) of the Polytechnic of Porto, Portugal, with over 32 years of experience in multidisciplinary geosciences research and practice. Before joining the academy in 2001, he worked for over 12 years in international and national projects for mining, structural geology, rock engineering and groundwater. His major research interests are GIS mapping techniques for applied geology, geotechnics and natural hazards, engineering geosciences and hydrogeomechanics, hard rock hydrogeology, urban groundwater, water resources and thermal waters management.
He is vice-president of the Portuguese Chapter of the International Association of Hydrogeologists (IAH) and deputy secretary of the Technical Commission of Environmental Geotechnics from the Portuguese Geotechnical Society (SPG). Currently, he is (co)organizing the 3rd International Workshop on Natural Hazards—NATHAZ'22 (Terceira Island, Azores, May 2022), supported by IEREK+Springer.