To celebrate International Women's Day and Women's History Month more broadly, the SN Women Network asked several female scientists to share what inspires them, what challenges they faced and still face, what advice they have for women and girls interested in science, and more. We're honored to feature their inspiring stories. Happy Women's History Month!
Here we interview Sandra López Varela.
What's one area of your life (whether work or personal) that your most proud of. And where do you feel you've made the greatest impact.
I am the proud daughter of a wise civil engineer who went to school barefoot and a remarkable woman who learned how to read and write later in life. Their life stories forged me, period. I honored their efforts by earning a PhD in Archaeology from the University of London, by becoming President of the Society for Archaeological Sciences and a board member of the American Anthropological Association. Earning the Friedrich Wilhelm Bessel Research Award from the Alexander von Humboldt Foundation recognized their determination through me. I am unsure if I have made an impact in others, the way my parents have. I just wake up every day, hoping that whatever I am going to learn that day becomes of benefit to others.
What are some obstacles/pushback that you've faced in your career as a scientist and/or in your efforts in the women in science?
Being where I am now has not been easy, even if for Mexico's standards of living. Indeed, key to my professional career was my parents' economic situation of offering me the best education they could afford, but my graduate studies took place at a time in Mexico in which there were no grants. I helped my father pay for my graduate studies at the University College London by cleaning toilets at MacDonald's on Tottenham Court Road, and later classifying microfiches at a company on Oxford Street. I was "promoted" mostly because of my ability to speak four languages. However, not always has this ability been a pot luck. I never envisioned that writing in English would make me "trop Américaine" for the Mexican academia, and in the English-speaking academia, "hardly knowledgeable of the language". I have already come into terms with never being too good for the Mexican academia. Fortunately, as my professional credentials grew internationally, my "Latina" status is almost gone, but it is still there. Yes, I made the mistake of paying attention to this "illusory self", created by discriminatory remarks and the fact that I was simply a "Latin-speaking woman who neither marries nor has a good end". It takes a village to put you down too. Even if my next door neighbor aggressively tries to put me down, to inflict self-doubt in me for being a woman who chose to challenge her assigned societal role, I am standing up, believing in me. I won't be interrupted by intimidation, as I know now that whenever I am reminded that I am too loud or too quiet, too strong or too weak, my neighbor is simply seeing his reflection on me.
What would you tell a young woman who is considering science as a career path?
If I had to give some advice to a young woman who is considering science as a career path, I would say, please don't make of any obstacle you find along the way be the limit of your sky, break free by embracing these obstacles as good news, as these can only make you better. If you have worked hard, even in your darkest moments, someone will give you a hand and pull you out.
Why did you become a scientist?
I grew up in an environment surrounded by math and science, with a motherly touch of art and music, that took me to consider a career as a pianist, not even remotely in archaeology. My interest in science did not grow out of feeding my own interest of finding out how nature worked or how to build things, which I saw my father did every day. I pursued a scientific career because my father inspired me to contribute to society; so simple.
What changes do you feel are necessary in society to move towards lasting change and true equality amongst men and women.
Inequality remains and it is not solely related to gender. Inequality needs to be situated within the social background of the developing world, not only against the dominant economic system of the western world. How can you beat inequality when poverty prevents you from studying, when you have to marry when you are a child to feed your family, when you fear for your life because you stood up to defend your rights. The emotional impact of inequality is far too great for a school to be its only remedy. Help is on the way with the challenging words of a new generation of young women who have used the power of their voice and have said courageously: "How dare you! They cannot shoot my dreams." "For there is always light, if only we're brave enough to see it. If only we're brave enough to be it. Thank you Gretha Thurnberg, Malala Yousafzai and Amanda Gorman for stepping up where we failed. You are the needed change, for you are no longer afraid.
Below, listen to Sandra tell her true personal story as part of the Springer Nature Storytellers program
Listen to Sandra's Springer Nature Storytellers episode here.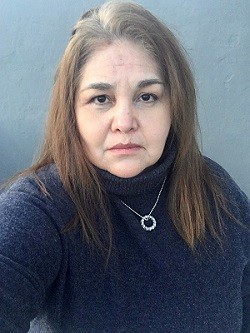 About Dr. Sandra L. López Varela
Since 2013, Prof. Dr. Sandra L. López Varela (Ph.D. in Archaeology, University of London, 1996) is full-time Professor at the Department of Development and Intercultural Heritage Management of the Faculty of Philosophy and Letters, of the National Autonomous University of Mexico (UNAM) and a Registered Professional Archaeologists (RPA 15480). Dr. López Varela is fluent in English, German and French.
López Varela was Secretary of the Archaeology Division of the AAA and section editor of Anthropology News (2018-2020). After serving as President and Vice President of the Society for Archaeological Sciences (SAS 2009-2011) and as President of the Alexander von Humboldt Foundation Alumni Club-Mexico Division (2008-2010). She was elected to the Executive the board of the AAA, holding the Archeology Seat. In between 2015 and 2017, she served as Treasurer of the Mexican Society of Anthropology (SMA). In 2009, Dr. López Varela joined the Mexican Academy of Arts, Technology and Humanities. Since 2019, López Varela serves as Brain City of Berlin Ambassador.
Prof. López Varela's earlier research, focusing on the study of Maya ceramics and ethnoarchaeological investigations of pottery production technologies, led her to adopt a critical and analytical stance towards economic and development growth policies to combat poverty in Mexico. These policies often do not benefit local communities and commonly interfere with heritage preservation. Results from these investigations received the Friedrich Wilhelm Bessel-Forschungspreis award of the Alexander von Humboldt Foundation in 2012.
Since 2015, she is principal investigator of the research project Alternative Mexico, (https://www.mexicoalternativounam.com) in collaboration with students enrolled in her undergraduate courses focusing on heritage, preservation, development planning and policy, at the Department of Intercultural Development and Management, of the Faculty of Philosophy and Letters. Alternative Mexico is an innovative heritage project, aiming to promote the preservation of Mexico City's heritage and its metropolitan area, in collaboration with the public, by using a mobile application (App) for iOS and Android devices, a website, and social media.
Dr. López Varela is general editor of the Encyclopedia of Archaeological Sciences published by Wiley Blackwell in 2018 (604 articles distributed in 4 volumes, bringing together almost 500 researchers from 43 countries, working in archaeology with techniques deriving from physics, chemistry, and natural and earth sciences and theoretical frameworks from the social sciences and the humanities. Her research has been published by major international publishers, such as Elsevier, Academic Press, Springer, American Anthropologist, Wiley Blackwell, Siglo XXI, Fondo de Cultura Económica, Miguel Ángel Porrúa, and by top ranking university presses. She has participated in more than 150 international conferences, and organizes yearly, the Ceramic Archaeology symposium at the Annual Meeting of the AAA. Dr. López Varela has taught more than 80 undergraduate, master and doctoral courses at national and international institutions.