This week we're sharing stories from members of Springer Nature's employee network for LGBTQ+ staff and allies, SN Pride. In honor of SN Pride's first anniversary. Read more from Springer Nature staff below and check back for new stories every day this week here on The Source.
Written by Laura de Kreij
Production Editor, Springer Nature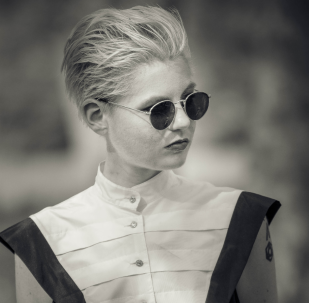 Hi there, I am Laura de Kreij. I have been working here at Springer Nature since September 2017. Before that, I majored in theatre, media, literature and linguistics at University College Roosevelt (part of Utrecht University). I am a geek, I love to read, to watch the latest films and to know everything about my favourite films and characters. I am also a cosplayer, which means I attempt to recreate costumes of fictional characters and wear them to comic book conventions (both in the Netherlands, and internationally). I am a fan of Adam Lambert and Queen, and I even have two tattoos to prove it. I also love motorcycles and am currently going for my motorcycle license as well.
Oh, and by the way, I am also non-binary.
So what does "being non-binary" actually mean?
This differs greatly person to person. There is no correct way to identify as non-binary; everyone has their own definition and experience to go with it.
For me, this means waking up in the morning hoping I will be somewhat comfortable in my body today. My morning routine often includes putting on some contouring makeup to hide my feminine facial features. Nowadays I almost always wear chest binders to minimize the curve of my chest.
For me, this means shopping in both the men's and women's departments, depending on how I feel or identify that day. One day, you might see me in a full-length dress sporting lipstick and heels. The next, I will be donning a three-piece suit, complete with pocket watch. The day after that I might be in a slightly less 'fancy' mood, so it'll just be jeans and a t-shirt.
For me, this means being (more) sensitive to gender stereotypes and pronouns. Every "excuse me, ma'am" or "sorry miss" will set off some sort of alarm bell at the back of my head, because that's just not who I am or how I feel.
For me, this means experiencing mild to intense discomfort when filling in forms with 'gender: male/female', which again depends on the day and my mood.
For me, this means proceeding with caution when I meet new people or apply for a job, keeping my specific 'complicated baggage' under wraps because I am not sure if the other person will accept it and not see me as a burden.
Before I worked at Springer Nature, I had a job in a local home depot store. This is where I really noticed (again) how ingrained the gender binary still is. I was being called "lady", "girl", "woman" or "miss" every single day. People asked me if I had a boyfriend, or if I liked ballet. They assumed I would not be able to work larger machines and would take that task from me "because I am a girl". I wanted to leave within a week.
During a time when I was struggling with my identity, I faced constant rejection from employers. However, around August 2017, I signed with an employment agency. Turns out, I was in exactly the right place at the right time. I was referred to a job at Springer Nature, and immediately jumped at the opportunity. Imagine my surprise and relief when I found out that this company is hugely focused on encouraging diversity. I quickly encountered people from all different cultures and walks of life, and in turn I was invited with open arms. Most of all, I felt I was finally free from judgment about my gender identity, and could be who I am without holding anything back. And when I did, it opened my eyes to this Pride network and even encouraged me to take this into my local Dordrecht office.
All of this led me to where I am now. I'm currently typing this on a cold Wednesday afternoon, having hosted a lunch and learn session the day before. In this session, I basically reiterated what I have typed in this post. For those of you that don't know me, I am quite an open book and tend not to keep secrets. This is especially the case with gender-related matters. If others can talk about these things, whether they identify as cisgender (somebody whose gender identity matches the sex they were given at birth) or something else, why can't I? In my time, I've heard plenty of (straight-cisgender) men and women discuss their gender and sexuality and I have as much of a right to do the same.
I think I speak for a large part of the community when I say that all we want is acceptance. You don't need to understand the specifics of our orientation (though asking for our pronouns and showing more casual interest might also solidify your bond with us), as long as you say "it's okay, you identify as such and I will log this in the info I have on you". That, from the bottom of my heart, is all we want, because we are human too.