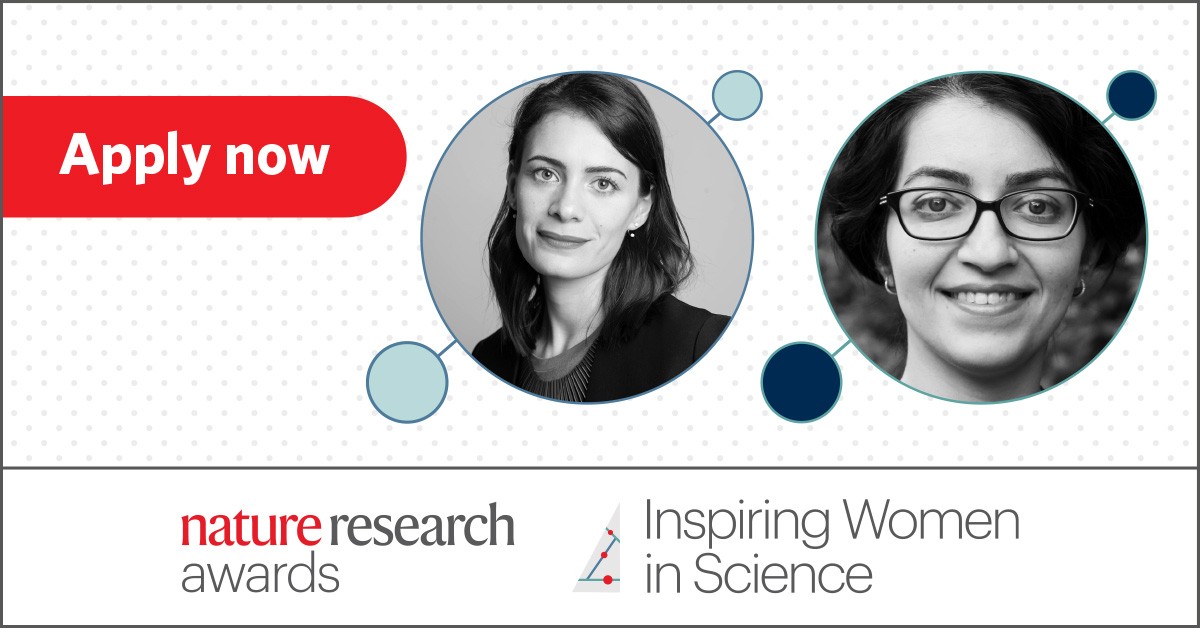 We are extremely proud to announce the 2021 Nature Research Awards for Inspiring Women in Science (previously the Nature Research Awards for Inspiring & Innovating Science), in partnership with The Estée Lauder Companies.
These awards acknowledge the outstanding achievements of women in science and there are two categories you can enter:
The Science Outreach category is presented for initiatives that support girls or young women to engage with and study STEM subjects or that increase the retention of women in STEM careers around the world.
The Scientific Achievement category is awarded to early-career women researchers who have made an exceptional contribution to scientific discovery.
Each winner will receive*:
A prize of $40,000
Coverage on nature.com
Mentoring, as well as an invitation to present their work or initiative to scientists at The Estée Lauder Companies.
Key dates include:
12th April 2021 - Application window opens
20th June 2021 - Application window closes
September 2021 - Shortlist announced
October 2021 - Winner announced
These awards are now open for applications. You can apply today or alternatively, please recommend someone that you think would make a good candidate.
How has winning helped STEM Belle?

"Winning the Innovating Science Award in 2019 was a game changer for us. Thanks to the visibility and support we received, we successfully rolled out The STEM Belle Teachers Fellowship, a 21st century standard teachers training and development program for teachers from low income community schools, and we have launched The STEM Belle Teachers kit to aid these teachers deliver effective STEM classes in low income community schools. This has never happened before in Nigeria."
-Doreen Anene, Founder, STEM Belle, Winner of the Innovating Science Award 2019

Apply by the 20th June 2021

2020 ceremony
Last year saw our first, hugely successful virtual awards ceremony, which was hosted by Maggie Philbin and included a keynote speech from Trish Greenhalgh. If you would like to see the ceremony, you can watch it here.

Hear from the winners of our 2020 Awards
Melina Masnatta, Executive Director, Chicas en Tecnologia and Dr Samira Asgari, Postdoctoral Researcher at Harvard Medical School, the winners from our 2020 award programme, also recently joined us for a webcast. Hosted by Magdalena Skipper, Editor in Chief of Nature, they discussed their research and the inspirations, achievements and challenges that impact on the lives of women in STEM. You can watch Melina and Samira and learn more about their research here.