Nature Communications is offering an Early Career Researcher (ECR) peer review program in an effort to make peer review more inclusive and to offer an opportunity for formal training in peer review. The program was piloted last year as part of the commitment of Nature Communications to support ECRs in partnership with the United Kingdom based charitable organisation Sense about Science, and proved to be helpful for ECRs based on their feedback.
This year, Nature Communications is continuing this initiative in collaboration with Sense about Science, with the aim to increase our contribution to offer as many ECRs as we can the opportunity to participate. This year's programme will consist of 'Quality and peer review online workshop' hosted by Sense About Science and offered to members of their partnered organisations. Independently, Nature Communications will hold an introductory webinar on peer review for approximately 250 ECRs recruited from all over the world and a subsequent one-on-one training with a professional editor for approximately 50 ECRs over the coming months.
Interested ECRs can apply to this year's edition of the ECR peer review program until 14th June.
We recently highlighted the experience of ECRs who participated in the pilot program last year. To pull the curtain back on the thoughts and motivations on the other side, we asked Nature Communications editors Anna Kriebs, Kyle Frischkorn and Catherine Smith, some of the editors who volunteer as mentors for the program, to share their experience with us.
Tell us about yourself.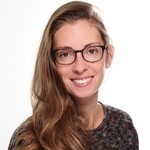 AKR: I'm a biologist with doctoral training in circadian rhythms. I became an editor for Nature Communications after my PhD work. In addition to circadian rhythms I handle manuscripts in various aspects of physiology, such as aging and metabolism. I find one of the most enjoyable aspects of the editorial work is to interact with researchers, and especially early career researchers, to learn about their work. Our journal created a working group for projects to specifically serve early career researchers. I joined the working group when the opportunity came up.
KF:
I am a microbial oceanographer by training. My research took me on expeditions to the middle of the ocean, where I studied how phytoplankton influence the chemistry of seawater, and vice versa. As an editor at Nature Communications, my remit covers the intersection of biology and Earth science, so I handle manuscripts looking at carbon, nutrient and other elemental cycles in terrestrial, atmospheric, and aquatic systems. It's exciting--on any given day I get to read papers ranging from the origin of life on early Earth, to projections of the climate system over the next century.
CS: I started working at Nature Communications just over a year ago and this is my first editorial role. I mainly handle manuscripts in infectious disease epidemiology and public health, so it has obviously been a very busy but interesting time to start in the midst of the COVID-19 pandemic - both keeping up with the large volume of submissions and the rapidly developing field has been a learning experience! Before joining the journal, I completed a PhD and postdoctoral work in infectious disease epidemiology and have also worked as an applied epidemiologist for Public Health England.
Last year, you mentored an early career researcher (ECRs) as part of the peer review mentoring program at Nature Communications. How was this experience for you?
AKR: The ECR peer review mentoring program consisted of several webinars as well as a hands-on portion during which the participating researchers reviewed a manuscript submitted to our journal, alongside the panel of experienced referees, and then received feedback on their report from the handling editor. I was involved in both of these aspects of the program and enjoyed it very much. We had a highly engaged group of participants, which makes trialing a new initiative a real joy. The ECR that I interacted with for the hands-on review received a multidisciplinary paper, which is always more difficult to review because the evaluation resembles a puzzle of various expertises, they managed very well with their piece of the puzzle. As the organizers we are of course always looking to improve our program, including scaling up to offer more spots, but from a first go, I think we learned that we created something that is useful and appreciated.
KF: I love being an editor and largely haven't looked back, but I do miss the opportunities for teaching and mentorship from my time in academia. Serving as an ECR mentor afforded me the opportunity to flex my teaching muscles again. The experience reminded me of a lesson I learned way back when I was a teaching assistant for Oceanography 101: the best way to ensure that you've learned something yourself is to teach it to someone else. By virtue of walking my mentee through the peer review process--what makes an insightful and useful review report, how we use them to make decisions as editors, and how authors use them to improve their research papers--I found that I had strengthened my own editorial skillset. It also helped me train new editors on my team at Nature Communications.
To many scientists, a lot of what we do as editors is a black box. I appreciate any opportunity I get to talk to the community I serve and show that there's a human on the other side of the "submit" button! I think that's important, especially for ECRs who are just embarking on publishing their work.
CS: The program works somewhat in reverse to a typical reviewer-finding process – rather than having a manuscript on a particular topic that requires a reviewer with a given expertise; you have a reviewer with specific interests and are looking for an appropriate paper for them to review. I did initially find it a bit challenging to identify a suitable manuscript last year. At the height of the pandemic, most of the submissions that I was receiving were related to COVID-19. This was quite far from the field that the ECR had experience in, and I did not want to send them something that they wouldn't be comfortable assessing. However, we had several months to find a paper and something relevant came up eventually – I think this is why it makes sense to run the program at a journal like Nature Communications where we receive submissions in such a broad range of topics. Otherwise the experience was very straightforward for me, and it was enjoyable to have interaction with researchers outside of the regular manuscript-handling tasks.
What were your motivations for volunteering to mentor an ECR and would you recommend mentoring to another editor?
AKR: My own PhD experience was not that long ago, and while my PhD lab was very collaborative in all aspects of the scientific process, in becoming an editor I still learned so much more about peer review and publishing. I think it is important to be inclusive and transparent when it comes to peer review. This is why I thought mentoring an ECR would be a great opportunity. To be able to discuss peer review, what we hope it contributes to science and how to make the process productive, in my view is very important. Then, putting theory into practice, and reviewing a real-life paper builds experience and confidence. I particularly like that the ECR mentoring is done alongside the regular review. This creates a space in which ECRs can focus on learning, from editor feedback as well as indirectly from the other reviewers. ECRs are very focused on providing reports that will be useful to the authors' study. The way the program is set up we can involve them in the progression of the work without creating pressure or expectations. I found participating in this program rewarding, I think other editors felt the same.
KF: Peer review is the force that ensures published research papers are accurate, impactful and useful to their audiences. As a full time editor, I see the transformative power of the peer review process every day. Papers really do emerge from a good round or two of peer review stronger, regardless of whether they are ultimately published in Nature Communications or in a different journal altogether. Publishing papers and participating in peer review are the fuel of the research enterprise, but few scientists receive any formal training in how to write or assess research articles. For me, the ECR mentoring program was an opportunity to change that. I appreciated the opportunity to dispel some myths and alleviate pain points on the part of reviewers, for example the idea reviewers need to comb through a manuscript line by line and correct every single grammatical error--don't do that! From an author's perspective, quality reviews make revisions easier, and strengthen the finished product. It's a win-win situation: at the end of the day, quality reviewer reports make our job as editors easier, so to that end I would encourage all of my editorial colleagues to volunteer for the ECR peer review program.
CS: I think that it can be a bit daunting receiving a review invitation when you are early in your career, and training in peer review, where available, is usually limited to practice exercises. I wanted to support this program because it seemed to be a great way of allowing ECRs to meaningfully contribute to review of a paper, but with the reassurance that other experts in the field are also assessing the paper (and the ECR's review is a "bonus").
I'd certainly recommend the program to another editor as a chance to step back and reflect on the peer review process and how it can be improved (it's also not too time-consuming!) For me, participating as a mentor was a good chance to think critically about what makes the best peer review reports. I hope that having more experience now (after reading hundreds more reports) will mean that I can be even more helpful this time.
How do you think training and involving ECRs can improve the peer review process?
AKR: As a general rule I think having a diverse group of voices is important, this should include ECRs. Specifically, ECRs are very close to the bench work. This can allow them to provide very good feedback on experimental questions. This aspect of their review experience can then be the stepping stone to engaging with concepts and the larger context of the research within their field. I know this was my trajectory as a researcher. We get good at things through practice, so providing opportunities to practice helps good peer review.
KF: ECRs have enormous reviewer potential. They're the ones who are on the front lines of science--they're doing the experiments in the lab or the field, so they know which methods work; they're reading papers for classes, journal clubs, or to write their own papers, so they know what's topical. Thinking back to my graduate school days, I don't think I was ever as well read as when I was writing my dissertation--with the exception of now of course, since I read papers for a living!
CS: I think that many ECRs are perhaps not very aware of the exact purpose of an editor's role or what they look for in a paper. Involving ECRs in the peer review process hopefully helps to expand the understanding of the editorial process and improve future interactions with editors as they submit and review papers.
Including ECRs is also an important opportunity to promote diversity, equality and inclusion initiatives in scientific publishing. Since the diversity of the workforce in academia unfortunately still decreases with seniority, having more ECRs will help to broaden the diversity of the reviewer pool and therefore bring perspectives that otherwise might be overlooked.
Any other thoughts?
KF: Our mentorship program is just one way to involve ECRs in the peer review process. There are lots of other ways to get students and postdocs involved, too. I always encourage my invited reviewers to bring on their students and submit a review of a manuscript together. Additionally, as editors, we're always happy to give presentations about the ins and outs of publishing in the Nature Portfolio at lab visits or department seminars. After all, the ECRs of today are the senior researchers of tomorrow, so we're happy to help with that career development.
CS: I think that about covers it!