Engineering. Chemistry. Materials science. Applied physics. Applied mathematics. Every applied discipline that touches the supply chain will need to work together—to join up as a community—to solve the problems of Sustainable Development Goal (SDG) 12: Responsible Consumption and Production. Here we're sharing thoughts from María Carmen Asensio at Materials Science Institute of Madrid (ICMM), Editorial Board Member of Discover Materials.
What is the focus of your research work?
My research group targets the discovery of materials with optimized properties which can improve the efficiency of sustainable energy conversion, harvesting, and storage devices, mainly including but not exclusively fuel cells, batteries, supercapacitors, and solar cells. Our group named GREENER bases its studies on a multidisciplinary approach using conventional in-house laboratory techniques and advanced experimental methods based on major scientific user facilities, including last-generation synchrotron radiation and neutron sources. Lately, we are also using sophisticated Artificial Intelligence engines found on Deep Learning and Neural Networks `to identify alternative sustainable materials with properties that can make more efficient and affordable applications to use new removable energy sources widely.
What do you think is the most relevant way to measure success against the SDG (s) in your field?
In my field, closely associated with the discovery and optimization of energy materials, the better indicator of success is the ability to resolve critical problems that are currently inhabiting the establishment of new technologies and innovations to replace conventional energy sources. This global upshot (with an often-direct societal impact) is hardly achievable in unique scientific articles or studies. However, these individual accomplishments are precious, even if these results could represent only small steps in solving complex problems. Most of the time, these studies are not immediately recognized, so they do not reach an immediate high impact even by the more concerned scientific community and they do not concentrate too much attention. However, when they are produced in a context of rationalized break grounding research programs with innovative objectives and based on powerful interdisciplinary tools, they in the end, undoubtedly constitute robust pioneering and cutting-edge milestones with high scientific, societal and technological impact in their respective field. Hence, while citation metrics are well-known for measuring the impact of research, they are only limited to scientific interactions and measuring how research is used by other scientists in their future projects and scientific communications. Thus, only citation numbers are not appropriate for measuring the global impact of particular research work, even if it is focused on well-identified SDG objectives.
Lately, altimetric or social media metrics have been proposed to take on this role and measure the societal impact of research. However, their reliability and applicability in measuring the impact of research on society is yet a matter of exciting debate. We are right now taking the first actions to resolve this problem. Hence, more tools should be developed, considering new communication channels and strategies to engage the research community with the industrial and technology activities, ensuring that the scientific outputs could directly benefit a broader audience, especially the public and the entire society. In this complex scenario, we must never forget that the history of science shows us that when an innovative idea is proposed, the 'status quo' always tries to overthrow it or ignore it and consequently is very improbable that it receives a high impact in the field. Hence, the scientific community must be more than ever engaged with the main SDG objectives and the industrial actors and members of society in general. They could contribute with a multicultural and interdisciplinary point of view that could play an essential role in identifying how non-conventional research findings can be applied in resolving critical societal needs.
What do you think is the most productive way to engage with your target audience? What is it that you want your audience(s) to do with the information?
Specialized and generalist scientific journals and divulgation journals should play distinctive decisive roles in incentivising the links between the scientific research groups, their associated scientific and technologic communities, and even the general public. Effectively, always based on scientific excellence, the editorial board policies need to prioritize that the precious scientific content developed in their journals could reach a broad audience in addition to the specialized one. Also, to develop strategies that ensure the accessibility to the journal to a multidisciplinary audience in which the industrial research, political, and technology deciders are also included.
What support do you feel is needed by early career researchers to maximize their societal impact?
The best help that we can give to the young scientific generations is to establish a robust ethical scientific system where the publishing procedures, grant adjudication by the agencies, and the recognition of the scientific achievements by their peers will be indeed achieved following unpolluted, aseptic, and uncorrupted selection procedures entirely free of conflict of interests. It is imperative to transmit these values and hard work to improve the policies and rules that make the scientific institutions stronger, safer, and free of bad practices. It is crucial to demonstrate to them with effective actions that scientific excellence is the priority and that to align their interests with societal needs are more essential aspirations and target than to get a higher altimetric, citation, or social media metrics in their scientific career.
What do you see as the role of publishers when it comes to addressing the SDGs? How can they best support researchers?
The central role that the publishers would play is to ensure the severe scrutinous of the scientific article contents and broadly diffuse them, usually in different specialized academic communities. Their role's modernization and forward motion necessarily pass through the development of new channels of diffusion of the published scientific findings in their journals. These new avenues may engage a broad audience beyond the academic community, including leading actors in technology, innovation, industry, and political players and deciders. Increasing researchers' visibility and results are valuable elements not only serving the authors but also to a much broader audience, associated directly or indirectly with the sustainable transformation of society.
About Dr. María Carmen Asensio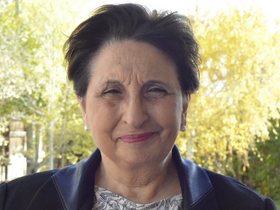 María Carmen Asensio is currently a Professor at Materials Science Institute of Madrid (ICMM) of the Spanish Scientific Research Council (CSIC) and the CSIC, Spain and the Research Associated Unit: MATINÉE, between the ICMM and the Institute of Materials Science (ICMUV) of the Valencia University, Spain. Asensio's research focuses on the structural and electronic properties of surfaces, interfaces, and complex materials. She is a specialist in angle-resolved photoemission spectroscopy (ARUPS), synchrotron radiation Photoemission (SR-PES), and X-Ray absorption (XAS), among other conventional characterization materials science techniques.