We are exploring the impact OA has around the globe by speaking to researchers from Argentina, Australia, Germany, Japan and the United States.
Dr. Pablo Gallina is a researcher at the national council of scientific and technical investigations (CONICET), Azara Foundation and Maimonides University in Buenos Aires, Argentina. In this Q&A, we find out about his recent discovery of a new long-spined dinosaur in Patagonia and the impact of publishing in an open access (OA) journal.
Can you tell us a bit more about your research and your article?
Our paper is about the discovery of a new type of herbivorous dinosaur in Northern Patagonia, Argentina which displays extremely long spines on its neck that point permanently forward. Although much shorter versions of this neural spine configuration have been found in other dicraeosaurid sauropods, the long and anteriorly bent spines of this new dinosaur suggest that they served to protect them against predators.
Why did you choose to publish this article in an open access journal?
We wanted the widest possible reach for our work among both academics and the public. We hope that higher visibility will increase the likelihood of getting more funding in the future.

How easy was it to publish this article open access? Were there any challenges?
It's not easy to get through the peer-review process, just like with subscription access publications. But a major challenge for open access sits with the publishers—as they need to make the journal appealing not only to academics but also to the wider public.

What has been the impact of publishing your work via open access?
The article has achieved wide media coverage and reach with the digital metrics, indicating that it's so far tweeted 1,210 times by people in over 50 countries around the world – and covered in 11 blogs and 72 news pieces.

How did you identify funds to publish open access?
This is a critical point for us as it's almost impossible to afford the fees unless there is funding. In this case, we received help from my university which helped us to select an open access journal. The majority of Argentinian researchers tend to carry out their research at government-owned institutions, which can't easily afford these fees. So this makes it very challenging to publish research in open access journals in our country.

Do you think open access is important in your subject area and if so why?
I think so, primarily because the focus of our research is on dinosaurs, and this topic is always popular.

Why did you choose this journal to publish open access?
We decided to publish in Scientific Reports because we understand it's one of the most important open access journals in the Springer Nature portfolio.
What your advice would be to others thinking of publishing open access?
It's a great way to further disseminate your work. Open access journals provide rapid and easy access for all.

Is there anything else you would like to add?
I believe it's important that the fee to publish in an open access journal is tailored to meet the specific economic situation of both a country and a researcher. In this way, publishing this way won't be as restrictive as it is now for countries like mine.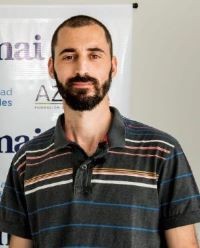 Dr. Pablo A. Gallina is a vertebrate palaeontologist focused on cretaceous dinosaurs from Patagonia. He is a researcher of the Argentinean National Scientific and Technical Research Council (CONICET), teaches Vertebrate Zoology at the Maimónides University of Buenos Aires and gives talks on dinosaurs for children and general public in schools.