In 2017, we published more than 90,000 articles immediately open access.

Mentioned in 800+ tweets and nearly 200 news articles, Assessing the calorific significance of episodes of human cannibalism in the Palaeolithic has one of the highest Altmetric scores of social science articles published in 2017 open access by Springer Nature. Read what Dr. Cole has to say about the benefits of publishing his research open access.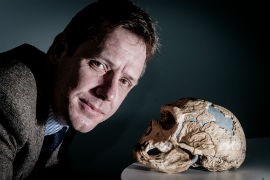 "As an academic, I believe that Open Access is a vital tool in today's world in making research more accessible to the wider public. We now live in an age ​​​​​​​​​​​​​​where information is consumed at an incredible rate, as such academics must engage with this process to allow people to make informed choices. By this I mean that most, or all, academic research is conducted with a bigger question in mind that we are trying to address or understand. For example, for me, that question revolves around the behavioural complexities of our human ancestors (like Neanderthals) and of our own species in prehistory. Open Access is one of the primary tools that researchers can use to demonstrate that our work has relevance and interest to the wider public, and the answers and questions that we generate form and influence the mosaic sum of human knowledge. I wanted my work to reach as wide an audience as possible audience because I felt strongly that there were important points and implications to consider in how we weave the fabric of our societies together in the modern world. This was not my first Open Access paper, but I always try to publish Open Access wherever I can."

Dr. James Cole, Principal Lecturer in Archaeology, School of Environment and Technology, University of Brighton