Tackling the climate crisis requires rapidly exchanging knowledge across geographic, economic, and disciplinary boundaries. That's why the theme for Open Access Week 2022 is 'Open for climate justice'. To mark this, we're talking to researchers who've published open access climate research under Springer Nature's Transformative Agreements to find out more about their work and why they feel open access is so vital for tackling climate change.
In this blog, we hear from Mihri Ozkan, a professor of electrical engineering at the University of California, Riverside. Her research focuses include eco-friendly battery materials, green wearable technologies, and direct air capture of CO2.
Carbon dioxide in the atmosphere is one of the primary drivers of today's climate crisis. And yet, reducing CO2 emissions is still an at-times overwhelming challenge both scientifically and politically.
"Elimination or reduction of carbon dioxide emission from all sectors is what is needed to reduce the greenhouse gas effect," says Professor Mihri Ozkan, whose research into the electrification of transport has made the news on numerous occasions. And no wonder – after all, a Li-ion battery made with portobello mushrooms isn't something you hear about every day.
"We have been working on the development of advanced lightweight, safe, stable, low cost and high capacity Li-ion batteries for electric cars and smart grid applications," explains Professor Ozkan. "Specifically, we have used natural and renewable sources and waste materials in making high-performing electrode materials. Beach sand, mushrooms, silly putty, recycled plastic and glass bottle waste are some of the sustainable material sources we have investigated."
Her research has also investigated ways to clean up pollution – both from the air and in the water.
"We have developed sponge material to remove oil spills in the oceans and ports," she says. "This helps to eliminate carbon emissions from burning the oil – which is the current practice. To increase awareness of this invention, we made a sponge bikini using this material, with a tagline of 'clean as you swim'. Another personal interest of mine is capturing carbon dioxide from the emitting sources or directly from the atmosphere."
Professor Ozkan's recent commentary, published in MRS Energy & Sustainability, focused on this last interest and examined the feasibility of direct air capture of carbon dioxide. This research is part of a global effort across research disciplines to study, understand, and mitigate the impact of climate change. To answer the need for better cross-disciplinary understanding and communication on this vital topic, we've brought together curated research on subjects bridging climate policy, social impact, meteorology, food production, physics, chemistry, and more.
Climate justice and the importance of open access
Professor Ozkan describes herself as an "activist scientist" and has taken on the role of Climate Action Champion Professor at the University of California. She's passionate about helping people to understand how climate change will affect them and the need for climate justice.
"I am determined to educate people about what is ahead of them, how today's and past actions will affect their future and what needs to be done to minimize these adverse impacts of climate change," she explains.
"Climate change can have differing economic, social, health, and other adverse impacts on underprivileged populations. If we connect the dots between civil rights and climate change, the negative impacts of climate change are very much disproportionate between rich and poor and older and younger generations. I am trying to reach out globally through my scientific publications, and through my social media accounts, LinkedIn, Twitter, Instagram and Facebook to educate people about the adverse impacts of climate change and the need for climate justice."
Across the globe, researchers, campaigners, politicians, policymakers – and society at large – need access to research about the climate crisis. This makes open access (OA) publishing all the more important, allowing anyone, anywhere to learn from – and build upon – the results of the research published.
"Climate justice is directly impacting the general public," says Professor Ozkan. "Getting access to work related to climate justice not only educates people but also means the most up-to-date research results can be shared with others in the field. It minimizes the risk of repetition of similar work and therefore misuse of resources."
Professor Ozkan published her research under the University of California Transformative Agreement. This meant that as a corresponding author affiliated with the University of California she was eligible for support to publish OA.
"Publishing open access has meant that my article has quickly been used by others in their research and analysis," says Professor Ozkan. "It has also been included in news articles and other scientific publications – and those reports further inform others about our article and give them a chance to access and read it."
"My article was accessed by many people worldwide and received the most accessed article recognition from the journal after its publication," she continues. "In addition, after only a very short period of time, it was cited too."
"Climate change and climate justice affect all of us worldwide," she concludes. "To maximize the societal impact of research, it is important to have quick access to the results of published work to facilitate timely discussions and feedback. In this regard, OA is advantageous for researchers as it allows them to advance and progress both in their research and professionally."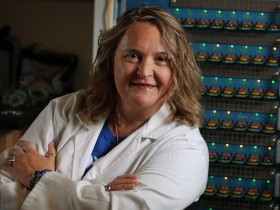 About Mihri Ozkan
Mihri Ozkan is a professor of the Electrical and Computer Engineering Department at UCR. Mihri is a Fellow of National Academy of Inventors and Frontier National Academy of Engineering, and an Alumna of Keck National Academy of Science. She is the Climate Action Champion and Changemaker Professor of the University of California. Mihri completed her graduate studies at Stanford University and at UC-San Diego. Mihri's research is sparked with her commitment in climate justice and environmental improvement. Her research group has been developing innovative solutions for Li-ion battery technologies using sustainable materials and using green chemistry with low power processing to minimize its carbon footprint. Transforming waste glass and plastic bottles, biomass (mushrooms, sugar) and natural sources such as sand and diatoms into high grade battery electrodes are among her group's achievements. Mihri's creative nature has resulted in 29 granted and 15 active patents in the area of advanced Li-ion battery technologies for smart grid, electric vehicle and portable electronics applications. Her invention portfolio puts her at the level of most innovative faculty of UCR. Hence, she has been selected as the most remarkable woman of UCR by the UC Regents. More than 300 scientific publications, her Google scholar citations is nearly 11048, h-Index is 55 and i10-Index is 138.