Tackling the climate crisis requires rapidly exchanging knowledge across geographic, economic, and disciplinary boundaries. That's why the theme for Open Access Week 2022 is 'Open for climate justice'. To mark this, we're talking to researchers who've published open access climate research under Springer Nature's Transformative Agreements to find out more about their work and why they feel open access is so vital for tackling climate change.
In this blog, we hear from Dr Macarena Larrea, a researcher in the Energy and Environmental Lab at the University of Deusto in Spain. Her research focuses primarily on issues related to energy and environmental-climate policy.
"Among all the environmental challenges that impel governments at all levels to achieve ambitious but urgent goals within the next ten to thirty years, the fight against climate change undoubtedly ranks first in drawing critical attention and resources." So opens the introduction of Dr Macarena Larrea's recent article, published in Environment, Development and Sustainability.
The opening underlines the intrinsic link between climate research and society, highlighting that political actions will be crucial in tackling the growing crisis. However, these actions, and the goals and targets behind them, do not impact all people in the same way – a topic highly relevant to this year's Open Access (OA) Week theme of climate justice.
"The challenge of climate change goes beyond environmental issues," says Dr Larrea. "This is due to, among other things, its social impact and the need to address it in an inclusive manner. A transition to a low-carbon economy, largely led by the public authorities, undoubtedly requires the support of society and this cannot be achieved if the most vulnerable citizens are not taken into consideration and protected."
Dr Larrea's study, published with Springer Nature, was developed using data from the United Nations Framework Convention on Climate Change (UNFCCC) and data from the Basque Country (in Spain) to develop a model for measuring greenhouse gas emissions at a more local level and from a consumption point of view.
"The aim of my research is to contribute to the improvement of the Basque Country's competitiveness," explains Dr Larrea. "We want to promote the improvement of citizens' well-being and to create knowledge on regional competitiveness. It's related to climate justice issues such as carbon taxation, territorial competitiveness, and the circular economy."
Dr Larrea's research is part of a global effort across disciplines to study, understand, and mitigate the impact of climate change. To answer the need for better cross-disciplinary understanding and communication on this vital topic, we've brought together curated research on subjects bridging climate policy, social impact, meteorology, food production, physics, chemistry, and more.
Open access, climate justice and societal impact
Combating the climate crisis will require the efforts of researchers across disciplines, campaigners, politicians, policymakers – and society at large. Access to the latest research will be needed across the board, and that's where OA plays an important role.
"Climate justice is about ensuring that no one is left behind in the transition to a low-carbon economy," says Dr Larrea. "I believe that knowledge must be shared to meet the energy and climate challenges we face. My research is translated into reports oriented to relevant stakeholders of the Basque economy and the Basque and Spanish energy sector and to the public. Publishing open access allows me to broaden the impact of my research."
Dr Larrea published her research under the CRUE-CSIC Transformative Agreement. This meant that as a corresponding author affiliated with a participating institution within the CRUE-CSIC Alliance – which includes over 60 Spanish institutions – she was eligible to publish OA with all the publication fees covered.
"I know that my research will have reached more people by publishing open access," she says. "Researchers can more easily locate and read my articles and that encourages new research in the field. I believe publishing open access has also increased the social impact of my research."
And social impact is something that's of paramount importance not only to Dr Larrea but to her university, as she explains:
"One of the objectives of the University of Deusto is to combine scientific excellence with open science and social impact. The aim is to contribute to the movement towards a more just and diverse society in which inclusive social development and welfare are a priority. This means that the societal impact of our research is essential in all areas. Open access provides transparent and cost-free access to publications and that's a positive factor that benefits society as a whole."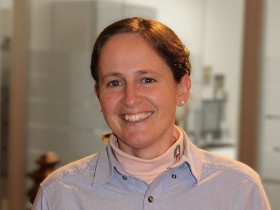 About Dr Macarena Larrea
Macarena Larrea is a Researcher at the Energy and Environmental Lab of Orkestra (Deusto University). She received her doctorate in Business Fostering and Development from the University of the Basque Country, with her thesis on the "Internalization of the External Costs of Electricity Production", and her master's degree in Port and Maritime Businesses Management from the University of Deusto and the Basque Country School of Maritime Administration. In this interview, she reflects on her work on energy transition towards a low carbon economy, the meaning of climate justice, and the importance of interdisciplinary and collaborative efforts to bring academics and policy-makers together on these issues.