We are exploring the impact OA has around the globe by speaking to researchers from Argentina, Australia, Germany, Japan and the United States.
Non-invasive imaging techniques are commonly used in medicine to look inside the body. But Daniel Stromer of the Pattern Recognition Lab at FAU Erlangen-Nürnberg in Germany is instead applying these state-of-the-art methods to reveal the content of historical documents.
"An object may have been exposed to the environment and subject to constant decay," Daniel explains. "And browsing through it manually can cause even more harm."
Besides exploring these techniques for European style books, one of his most recent articles describes a new approach for revealing the hidden content of ancient Chinese bamboo scrolls without opening them.
"When these kinds of documents are excavated, they are sometimes in poor condition and often covered in dirt," he says. "But manual cleaning is demanding and time-consuming and writing can even be accidentally deleted."
The new approach involves using conventional 3D X-ray computed tomography and applying a virtual cleaning and unwrapping algorithm for remapping the entire scroll surface into 2D.
"We showed that it's possible to scan the entire block of earth containing the scroll and then read it," describes Daniel. "So you can digitally investigate the entire volume without cleaning it by hand."
Speed, accessibility and impact
Daniel finds it benefits his work by publishing his results open access (OA)—due to the faster speed to publication and greater accessibility.
"In machine-learning, many things don't even get published in journals or conferences, but just custom blocks—due to the immense speed of the field," he explains. "So it's necessary for us to publish things very fast and ensure they are accessible for everyone because not everyone working in this field are academics."
Nowadays, alternative metrics based on an article's digital and social media data can provide a quick measure of the impact of an article.
"While it takes time until your work gets cited through the competitive journal process, people can easily share news about your work on social media," Daniel says. "So that gives you a good indicator if is of interest to others."
Facilitating the sharing of ideas
As these discussions are open to everyone and can happen quickly, this can help to both progress the research and engage with the public.
"Our lab has a strong academic network on Twitter and I easily got into discussions really quickly with others," says Daniel. "And everyone in the world can see the outcome of our work and understand why it's necessary."
As with many areas of research, getting input from experts working across different disciplines is important for refining methods and generating new ideas.
"As a computer scientist, I have not so much experience in other areas that are relevant to my work—like sinology or digital humanities," says Daniel. "It's pretty hard if you're working transdisciplinary – but open access allows you to work together better."
Facilitating open access
Daniel sees that the research publication environment is changing—and that scientists can benefit from additional support for them to adapt. He benefits from funding available through his University, which has helped subsidize the open access fees.
"This makes it very attractive for us to publish in open access journals," he says. "It's getting more and more popular in Germany because many universities now have these programmes."
Daniel's experience of open access publishing has been very positive and his advice to others is that they should "think about whether their topic will be discussed on social media and if the digital metrics will be useful."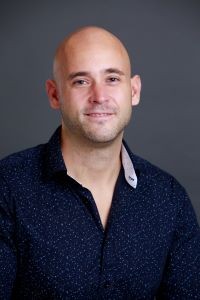 Daniel Stromer (@daniel_stromer) is in the final stage of his PhD studies in the Pattern Recognition Lab at FAU Erlangen-Nürnberg. In his highly translational research, he leverages machine-learning and image processing methods to non-invasively reveal hidden contents of historical documents.