The mitigation of water scarcity requires the implementation of sustainable water management strategies that guarantee optimal and impartial utilization of extant water resources. This blog describes how AI and water can be used to overcome water stress.
Definition of Water Stress:
Water stress denotes a state in which the demand for water surpasses the available supply, leading to a deficit in its provision. Inadequate water resources in a specific location, results in the demands of the populace, farming, and businesses not being met.
Quantification of water deficiency is commonly estimated through the utilization of the proportion of extracted water to the prevailingly accessible freshwater resources in a particular area. A proportion surpassing 25% is deemed as indicative of water stress. When a territory withdraws more than that of its renewable freshwater resources, it is said to be "water-stressed". Cape Town is the first water-stressed, providing so many lessons to learn.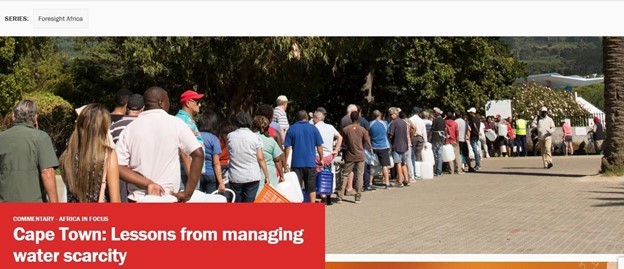 Fig 1. Capetown was the first water-stressed city
Source: https://www.brookings.edu/blog/africa-in-focus/2023/03/22/cape-town-lessons-from-managing-water-scarcity/
Water scarcity is a critical issue that can have profound implications for human and environmental well-being and economic progress. It may lead to dissemination of waterborne ailments, and potentially impede agrarian yield, industrial operations, and tourism, thereby magnifying economic predicaments.
The prospect of engaging in practices that facilitate the preservation of water resources entails a range of plausible actions, including strategies pertaining to water conservation, recycling and reuse, advancements in water infrastructure, and enhanced governance strategies to ensure streamlined operations. Data at various levels need to be recorded precisely at the city and national levels as well as globally, so as to carry out proper analytical measures to avoid stress situations.
Introduction to Water-Informatics and the Role:
To understand and apply digital solutions to the Water Industry and to be able to correlate the solutions with their region-specific problems, thereby generating new innovative solutions.
This can be achieved through the following:
Applying IoT and data-driven modeling techniques in Water Management for smart management of Water Utilities,
Applying Artificial Neural Networks for decision making,
Applying risk analysis, fuzzy logic and management of uncertainty,
Applying Effective Allocation of Water Resources using Block-Chain Technology,
Applying Cyber-Security for Smart Water Services and Application of Evolutionary Methods for Water Management and
Finally, building the Digital Twins, etc.
Understanding Water Stress through Machine Learning (ML):
Traditional methods of monitoring and predicting water stress often rely on manual observations and complex hydrological models, which can be time-consuming and resource-intensive. In recent years, ML techniques have emerged as valuable tools for understanding water stress patterns by analyzing large-scale datasets and making accurate predictions.
ML Algorithms for Water Stress Analysis:
Regression techniques: Linear regression, decision trees, random forests, and support vector regression for predicting.Classification methods: Naive Bayes, logistic regression, and decision trees for categorizing.Clustering algorithms: K-means, hierarchical clustering for identifying spatial patterns of water stress. Neural networks and deep learning models for more complex water stress analysis.
Applications of ML in Water Stress Analysis:
Water availability prediction: Forecasting stress levels based on climate variables and historical data.Drought monitoring: Early detection and assessment of drought conditions using ML models.Water demand management: Analyzing socioeconomic factors to optimize allocation and usage.Water quality monitoring: Detecting and predicting pollution events using ML techniques.
So, ML offers significant potential for understanding and addressing stress challenges through improved prediction, monitoring, and decision-making. By leveraging the power of large-scale datasets and advanced algorithms, ML can contribute to more effective water resource management, enabling sustainable use of water and mitigating the impacts of water stress on human and environmental systems.
Implications and Awareness of the Necessary Actions:
Fig. 2: Climate change drought land
Source: https://www.istockphoto.com/photos/water-crisis
Fig. 3: Current urban water scarcity
Source: He, C., Liu, Z., Wu, J. et al. Future global urban water scarcity and potential solutions. Nat Commun 12, 4667 (2021).
Climate change exacerbates droughts as in Fig.2. Current urban water scarcity as shown in Fig.3 is a pressing issue faced by many cities around the world. Many cities are grappling with inadequate water supply, unreliable infrastructure, and rising demands. This scarcity leads to water rationing, increased water prices, and compromised access to safe and clean water for urban residents.
Fig 4: Freshwater withdrawal as a proportion of available freshwater resources
[Source: World Development Indicators]
The freshwater withdrawal as a proportion of available freshwater resources, also known as water withdrawal intensity, is a key indicator used to assess the utilization of freshwater resources. It represents the ratio between the total amount of freshwater withdrawn by major sectors, and the total renewable freshwater resources, considering the environmental water requirements. By examining the water withdrawal intensity, policymakers and water resource managers can gauge the sustainability of water use practices and identify potential areas for improvement. Understanding and managing this ratio is crucial for ensuring the long-term availability and ecological health of freshwater resources. Fig. 4 categorizes countries into four levels. By classifying countries into these levels, policymakers and stakeholders can better understand the magnitude of water scarcity and stress in different regions and formulate appropriate strategies to address water resource management challenges.
Conclusion
In conclusion, the categorization of countries based on water stress levels provides valuable insights into the global water resource situation. It underscores the importance of implementing sustainable water management practices and raising awareness about efficient water use to ensure the availability of freshwater resources for future generations. A lot of training/ workshops should be conducted to spread awareness and create sustainable and resilient systems, so as to preserve our precious resource 'The Water' for our future generations to prosper and dwell.
About the authors
Dr. Amlan Chakrabarti is a Professor in the A.K. Choudhury School of Information Technology at the University of Calcutta. His areas of research are Machine Learning, Computer Vision, Reconfigurable Computing, VLSI CAD and Quantum Computing. He is the Series Editor of the Springer Book Series on "Water Informatics" and also Springer Transactions of Computer Systems and Networks, and Guest Editor of the Springer Journal of Applied Sciences.
Dr Jyoti Gautam is Associate Professor, CSE Department at NSUT-EAST Delhi Campus, India and is Visiting Researcher at the Waterinformatics Laboratory, AKCSIT, University of Calcutta. Keynote Speaker for IEEE Conference on Future of Educational Innovation at Technologico De Monterrey in January 2023. Patent granted alongwith Prof. Amlan Chakrabarti in the domain of water conservation and management. Member of the Digital Water Program Steering Committee of the IWA.
Prof. Arindrajit Pal is a renowned researcher and academic in the field of Computer Science and Information Technology. His research interests revolve around Mobile Ad-hoc Networks, Artificial Intelligence, and Machine Learning, where he has demonstrated a keen insight into emerging technologies and their practical applications. Prof. Pal's projects based on IoT have involved the development and implementation of smart systems that utilize connected devices and sensors to collect and analyse data.