Joshua Yindenaba Abor, Professor of Finance and former Dean of University of Ghana Business School explores the role of National Development Banks in the achievement of SDG8 goals
The 2030 Agenda for sustainable development has become the world's blueprint for transforming market economies into the development of a strategic framework that aims to deliver its goals for inclusive and sustainable development. In view of this, the SDG8, which focuses on improving "economic growth and decent works", remains a priority on the global development agenda in the wake of efforts by global policymakers, development partners, public-private corporations, practitioners, and researchers to achieve the SDGs.
Global challenges, including the Global Financial Crisis (GFC), the recent COVID 19 pandemic, geopolitical consequences of the Russian-Ukraine war, and other economic crises, have triggered urgent calls for a comprehensive plan of action by all countries (developed and developing) to build a global partnership for the successful achievement of the SDGs. To strengthen global efforts in addressing the most pressing global challenges, it has become imperative for governments to partner with private sectors and (or) development institutions to help finance the SDGs now and into the future. Again, policymakers must identify the priorities in which resources should be invested to improve human lives, protect the environment, and stimulate sustainable economic growth.
Despite various attempts to address the issues confronting sustainable development, development financial institutions (DFIs) including the National Development Banks (NDBs) are considered the most important development funding sources that enable countries attain sustainable development. The private sector often fails to provide enough finance needed to transform global economies when they encounter economic challenges such as low economic growth.
NDBs are development banks created by a country's government to provide financing for the purpose of developing the economy. In response to addressing the slow pace that plague the attainment of sustainable development by most countries worldwide, NDBs play a key role in facilitating strong commitment by all stakeholders to help such countries attain sustainable development. They are relevant in the provision of both short-term and long-term solutions that are critical to making economies more dynamic, inclusive, and sustainable. NDBs play a critical role in sustainable development through the provision of development finance to support economic growth. This is apparent in their supply of sustainable finance to important sectors of the economy. NDBs also initiate and facilitate coordination for developmental projects and promote financial inclusion—key factors in achieving the SDGs—and are regarded as the important means of raising funds from domestic and international capital markets to support their development mandate and spur economic growth.
The role of NDBs in driving SDGs requires that governments focus on sustainable development projects within the mandates of NDBs by creating a platform for blending instruments and co-financing phases to achieve sustainable development. By liaising with the regional and global development finance community, NDBs have increased their lending support and contributed further to a more balanced public-private mix in development finance. NDBs can leverage private finance to drive sustainable growth and development. They have a knowledgeable and long-term relationship with the private sector, which helps to better appreciate the local barriers to investment and allows the provision of large-scale financial services that meet the needs of the private sector. This role of NDBs is important in de-risking private investment to support private sector development necessary for spurring economic growth.
The continued success of NDBs, in efficiently promoting national development strategies in their respective countries, is vital to scaling up sustainable businesses, projects, and investments; thus, helping to ensure sustainable economic growth. Despite the contributions made by NDBs, the impacts of the COVID-19 pandemic and emerging economic challenges still pose a major threat to the counter-cyclical nature and development role of NDBs. Therefore, NDBs should aim to maximise their development impacts, expand their roles, and create a sustainable financial system that serves countries' environmental, social, and governance needs better – while improving sustainable economic growth. In addition, the onus is on policymakers, practitioners, and researchers to recommend amendable solutions through an inclusive, public-private-sector-led initiative to encourage economic growth and tackle global development challenges. Ultimately, fulfilling the development objectives in line with SDG8.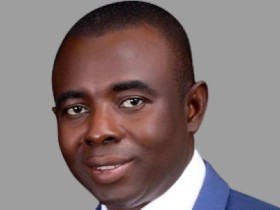 About the Author
Joshua Yindenaba Abor is a Financial Economist, Professor of Finance and former Dean of University of Ghana Business School. He is an External Fellow at the Centre for Global Finance, SOAS University of London, a Professor of Development Finance at Stellenbosch Business School and a researcher with the African Economic Research Consortium. He is Afreximbank Research Fellow and has also held Visiting Scholar positions at the IMF, Washington DC. Joshua is a member of the Monetary Policy Committee of the Central Bank, Bank of Ghana.