Reference works are a great place to begin any topic-based research, whether readers are new to the subject, specialists or working across disciplines. Written by internationally renowned experts, references clearly present established academic concepts, providing researchers with a foundation of knowledge on which to build. Our latest addition of reference works in the Biomedical & Life Sciences eBook collection is the Handbook of Dietary Phytochemicals. We spoke to Prof. Yoshinori Asakawa, one of the co Editors-in-Chief in this project about his journey in editing this reference title.
As a leading expert in the field, what do you consider the most exciting advancement(s) in the field in the past 5 years?
In the past 5–10 years, the development of analytical machines was rapid, resulting in many significant discoveries in this field. In food science and agriculture, many genetically modified foods and vegetables have been developed, with research being led by Chinese scientists. In the field of natural products, Chinese Researcher* Mrs. Tu Youyou and Japanese chemist Prof. Dr. Satoshi Ōmura discovered antimalarial and antibiotic medicines from the higher medicinal plant, Artemisia annua, and from microorganisms, respectively. Many patients who suffered from malaria have since been treated with artemisinin, a sesquiterpene peroxide from A. annua. The antibiotic ivermectin found by Prof. Omura possesses the potent anthelmintic activity against parasites affecting humans as well as domestic animals, including pets.
Mrs. Tu and Prof. Dr. Ōmura won the Nobel Prize in Physiology or Medicine, and their achievements spurred—and continue to spur—natural product chemists all around the world to further understand the science of natural products and their potential as medicinal drugs for humans and animals.

What is next for you in your chosen field?
Since 1960, my research has focused on the phytochemistry of bryophytes, medicinal higher plants and inedible fungi (including mushrooms) from the viewpoint of organic chemistry, pharmaceutical chemistry and plant taxonomy using secondary metabolites, and on biological testing to obtain the beneficial drugs from the abovementioned organisms.
My next study of bryophyte sciences will be the development of our secondary metabolites which fight against COVID-19 and other viruses and harmful microorganisms and fungi, and other applications of bryophytes as foods and drugs. There are a few findings and discoveries that have been successfully granted with patents. These have very similar activities as tetrahydrocannabinoid and the clinically used anticancer drug paclitaxel (taxol)®.
Other areas I am also interested in are the discovery of pharmacologically active substances from insects, and low-cost industrial productions of functional compounds from secondary metabolites.

Could you give an overview of the Handbook of Dietary Phytochemicals and tell us what has inspired you to edit this handbook?
I believe that this handbook is the best reference book in the world about dietary phytochemicals. I have never seen such a publication since I engaged in this field in 1966. This handbook not only benefits food chemists, food producers, biotechnologists, but also social and health workers to promote good health in the communities.
First, I was very delighted to know Dr. Jianbo Xiao, who invited me to give a presentation and shared his plan about this publication project. Dr. Xiao encouraged me to join and advised me a lot throughout the editorial process. Indeed, the whole team really did a wonderful job together.
I would like to thank Prof. Dr. Satyajit Sarker, president of Phytochemical Society of Europe. Without Dr. Xiao's and Prof. Dr. Sarker's leadership, this handbook would not be successfully published. I would like to acknowledge them from the depth of my heart. It is my great honor to work with Jianbo and Satyajit.

How does this handbook benefit young researchers, particularly those pursuing PhDs in related fields?
This book describes a wide range of phytochemicals of foods, beverages, vegetables, fruits and processed foods, as well as supplements, etc. Each chapter is well-organized and formatted, so that junior students (including diploma, master and doctoral students), post docs, and industrial experts in the field of food preparation, and even in cosmetic and aromatherapy fields, can easily understand the scientific knowledge and advanced achievements in the field for many potential applications. There are tables, chemical structures and color pictures inserted in each chapter to support and make the content more easily understandable.
More info about this Handbook of Dietary Phytochemicals is available on our Phytochemical Society Of Asia website.

What is the most challenging task in this editorial collaboration? How do you cope with it?
As I mentioned before, Dr. Jianbo Xiao supervised the whole team to publish this handbook. He is a key driver of this book, and I only helped him with identifying the authorship of individual chapters. I believe that every author is an outstanding leader of the field, and I thank them for all their excellent reviews and updated information.
I was the last author to submit my chapters. It took me almost more than six months to prepare my two chapters. Knowing people is much more important than money, it is absolutely true. Without Haiqin and her fellow editors, as well Jianbo and Satyajit, I would not have been able to finish my chapters and been one of the editors of this handbook.

What do you think about our editorial service?
It is very difficult for me to look for a word to describe my thank you to the editorial teams in Beijing and India.
How many times did I contact Haiqin? She was very kind and patient to follow up on my calls and every time perfectly advised me on how I, and also other authors, should proceed. The editorial support at Springer Nature Beijing was amazing and perfect. Honestly, I wish I could get a secretary like Haiqin-san in my Director Office.
I also appreciate the typesetters who produced a beautifully formatted handbook.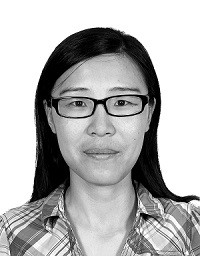 About the author
Haiqin Dong worked as an editor on this book at Springer Nature. She has been the Editor in Major Reference Works team since 2019 and is based in the Beijing office. When she first joined Springer Nature, she worked as the Acquisition Editor in Chemistry focusing on Chemistry related publications including journals and books for more than two years. Previously, she worked at Elsevier as a Publishing Content Specialist focusing on special issues in journals. She received her Master of Food Chemistry from the University of Georgia, US, Master of Publishing from Simon Fraser University, Canada, and Master of Food Science from Renmin University of China, Beijing.