For the 15th year in a row, Nature is recognizing excellence in mentorship with the Nature Awards for Mentoring in Science. The award focuses on a different country or region each year: last year highlighted mentors in the Southern United States, and this year will award those in the Republic of India. Read below for a recent interview with one of last year's award recipients, Dr. Kjersti Aagaard, or click here to nominate an outstanding mentor you know.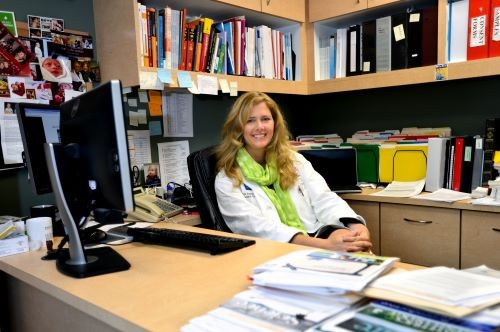 Dr. Kjersti Aagaard
is a professor at Baylor College of Medicine in the departments of Obstetrics and Gynecology, Molecular and Human Genetics, Molecular & Cell Biology, and Molecular Physiology & Biophysics. She was a joint recipient of the mid-career achievement level
Nature
Award for Mentoring in Science in 2018. In a Q&A with
The Source
, she discusses the mentors who inspired her early on, and how being a good mentor means finding and engaging mentees who have historically been excluded from science and medicine. This interview has been edited for length.
Did you have any notable mentors at the start of your career?
There were three mentors that, looking back, made a pivotal difference. My thesis advisor, Dr. Diane Jelinek, was extraordinary. She was a detail-oriented and very, very good experimental immunologist and molecular biologist. As a result of her mentorship, I have an unshakable foundation in experimental biology and molecular techniques.
In medical school, I would often seek out the preeminent geneticist Dr. Robert Gorlin in the halls or library at the University of Minnesota, and we would debate the role of gene versus environment in determining heredity and congenital disease. He pushed me not only to understand single-gene disorder genetics, but very early on to appreciate the likely role that epigenetics was playing in phenotypic outcomes among exposed offspring. This later became a springboard for embracing the microbiome and its metagenome in regulating metabolic phenotypes.
Finally, in fellowship Dr. Mike Varner had an immeasurable impact on not only my career, but my self-confidence. It wasn't until I was a fellow at the University of Utah and under the unwavering support and mentorship of Dr. Michael Varner that I gained enough confidence in myself as a young academician and competent maternal-fetal medicine physician to openly discuss my struggles as a single mom.
What's the best piece of career or life advice you received as an early career researcher?
Strive to be a gentlewoman and a scholar.
How would you define your role in the lives of your mentees?
While mentoring achievements can certainly be chronicled in the depth and breadth of mentees academic achievements, from impact factor of their publications to achievement of academic rank and independence, there are several qualitative measures which I view to be of equal if not greater longitudinal importance. These include the capacity to engage scientists and physician scientists in traditionally neglected or novel arenas of research. Similarly, the ability to engage traditionally neglected or underrepresented folks in science and translational research. Finally, the ability to instill and cultivate a love and discipline of the scientific process of discovery in clinicians and scientists which will sustain and keep them in academics through tough and trying years ahead.
My approach to mentorship is equal parts good intention and presence, clear and specific standards and expectations, raw enthusiasm, resilience, and good humor. I am also in a continuous state of learning new means and ways of mentorship, refining and revising my approach, experimenting with new ways of doing the same process, and figuring out how to engage with generations increasingly separated from my own. It is fundamentally important to be a good and ethical leader, with a strong moral compass to guide you in those tricky situations which make mentorship challenging and exhausting.
For me, it has also been important to define early on which mentees I felt I could be passionate advocates for and develop a lab that openly encourages them to succeed. When I consider what I consider to be of greatest longitudinal importance in mentorship—engaging bright minds in neglected arenas of scientific interest, engaging historically neglected minds in science and medicine, and retaining talent and earned knowledge—I believe I am making gains. However, there is much work still to be done.
How can individuals best pursue mentoring relationships in their school and work environments?
With an honest heart, good humor, best of intent, and humility.
How has receiving the Nature Awards for Mentoring in Science impacted you? Have you started any new projects as a result of the additional resources?
With receipt of the prize money from 2018 Nature Mentorship award, I will be establishing the Aagaard Research Mentorship Award in Pregnancy & Women's Health. The goal of the award will be to recognize a mentor-mentee pair who demonstrates excellence in what I consider to be of greatest importance: engaging bright minds in often neglected arenas of scientific interest, engaging historically neglected minds in science and medicine, and retaining talent and earned knowledge in pregnancy and women's health research.