This week we're sharing stories from members of Springer Nature's employee network for LGBTQ+ staff and allies, SN Pride. In honor of SN Pride's first anniversary. Read more from Springer Nature staff below and check back for new stories every day this week here on The Source.
Written by William Curtis, PhD
Executive Vice President, Medicine and Life Science Journals, Springer Nature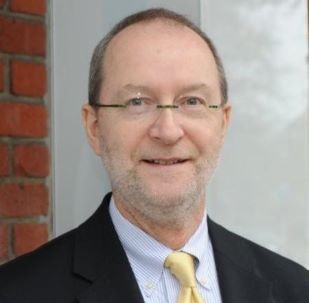 Fifty years ago during the early days of summer, history was being made on Christopher Street. Meanwhile in Massachusetts, I was a 16 year old high school student working as an orderly in the local hospital and anticipating the Apollo 11 moon landing. My thoughts were on senior year, college applications, and becoming a physician. Little did I know that 'enough is enough' at the Stonewall Inn that summer evening would have such a profound impact on my life.
Flash forward to the summer of 2019. My husband of eight years (and partner for 26 years) and I will be part of a large, noisy crowd rallying on the 28th in Sheridan Square to remember, pay tribute, and celebrate. Garth and I have much to celebrate: that we found each other, that we can be together safely and legally, that we live in a community that recognizes our right to love each other and make a life together.

During much of our time together, I have worked at Springer Nature (Springer-Verlag New York, Inc. as I knew it on the February morning in 1996 when I first walked into the Flatiron Building). When I arrived at work that first day, I had not been out for long, was newly partnered with Garth, and had lots of professional colleagues and friends who knew me from the early days of my academic and publishing career (and had a question or two about "What's going on with Bill"). The passage from straight to gay is a story I'm happy to share…but that journey is not the subject of today's discourse.

I made a conscious decision from day one to be myself, to be open about the wonderful man in my life, to present myself as an employee like any other. Which brings me to the one and only challenge I've faced as an openly gay employee in the US: health insurance. In those pre-millennial years, a handful of companies offered health care and other benefits to employees with domestic partners. Along the lines of "nothing ventured, nothing gained", I recall asking during my intake meeting about such benefits and being assured that I was not able to enroll my girlfriend, ah boyfriend. I am happy to report that within a couple of years, the company did make domestic partner benefits available. Not without a bit of conversation with the other members of the local management team, however, and along these lines: "You know, Bill, the value of the benefit will be taxable. It's not free. You should think about that." Reply: "That's my decision to make. In the meantime, the company is providing benefits to you and the other married staff but not to those of us who are not able to marry or choose not to marry." The benefit was available for the next Open Enrollment. With that small step, I realized the company will do the right thing with a compelling argument, a little nudge, and a light personal touch.

Far more typical of my experience at Springer Nature is a long ago conversation with a former CEO, who had met Garth at a social event. During dinner at a senior management meeting, the CEO asked me if Garth and I were married (the context of the question was perfectly appropriate, if a bit too convoluted to explain here). I replied, "Same sex marriage is not legal in New York State, so the answer is 'no'. But I'm not sure we would marry since there is a so called 'marriage tax penalty' in the US Federal Tax Code that would apply to married couple like us without kids." "Don't be ridiculous," he replied. "If you love somebody, you marry them and you don't worry about taxes!" It may sound amusing, but Derk was serious …and in that simple exchange showed support and understanding that resonated deeply with me. Garth and I married in NYC within days of being legally able to do so in 2011.

As I look back at Stonewall, I wonder if I would have been brave enough to resist. Would I have favored a gentle nudge rather than the strong shove that propelled us into the future. Knowing how much I dislike confrontation, I have a pretty good idea. As I reflect on the past 23 years working at Springer Nature, I realize that I've had a pretty decent professional and personal experience. I've been mentored and given experience over many years that have allowed me to make a contribution to the company and the communities we serve through our book and journal publishing programs. I've been privileged to work with colleagues around the world, learning from them and supporting the development of our publishing programs. Throughout the years, I've been treated with respect. I can only hope that I've done as much in return. I do recognize that each of us has a unique experience as well; the successes I've enjoyed and challenges I've faced may not be yours. But at Springer Nature I do believe we are One in our respect and support for each other.

Happy Pride!
Read more about Springer Nature's employee network for LGBTQ+ staff and allies, SN Pride, and read more stories from Springer Nature staff:
Beyond the Binary by Laura de Kreij