This week we're sharing stories from members of Springer Nature's employee network for LGBTQ+ staff and allies, SN Pride. In honor of SN Pride's first anniversary. Read more from Springer Nature staff below and check back for new stories every day this week here on The Source.
Written by an employee of Springer Nature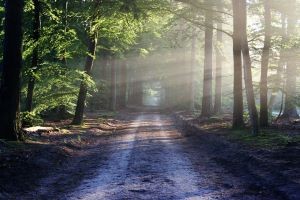 You probably don't know me, but if you do, you won't know this is me. I prefer it that way, but I have a conflict: shouldn't I openly advocate, stand proud, make a difference? But it runs much deeper than that. What if you only see my transgender identity? What if you find it weird, or even wrong? Unnatural? What if you are curious and invasive? What if... Why should I have to explain it over and over? Justify myself, try to make you comfortable? Talk about whether I have had surgery 'down there' ? ('Have you?', I say). In fact, you might not care a bit, it wouldn't make any difference. You might just see me. I like that idea, and there are many people like you, but we are not quite there yet.
I am female to male transgender and I transitioned age 37, after a lifetime of self-harm, suicide attempts, hospital admissions, and addiction clinics. What was wrong? I felt wrong; I felt repulsive, stressed, disgusted, fearful, worthless, and I was very angry. For a while I didn't really know why. I was born in a time where being gay was still underground in many ways. It was in the devastating early days of AIDS, and during many protests for equal rights, including the fight to abolish the damaging Section 28 (which banned 'promotion' of homosexuality in UK schools from 1988 to 2003, when it was repealed). There was no internet, no immediate or global access to information. I identified as gay because that was the closest I could get to understand my identity. I liked women, and I was very masculine but I didn't identify as a lesbian, it just didn't feel right. In fact I wasn't always comfortable in the 'gay scene' because I felt disconnected and frustrated. Despite my discomfort, it was also a wonderful place to be. I didn't get stared at, asked if I was a boy or a girl, laughed at, shouted at, abused, groped, attacked, and best of all, I could use the public toilet without harassment (the toilet thing may not sound like a big deal but believe me, it is).

What I would like you to know is that trans people can be (and often choose to be) invisible and undisclosed, but they are among you, and they are very much part of our society, our community and our workplace. It is vitally important that if a trans person should choose to come out, they can do it without fear, shame or humiliation. If they choose not to, well, that is totally their business. It is unrealistic to say 'don't judge', because we all do, but it doesn't have to be harsh, it can be thoughtful, or driven by empathy. We probably want the same things: to be accepted and get on with life.

Eight years on, I'm still adjusting. I had to go through all the physical, emotional, and psychological stages of transitioning (fast track male-puberty in my late 30's, can you imagine?). I had to tell friends (mostly great, hardly surprised, supportive) and received mixed reactions from my family, ranging from good to really bad, but I was not going to let anyone or anything stop me. I would never go back. I truly believe this has kept me alive and given me a taste of self-acceptance, contentment, and more.

Today, I am married with a family, and my wife has been through all this with me. It is unusual for couples to stay together through this process. In fact, sadly, many transgender people find it hard to find love and partnership. I really do know how fortunate I am, and she is an amazing life-partner. I am also a step-parent and I adopted my wife's youngest daughter, and have been through a challenging journey of parenting a teenager. This has helped me understand my parents' struggle with me more. I have also slowly built a good relationship with my parents and siblings, who have come to realise that I am who I am supposed to be, and now accept me, which is a wonderful gift.

I think it is important to add that the concept of identity is changing with the terms 'fluid' and 'non-binary', but it has not always been so open. How do I and my wife identify now? For a while this was troubling. We are not a heterosexual couple because that has not been our experience, but after many years, we are just not that bothered anymore, which is very liberating.

I would like to be more open, but maybe that will come with time. Today, there is an understanding that wasn't even thought of 30 years ago, which is wonderful to see. I am happy to share what I know about it, but to be honest, it is quite hard to explain. Unless you feel it too.
Read more about Springer Nature's employee network for LGBTQ+ staff and allies, SN Pride, and read more stories from Springer Nature staff:
Beyond the Binary by Laura de Kreij
Stonewall 50: A personal reflection by William Curtis, PhD