For World Suicide Prevention Day and beyond, and as part of Springer Nature's commitment to the Sustainable Development Goals (SDGs), we are endeavouring to help raise awareness of SDG 3.4.2 – reduce suicide mortality rate. To achieve this, it is important to understand factors contributing to why someone might wish to end their own life, as well as be able to identify those at risk of doing so.
Here Maurizio Pompili is our second expert to provide insight into the research and wider dialogue around this important topic. Check out more content we've made available in support of World Suicide Prevention Day and David Gunnell's responses to these questions.
Please note – Springer Nature is a publishing company and therefore does not provide direct medical advice. Whilst the research provided below is a useful resource, it should not replace direct consultation with a medical practitioner. Additional information and contact details can be found on the World Suicide Prevention Day homepages here.
What has research shown are the biggest risk factors for suicide, and what are the most effective prevention strategies?
Suicide is a multifactorial phenomenon and risk factors are often inconclusive in depicting the real suicide risk because they yield too many false positive. Nevertheless, taking into account the neurodevelopmental perspective allows understanding the role of childhood physical and sexual traumas which are now considered important contributing factors. Of course, mental disorders are also contributing factors but not unique elements of suicide risk. There is the role of some personality traits associated with adverse life events. There are many preventive strategies none of which, is, unfortunately, the perfect solution to the prevention of suicide. There are programs of primary prevention for the whole population, involving awareness of the problem and how to support people in crisis, second prevention is for a group of individuals known to be at higher risk such adolescents and tertiary prevention for those individuals who have already shown suicide risk or a suicide attempt.
Should the media's reporting of suicides be self-regulated or monitored?
Mass media should report the topic of suicide only following guidelines and thus preventing imitation and sensationalism. Media can act either as a big resource for preventing suicide if they follow such guidelines or increasing suicide in vulnerable individuals if they promote scoop and sensationalism.
How can/should technology be used to prevent suicide?
Technology should and can be used in any way for preventing suicide. There are now many apps that list warning signs and how to help suicidal individuals. But there are also chats and 24h online support for people who want to share their thoughts confidentially. Unfortunately, social networks sometimes hinder suicide prevention as there might be the problem of cyberbullying or supporting suicide or things of that kind.
Certain populations are at higher risk of contemplating, attempting, and dying by suicide. What factors contribute to this increased risk and what measures might be taken to reduce the incidence in these populations? (For example race/ethnicity, age, sex/gender, sexual orientation, geographic region, place of residence, etc.).
Sociocultural factors are the main pillar of suicide risk and important for suicide prevention. Each intervention should be tailored for a given population as different factors are involved and can be targeted. For instance, reducing access to firearms or pesticides, surveillance in hot spots, reducing toxicity in domestic gas, etc.
Suicide and gun violence are closely related. Should addressing the latter be a key focus of suicide prevention?
Of course, the availability of lethal methods is the main factor that facilitates suicide risk, although gun violence should be differentiated from suicide risk.
How is suicide risk related to burnout? How can healthcare professionals and others who work with at-risk populations care for their own mental health?
Burnout may contribute to suicide risk. Again we can't consider that as the single factor precipitating suicide risk in a given individual. However, in vulnerable individuals, together with other factors, suicide risk may be higher if burnout is present.
About Maurizio Pompili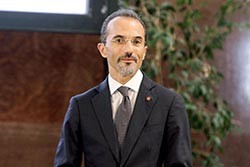 Editor-in-Chief of
Annals of General Psychiatry
, Maurizio Pompili, M.D, Ph.D. is Full Professor and Chair of Psychiatry as part of the Faculty of Medicine and Psychology at Sapienza University of Rome, Italy, where he received his M.D. degree, and training in Psychiatry (both summa cum laude). He is the Director of the Residency Training Program in Psychiatry of his faculty, the Director of the University Psychiatric Clinic and the Director of the Suicide Prevention Center at Sant'Andrea Hospital in Rome. He is also the President of the Psychiatric Rehabilitation Technique degree program at Sapienza University of Rome. He has been recognized by Expertscape as an expert in suicide, ranking 1st worldwide. H-index: 46 (August 2019).