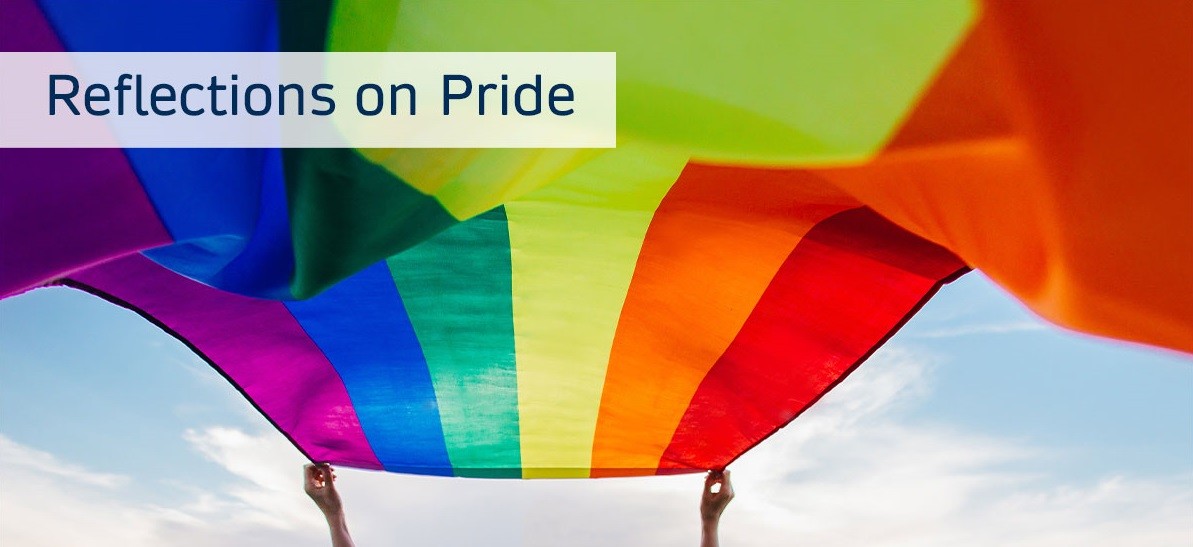 Springer Nature aims to help in the fight for equality and inclusion on multiple fronts, as evidenced by our Black Lives Matter portal and commitment to the Sustainable Development Goals, including SDG10: Reduced Inequalities and SDG5: Gender Equality. For Pride month we have reached out to some of our authors, editors, and researchers, asking them to reflect on the concept of 'Pride' and how they are helping in the ongoing fight for equity and inclusion, and how we, as a scholarly publisher, are contributing to these goals by publishing and distributing their research.
Here we speak to James Coda and Joshua Paiz, co-editors of Intersectional Perspectives on LGBTQ+ Issues in Modern Language Teaching and Learning
Please tell us about the nature of your work.
James Coda (JC): My line of research has centered on LGBTQ+ issues and heteronormativity in language teaching and learning. As such, my research has sought to illuminate how the language classroom can be a productive site for problematizing heteronormativity to foster a critical and more inclusive language classroom. In the current co-edited project on LGBTQ+ issues and intersectionality, Dr. Paiz, the contributors, and I take an intersectional approach to our research endeavors. It is my hope that the edited volume spurs continued conversations and research efforts involving intersectionality and LGBTQ+ issues.
Joshua M. Paiz (JMP): For me, my scholarship has focused on building out pedagogical frameworks that provide research-backed pathways to increase LGBTQ+ inclusion, access, and equity in the English language classroom. A central goal of this "queered" pedagogy is to equip students with critical habits of mind and the linguistic and rhetorical means to advocate for themselves and for others. Recently, as with Dr. Coda and our contributors to our forthcoming collection, I have begun more seriously considering the intersectional forces at work in our language classrooms, which has led to collaborations with Dr. Kris Knisely to consider how a queer pedagogy can be deployed to facilitate transgender and gender non-conforming inclusion and equity for students and educators alike, which become very real when we consider the intersections of gender, sexuality, and their embodied nature. I have also begun collaborating with junior scholars in South Asia to explore the attitudes and perceptions of LGBTQ+ issues in Thai English-as-a-foreign language context to better understand how place, sexuality, and age intersect.
What does 'Pride' mean to you personally?
JC: As a gay man, the term pride has always symbolized the efforts of those who have existed before me and fought for the very rights that I enjoy today. In addition, I conceive of Pride as being unabashedly proud of one's identity as LGBTQ+ since we have had to fight for recognition and equality over the years.
JMP: This is a fraught one for me. I was raised in an extreme far-right home and one that was part of a fundamentalist religious sect that took a rather staunch view against the entirety of the LGBTQ+ community. So, for me, Pride, as an annual event, is one where the LGBTQ+ community can, as a group, come together and remember collective, and often ongoing struggles, while celebrating whatever group or personal successes there have been in that year. Pride is a chance for the community to remind the world, you may not see us, but we are here; we are you; and, we're not going away. Pride, as a process on the other hand, is one of discovery and getting comfortable with a continually evolving sense of self. It's a process of learning how to advocate for self and for other, of understand and accepting diverse ways of living, being, and doing.
How have you and/or do you work directly to address the advancement of LGBTQ+ acceptance and equity?
JC: My research, conference presentations, and workshops have often focused on creating a more inclusive classroom for LGBTQ-identified students. In the classroom, I always strive to create a critical language education where norms are troubled rather than upheld. If I am not putting the insights of queer theories/pedagogies/inquiry into practice, then I must ask myself: what am I doing to create a more equitable classroom?
JMP: My work is squarely focused on building out pedagogical toolkits and educational materials that can be deployed in English-as-an-additional language classrooms to help teachers ensure a more inclusive practice and a more equitable classroom. By advocating for a flexible and critical, research-backed toolkit, as opposed for any singular approach, my hope is to provide teachers with tools that are locally relevant and culturally responsive. More recently, my work has also included providing strategies for negotiating queer-inclusion with different stakeholders—parents, students, administrators, etc.
How is this addressed in your research/work?
In recent research endeavors with co-authors Cahnmann-Taylor and Jiang (2021), we sought to understand how Teaching Proficiency through Reading and Story Telling (TPRS) can be a method for queering the teaching of languages as well as the curriculum. In another project, Rhodes and Coda (2017), we examined the experiences of adult ESOL educators in relation to Lesbian, Gay, Bisexual, and Queer (LGBQ) topics. Meanwhile, additional research has focused specifically on the world language classroom and how the romance language classroom can be productive in problematizing heteronormativity so that grammatical discussions can be lifted to the social.
JMP: One way that my work has addressed this is by providing accessible introductions to queer theory and its application to English language teaching. In my recent book, Queer the English Language Classroom: A Practical Guide for Teachers (Equinox), this has meant offering a research-driven, but practically-oriented discussion of what can be, at times, rather dense theoretical underpinnings. This is because educators are our front-line workers. Their efforts in the classroom can and does have profound impacts. And, I firmly believe that our research and scholarship, especially in an applied field like this, must be accessible to this group or professionals if it's to have any real impact.
Another way that my work as addressed this is by purposeful including a very specific, and I hope increasingly vocal, representation of transgender and gender non-conforming issues, whether that's explicit mentions and engagement in my own work, or sustained collaborations with trans-focused scholars, or just public allyship in professional circles.
What are the short- and long-term goals of your work?
JC: The long-term goal of my work is to cultivate a critical language education where normal is not left untroubled; that is, I would like to see scholars and practitioners continue to focus not only the essential facets of how we best learn languages, but rather, how we can productively engage with the social aspects of language and culture so that our classrooms and institutions are more inclusive of all students. In the short-term, I hope that my research encourages scholars and practitioners to focus their efforts on LGBTQ+ students in their scholastic and pedagogical efforts. Moreover, in the short-term, I hope that the co-edited volume with Dr. Joshua Paiz will encourage more critical discussions around intersectionality and LGBTQ+ issues in language teaching and learning.
JMP: Like Dr. Coda, I would say that the long-term goal of my work is to empower educators to craft more inclusive and equitable practices, to be advocates for their students and to model that advocacy in such a way that students can eventually become advocates for themselves and for others—resisting attempts at marginalization whether they are based in sexual identity, race, gender, or able-ness or neurodiversity. That is, a long-term goal of my work is help educators create pedagogies that aren't just intersectionally aware, but also critical of how different intersectional identities can influence that classroom and create barriers to learning and student success.
In the short-term, I would say a goal of my work is raise awareness around how issues of sexuality, gender, and race, amongst others, can be incorporated into our learning spaces because they are already there and have always been there, because teaching will already always be an ideologically positioned act, a politically changed act. And, this is something that some of us, even subconsciously wear quite literally on our bodies or in our physical through things like wedding bands, pride jewelry, activist decals, and queer or political wall-art.
What do you think is the most productive way that researchers can engage policy makers? What has your experience been with policy engagement?
JC: While I cannot speak to my own personal experience with policy engagement, I do, however, believe that researchers can engage policy makers through their research efforts. Our research is always already political, and it can ultimately be influential in policies that may affect our students, colleagues, and institutions.
JMP: I agree with Dr. Coda. Our work is always already implicated in a massive web of politics and power. That being said, it is most often the work of think tanks and professional consultants that I see being deployed in policy spheres. This, I believe, is in no small part due to the fact that these organizations invest time and care into crafting not only robust research instruments but into making their findings accessible to both scholarly and lay audiences alike. So, despite my relative inexperience here, I would say that the most productive means would be two part: 1.) learn to write for a public audience and to make your research findings accessible and relevant to them; and, 2.) advocate for your work and its importance by being politically active when and where you can.
What does public engagement look like in your field and how important do you think it is for researchers to make a societal impact with their work?
JC: In my field, public engagement can take myriad forms, such as presentations and workshops. In my view, it is essential that our research makes an impact in society. As my research developed from my own issues with heteronormativity and homophobia as a gay man, I believe that our research should be impactful and make the world a better place than where we started.
JMP: That's a really interesting question. I agree with Dr. Coda that a large part of public engagement has traditionally occurred through institutional engagement. This might be by providing workshops to local schools, usually under the auspices of home institution, or a private consultancy. Or, it might occur through research presentations at conferences and participating in organizational leadership for things like IATEFL or TESOL International, Inc and driving public engagement agendas that way. But, I think there's a real need for public engagement to become more personally relevant. For that, I would say we need systemic shifts in how the academy values and assesses intellectual contributions. And, we need to change how we prepare future researchers so that they become multi-lectal—able to not only share their research findings with their peers in the language of the academy, but also able to make those findings accessible, relevant, and pertinent to a wider public.
What progress would you like to see next towards addressing the advancement of LGBTQ+ acceptance and equity?
JC: While there have been advances toward acceptance and equity, I believe that there is still a paucity of attention to intersectionality and LGBTQ+ issues. To advance acceptance and equity, it is important that we examine the multiple ways that LGBTQ+ individuals are experiencing oppression through an intersectional approach.
JMP: The most immediate concern that I see is addressing the almost pervasive erasure of trans and gender non-conforming lives, bodies, and ways of knowing from our professional spaces. This includes not only publications, but also our conferences, our classrooms, and our cannons of professional literature. Until we, as a discipline, can adequately address our shortcomings on trans and gender non-conforming issues, we will be hard pressed to make any real contributions that can benefit this marginalized community in the face of, at least in the U.S. ever increasing legislative and physical violence.
Concomitantly, we must understand that LGBTQ+ issues, and that most certainly includes trans issues, are educational issues, as our classrooms and our teaching practices are always already ideologically positioned and constructed spaces. So, choosing not to act, choosing neutrality, is tacitly endorsing oppressive and marginalizing views of queer and transgender people.
Other blogs you might find interesting from the 'Reflections on Pride' series:
About authors:
Joshua M. Paiz is a teaching assistant professor in EAP at George Washington University, USA. His current research focuses on LGBTQ+ inclusive pedagogies and teacher education and neurodiverse access and inclusion in ELT. His previous works include Queering the English Language Classroom: A Practical Guide for Teachers (2020).
James E. Coda is an instructor in the Intensive English Program in the Division of Academic Enhancement at the University of Georgia, USA. His professional experience spans higher education as well as K-12, and his research centers on LGBTQ+ issues and queer theories/pedagogies in language teaching and learning.