Dr. Chika Ezeanya-Esiobu is author of the open access monograph Indigenous Knowledge and Education in Africa (SpringerOpen, 2019). In this Q&A she speaks passionately about why it was essential to publish her book open access. In the first four months of publication there have already been over 6,000 chapter downloads.
By David Lamb, Associate Marketing Manager in the Outreach and Open Research group at Springer Nature.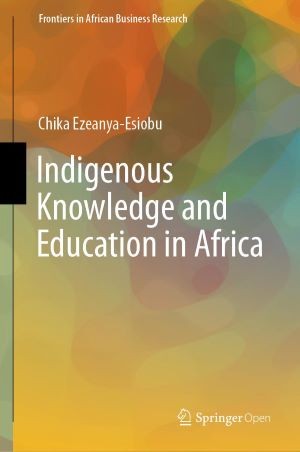 What motivated you to write this book?
My interest in the intersection between education and the place of indigenous knowledge in societal advancement motivated me to write the book, Indigenous Knowledge and Education in Africa.
Have you published open access before and how did you come to the decision to publish this book open access?
As far as my writing is concerned, I have written and published numerous open access articles, essays and children's e-books. However, Indigenous Knowledge and Education in Africa was my first attempt at the open access publication of an academic text, although it also just happened to be my first academic book publication.
I came to the decision to publish open access because I wanted the book to be freely accessed by as many people as possible. Specifically, I was concerned that many African universities, students, professors and even policy makers who might be interested in the book would find the price prohibitive. I just could not bear to think that someone whose thinking could be impacted by reading the book would not be able to access it due to costs. So I seriously began to explore available open access publication options knowing that it will hold more potential for wider readership, especially in Africa.
How did you find funding to publish your book open access?
Finding funding was a bit of a challenge. I am so happy that this was overcome through my prior relationship with the International Development Research Centre (IDRC) Canada. IDRC had supported an indigenous knowledge themed research project in which I was the Principal Investigator. After unsuccessfully going around several sources in search of opportunities to partner and publish the book manuscript as open access, I went to IDRC and the organization was favourably disposed to working with me once again in supporting the open access publication of the text.
What have you learned from the experience of publishing an open access book?
Publishing an open access book has been a richly rewarding experience. First, throughout the process of looking for support for the open access publication of the book, I had to keep holding on to my convictions that a book of such nature should be accessible to all, regardless of financial status.
At one point in the process, I was almost convinced by well-meaning colleagues that it was best to abandon the idea since the book could stay forever without ever getting published. In their view, good books are expensive and that is the reality of the world. It was a logical argument, but somehow, my heart could not accept that reality.
I was deeply moved to create a new reality for the many Africans who are hungry for knowledge and who can only afford a few MBs of data per day. Or for the universities across Africa who are unable to purchase the book at the high cost, but who try their best to provide some form of free internet access in their libraries to enable students access to quality open access publications. I am glad I held on to that belief.
How has your life changed since publishing Indigenous Knowledge and Education in Africa open access?
My life has changed in as much as I can now call myself a book author, since it is my first full-length book publication. I have also received several requests to present the contents of the book across various universities and other platforms all over the world.
How have you been promoting your book to potential readers?
I have been doing much more social media promotion than anything else and that has gotten some attention.
How do you think open access publishing will affect the future of scholarship in the global south?
Open access publishing will mean that well-researched full-length books will no longer be the exclusive preserve of the financially well off. Knowledge is power, and if knowledge is power it means that the global south has largely remained disempowered in global affairs due to limited access to knowledge. Through the eradication of previous financial barriers to knowledge acquisition, I see the blurring of lines between where today is called the global south and the global north. The majority of citizens in the global south will have equal access to the knowledge that has built and sustained the global north for several decades and will become empowered to build and even surpass the achievements of the global north.
Do you have any advice for aspiring authors?
These can be confusing times for an author; knowledge has become so much more accessible to many and one can get intimidated by what is already available out there since questions of what novel contribution one can make to a field of knowledge can arise.
But regardless, as long as humanity has not achieved that state of perfection as a community, then there is still so much that is unknown. In that reality lies strength and motivation for any author who has something new to say.
I will say to any author: do your research and speak your truth with respect for all of mankind. Also, do try your best to get that truth to as many people as possible.
Dr. Chika Ezeanya-Esiobu (@Chikaforafrica) is an indigenous knowledge expert who works across disciplines, exploring home grown and grassroots approaches to the sustainable advancement of Sub-Saharan Africa. She is a TED speaker and blogs at chikaforafrica.com. Download Indigenous Knowledge and Education in Africa for free.
If you would like to learn more about how to publish an open access book, Springer Nature offers options across disciplines for a variety of book types.
David Lamb is the Associate Marketing Manager in the Outreach and Open Research group at Springer Nature. In this role he advocates for the advancement of open access books and journals. He is a frequent contributor to the Springer Nature Research Data Community.