In this series of interviews, we talked to book authors and editors about how publishing open access has extended their impact and reach, something that is especially important to topics related to the SDGs.
In this blog we talk to Professor Rajeev Varshney about his journey publishing his book open access (OA) and his work on the UN Sustainable Development Goals (SDGs).
Could you share a short introduction to your OA books?
The open access book Sowing Legume Seeds, Reaping Cash- A Renaissance within Communities in Sub-Saharan Africa shares impact stories – testimonies from various value chain actors who have been part of the Africa Food Prize - 2021 award-winning Tropical Legumes (TL) projects, that spanned across 12 years in Sub- Saharan Africa and Asia. The TL projects funded by the Bill & Melinda Gates Foundation (BMGF) and led by ICRISAT were jointly implemented by the International Center for Tropical Agriculture (CIAT), International Institute of Tropical Agriculture (IITA), and National Agricultural Research Systems (NARS) partners from the targeted regions.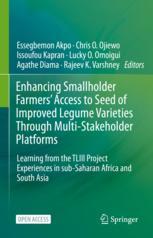 The main objective was to compile the experiences and learnings of a diversity of actors and stakeholders involved in these projects. National agricultural research institutes, knowledge brokering organizations, NGOs, public and private seed companies, agro-dealers, individual seed entrepreneurs, farm-implement makers, farmer cooperatives, farmer groups, individual men and women farmers, middlemen, processors, traders, and consumers were all involved in this project, and as such this book provides valuable insights for development workers, technical staff, and project managers.
Our second open-access book, Enhancing Smallholder Farmers' Access to Seed of Improved Legume Varieties Through Multi-Stakeholder Platforms covers narratives of Tropical Legumes (TL) projects led by ICRISAT. It covers all the aspects of the innovation platform used to facilitate seed access for smallholder farmers and shares the unique experiences per country and per specific legume crops, groundnut, chickpea, and cowpea, and highlights the elements of sustainability covered from lab to land.
Which SDGs are your books related to?
Both the books mentioned above, contribute to SDGs 1, 2, and 3.
Why did you choose to make your book available on an open-access basis?
As an international agricultural researcher working on projects funded by public funds, I always believe in sharing back the information generated from these projects for the benefit of the global public. It becomes our duty to share back with the international community; a tool to advance the global effort towards global food and nutrition security.
Why did you choose to publish with Springer Nature?
Springer Nature is a long-term collaborator for us and we have been working together to take advanced scientific findings to an international audience. They serve and support the global research community intending to advance the cause of science for a better world.
How were you hoping that open access would help with achieving your goals?
Our goal was to share our research findings, learnings, and best practices with interested stakeholders across the world and this is where exactly publishing these books open access has helped with. This is also shown in a study conducted by Springer Nature that open access books show a higher diversity of geographical usage, reaching more countries and having a greater proportion of usage in a wider range of countries. Importantly, open access books are increasing access and usage for low-income or lower-middle-income countries, including a high number of countries in Africa.
What benefits or impact have you seen from publishing your books open access?
The main benefits that we see from publishing these books open access are higher readership and access. To put this into numbers: our first book has recorded more than 32,000 downloads and the second book has recorded more than 23,000 downloads within a short period since they were published in 2020 and 2021 respectively. This would not have been possible if these were not open access books.
Do you have any advice to others considering publishing their next book or chapter open access?
Yes, I would suggest that all the researchers consider open access publishing as it not only supports a higher readership of your work but also serves as a tool to garner and nurture new ideas and innovations for the benefit of science and the world at large. I am on the editorial board of several journals which are open access.
Did you, your co-authors and editors promote the book yourselves? In what way?
Yes, we all have been promoting our books in every possible way. I am an adherent user of social media platforms and I believe they play a big role in promoting science. For instance, I have around 10,000 followers on Twitter, 6000+ followers on Facebook, and around 10,000 followers on LinkedIn and I use all these platforms very actively to share our research and science with the global audience.

About the author
Prof. Rajeev Varshney is a globally recognized leader for his work on genome sequencing, cataloging and utilizing genetic diversity, genomics-assisted breeding, seed system and capacity building in developing countries. He has made centrally important contributions towards improving food and nutrition security in India and several countries in Africa and Asia by assembling genomes, developing genomic resources and integrating genomic technologies in crop improvement programs in many tropical crops, and delivering several superior crop varieties to some of the world's poorest farmers. He is serving Murdoch University as a Director, Centre for Crop & Food Innovation; Director, State Agricultural Biotechnology Centre; and International Chair in Agriculture & Food Security with the Food Futures Institute.
Rajeev Varshney is co-Editor of the open access books Sowing Legume Seeds, Reaping Cash- A Renaissance within Communities in Sub-Saharan Africa and Enhancing Smallholder Farmers' Access to Seed of Improved Legume Varieties Through Multi-Stakeholder Platforms.