Sustainable consumption and production promotes resource and energy efficiency, sustainable infrastructure and access to green and decent jobs and a better quality of life. It is at the heart of progress towards building a sustainable economy that works for both people and planet in the long term. Sustainable materials are a very important part of this, now researchers are paying more and more attention to the feedstock origins and the degradation behavior of, especially, large-scale commodity packaging plastics. In this interview, we hear from Professor Valentina Siracusa, from University of Catania (Italy) and editorial board member of our new open access journal Discover Food.
What are the short- and long-term goals of your work?
I work in the synthesis and characterization of innovative and sustainable polymers, matching academia scientific researches and industry needs. My main activity area is focused on the study of biobased and biodegradable polymers, as new furan-based polyesters, mainly used for food packaging application but also in medical, tissue, engineering and optical fields. The actual goal is to obtain chemicals, used as monomers for the polymer synthesis, from wasted by-products, including sustainable innovation strategies on environmental science, food quality preservation and shelf-life extension by the use of sustainable innovative materials, use of nanoparticles to improve thermal, mechanical and gas barrier performance of packaging materials, composting experiments at lab scale. Particular attention is devoted to the gas barrier behavior of such materials.
The other research objective is to apply the life cycle assessment study (LCA) in order to understand the environmental sustainability of processes and products, in the shorts as well as in the long term.
Which UN Sustainable Development Goals (SDGs) does your work most closely relate to?
My work is related to different UN Sustainable Development goals such as 4 (quality education), 7 (affordable and clean energy), 10 (reduce inequalities), 12 responsible consumption and production), 13 (climate action), 14 (life below water), 15 (life on land), and others. My field of interest, sustainable polymers, is growing and evolving at unbelievable rate. Researcher are even more concerned with the feedstock origins and the degradation behavior of, especially, large-scale commodity packaging plastics. Design sustainable polymers will guarantee progress in several directions. Just as examples, some strategies that could be considered potential for future optimization are synthesizing biodegradable but also water-degradable polymers with specified functional groups that are not dependent only to biological conditions for biodegradation, exploiting natural-based aromatic polymers in order to expand the operative temperature range, developing new polymerization strategies for utilizing abundant, inexpensive and renewable feedstocks such as lignin, producing functional and inexpensive green polymers, and so on. So, paper or plastic, natural or petroleum feedstock, London or Paris? Whatever decision we will take, an impact on the environment there will be. It becomes even more important to have all the knowledge to deal with and to solve concerns related to plastics and consequently to global environmental and waste management problems.
What do you think is the most relevant way to measure success against the SDG(s) in your field?
In my opinion the most relevant way is to create different and multidisciplinary scientific groups in order to collaborate each other, each one of us with our specific competences. Working alone is never productive. Working together is instead even more stimulating. Biomass researchers, microbiologists, synthetic chemists, process engineers and food specialists should make use of their individual expertise and collaborate to develop materials for a more sustainable society and for human prosperity.
What do you think is the most productive way to engage with your target audience? What is it that you want your audience(s) to do with the information?
The best way to engage researchers is to have the possibility to publish all scientific results quickly and with free access, through scientific journal which remain still the main tool to communicate scientific results. Research articles include the state-of-the-art, the progress, the research methodology followed to study and understand the results obtained, the discussion and of course the conclusion with an important indication about the future work. Of course, books, conference and meeting worldwide, videos lessons and social media are important too, and we learned how to use them in the best way thanks to the COVID-19 pandemic.
All information collected must be used and new founding shared by the audience interested on the topics.
What support do you feel is needed by early career researchers to maximize their societal impact?
In order to maximize the social impact of researchers the most important support is to give them the possibility to fast communicate their results and vice-versa, to have the possibility to collect and use the scientific data just available, in the shorter term as possible.
What advice do you have for researchers working to tailor their research grant applications with societal impact in mind?
Actually, the high levels of resources employed, waste and pollution associated to both production and consumption phases such as resources extraction, production of intermediates, distribution, use, disposal and so on, are all costly phases of development that the Earth is paying for. Based on the need to drive researches, enterprises and markets in the direction of innovation and sustainability, in order to undertake the way versus a bulky green economy, the role of education and UN Sustainable goals must be highlight. Sustainability Education must be the guide to take in mind in order to achieve sustainable consumption and sustainable production systems.
About Professor Valentina Siracusa (Editorial Board Member of Discover Food)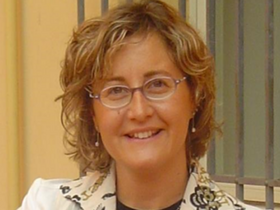 Professor Siracusa Valentina received her degree in Industrial Chemistry at the University of Catania (Italy). She completed her PhD and post-PhD study working on the synthesis and characterization of innovative polyesters, used in the engineering field. She is Associate Professor on Chemistry for Engineering at University of Catania (Italy) and Invited Professor on "Life Cycle Assessment Study (LCA)" courses at University of Bologna (Italy). She has collaborated with national and international research groups on biopolymers used in the field of food packaging, for modified atmosphere packaging of fresh foods. Her research interests includes: synthesis and full characterization of biodegradable and bio-based polymers; gas barrier behavior in standard as well as in moisture condition, at different temperatures; Life Cycle Assessment (LCA) study of polymers; thermal and photo degradation behavior of packaging materials analyzed during food shelf-life study.