Content warning : This blog post contains references to violence against trans and gender non-conforming people.
In honor of Pride, we wanted to feature some of the important work that Springer Nature's employee network, SN Pride, continues to do to support the LGBTQ+ community.
Every year Transgender Awareness Week takes place during November. This period is designed to raise awareness of the issues faced by transgender people, and increase the visibility of trans narratives and trans lives. The week culminates in the Transgender Day of Remembrance on the 20th, a day dedicated to remembering and honouring those we have lost over the past year as a result of anti-transgender violence.
Back in November 2020 as part of Transgender Awareness Week, SN Pride highlighted Springer Nature's new guide to personal pronouns to help people within the company respect the gender identity of their colleagues. Read more about it here.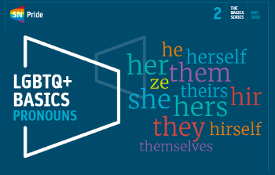 Adapted from a blog written for the SN social intranet, by founder/former chair of SN Pride and former Springer Nature employee, Lewis Miles
First established in 1999 by Gwendolyn Ann Smith, a transgender advocate and activist; the date for Transgender Day of Remembrance was chosen in honour of Rita Hester, a black transgender woman who lost her life to hate violence.
"Transgender Day of Remembrance seeks to highlight the losses we face due to anti-transgender bigotry and violence. I am no stranger to the need to fight for our rights, and the right to simply exist is first and foremost. With so many seeking to erase transgender people -- sometimes in the most brutal ways possible -- it is vitally important that those we lose are remembered, and that we continue to fight for justice." - Transgender Day of Remembrance founder Gwendolyn Ann Smith
Though started in 1999, trans people are still disproportionately affected by violence and hate crime today. In particular, trans women of colour. In 2019 the HRC reported the murders of 27 transgender or gender non-conforming people in the US alone, the majority of whom were women of colour. What's more, the Transrespect versus Transphobia Worldwide (TvT) research project has reported 350 murders worldwide for 2020, 98% of whom were trans women or trans feminine. This was an increase of 6% from the previous year.
It is evident that there is an epidemic of violence suffered by the trans community, and that this appears to be worsening. Therefore, events such as Transgender Awareness Week are more important than ever, and at SN Pride we are proud to do what we can to help support these initiatives.
Violence, however, is not always physical but can also be psychological and verbal, and even the tiniest of words can have a huge impact on the life of transgender people. Internally, guidelines are now available on how Springer Nature employees can include pronouns in their email signatures and we recently shared an update to our system which allows English-based Springer Nature employees to add their pronouns on MyAccount, which will feed through to display on our company intranet and other internal systems across the business. To support this, SN Pride also launched our first expansion to the LGBTQ+ Basics series: LGBTQ+ Basics: Pronouns guide.
While our first LGBTQ+ Basics guide provided some of the core information about what it means to be LGBTQ+ and how to be an ally to the LGBTQ+ community, this new expansion guide puts the spotlight on pronouns and the meaning they carry in our everyday language. This is an important and sensitive topic for the transgender and non-binary communities, as they are often subject to misgendering, meaning they are more likely to be addressed and referred to with pronouns that do not correctly reflect their gender identity. This document aims to explain the importance behind the correct use of pronouns and provides a few suggestions for allies on how to be thoughtful and supportive by engaging in conversations around the topic and sharing their own pronouns.
Regardless of whether people usually use the correct pronouns for you, adding your pronouns to MyAccount as an employee of Springer Nature normalizes the sharing of pronouns and can make others, particularly trans and non-binary people, feel more comfortable to share theirs, as well as reinforcing the point that a person's pronouns shouldn't be assumed.
Other blogs you might find interesting: