Committed to enhancing discovery, following their successful two year pilot to enhance content discoverability, visibility and accessibility Springer Nature has entered into a long-term content sharing partnership with ResearchGate .
Collaboration is key if scientists are to drive discovery and tackle today's challenges. One way to enhance collaboration is to enable it to take place on the platforms researchers and authors are already using. In March 2019, we entered into a unique pilot partnership with ResearchGate to explore new ways for researchers to share content. The goal was to combine Springer Nature's expertise in publishing high-quality research with ResearchGate's online platform for millions of scientists, and deliver a better experience for the communities served by both organisations.
The overall goal of the partnership was to make it easier for researchers to discover and access research papers, while enhancing the reader experience. For ResearchGate, this meant enabling authors to share work on their platform more easily, whereas for us the partnership formed part of our broader approach to improving user and customer experience through providing content and services directly to users on their platforms.
On completion of the pilot we conducted a piece of independent research to better understand the benefits that content syndication to ResearchGate brought to researchers, authors and librarians, and to see where there are still opportunities to further support our communities.
Key highlights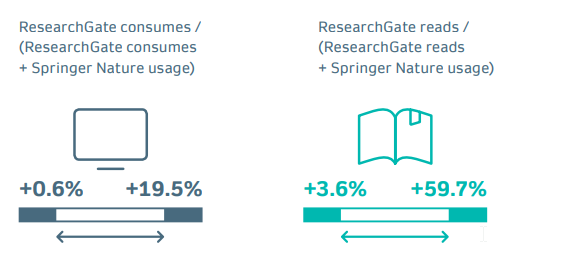 Content syndication is key to increased usage: Springer Nature content that was syndicated to ResearchGate was used more than if it had not been syndicated, with some journals seeing up to a 19.5% increase.
Researchers and authors value being able to view research in context: uploading version-of-record articles alongside other versions such as accepted manuscripts provides a rich context within which research can be read, discussed and shared. Provides a full picture of the research, supporting higher engagement and the wider drive to open research and collaboration.
Institutional acknowledgements are valuable to librarians: collaboration and acknowledgement is key. Feedback from librarians highlighted that the ability to be able to see the institutions who have subscribed to content is a particular benefit.as it enables library visibility (and conversely demonstrates value) on a platform where it is not typically shown.
Collaboration supports better authentication routes: Authentication was augmented through unique ResearchGate data. By adding Springer Nature content to ResearchGate, the entitlement process is enhanced and, in particular, it is easier for researchers to access content remotely, directly through ResearchGate.
The full white paper can be read here

Researchers remain at the centre
Communicating scholarly research is rarely static, yet in recent years -- and perhaps even more so in the past few months -- the landscape in which research is carried out and communicated has shifted dramatically. We have seen how the profile of open access publishing has increased through initiatives like Plan S and national transformative agreements such as that with Projekt DEAL in Germany. Now the Covid-19 pandemic has provided a further push to many of these trends, and has ensured that the fast publication of reliable and robust results has made its way into political and public agenda.
The volume of research published annually will continue to increase. And whilst content remains king, collaboration remains key. Easy access to peer-reviewed articles, preprints, datasets and peer review reports will continue to become ever more important for furthering discovery and enriching the academic record. In order for us, as a sector, to best support that engagement, we firmly believe collaborations, such as the one between Springer Nature and ResearchGate, will serve as a starting point to better enable and support researchers in being able to advance discovery by simplifying the researcher workflow and paths to access and collaboration.