In an era defined by globalization, technological advancement, and economic complexities, the pursuit of sustainable and equitable economic development is more critical than ever. That is why the United Nations established its Sustainable Development Goal (UN SDG) 8: Decent Work and Economic Growth. Work on this SDG focuses on labor markets, entrepreneurship, and economic policies in pursuit of a more prosperous, inclusive, and sustainable global economy.
This hub is a clearinghouse for research on UN Sustainable Development Goal (SDG) 8: Decent Work and Economic Growth, published across Springer Nature. It features selected research from Springer Nature's journals, special issues, and cross-jou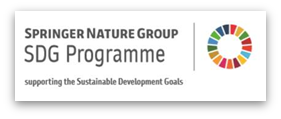 rnal article collections, as well as selected books and book chapters. The curated research covers topics including sustained, inclusive and sustainable economic growth, full and productive employment and decent work for all, and more.