Recent events in the US involving police violence against black people have shocked the world and resulted in the "Black Lives Matter" movement that is reaching across all continents. We at Springer Nature stand united against racism and discrimination of any kind. As an academic publisher we believe that it is our responsibility to provide free access to content that speaks to the issues of systemic racism and to amplify the voices of black authors.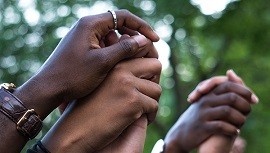 We have created a portal offering research insights about issues such as the history and social science of racism and police violence. The freely available content can be accessed through our
Black Lives Matter portal
. Within this collection you can explore eBooks, journal articles and research blogs on
Social Inequality & Systemic Racism
as well as content on
Policing Race & Civil Unrest
. We have also created
podcast stories of black women in research
telling their stories.
Furthermore, we have launched a new series on The Source blog under the title "Amplifying Black Voices" starting with a podcast about Ornette Clennon, a critical race scholar, sharing his true personal story with us and this blog post by Dr. Keisha L. Bentley-Edwards, Assistant Professor at Duke University's School of Medicine, whose interdisciplinary research focuses on how racism, gender and culture influence health and educational outcomes. Also take a look at Scientific American which has published a special report with a number of topic related articles.
In addition to our free content, you can now also download MARC Records for the freely available book content.
We hope that the collection will help readers gain from research insights, not least in the history and social science of racism and police violence. And we have sought to amplify black voices within our collection by sharing their research, personal stories and journey.
We continue to work with our authors on expanding our content on issues around the world including structural racism, authoritarianism, discrimination and anti-black violence, policing, inequality, health disparities, and access to justice, with the express intention of growing our content in a way that reflects current societal challenges, including those affecting black lives. In addition, we are working to improve diversity and inclusion in our recruitment of editorial advisors and boards and of staff. We know that we have much to do in these respects. But we are determined that our goals and actions will indeed better reflect the fact that Black Lives Matter.