Springer Nature established the China New Development Awards this year in order to recognize authors for their contributions to the delivery of the UN's Sustainable Development Goals (SDGs). Read on for our series of interviews with the winning authors, and click here to learn how the Springer Nature SDG Programme continues to support authors and researchers who work toward sustainable development.
by Angie Voyles Askham, Content Marketing Intern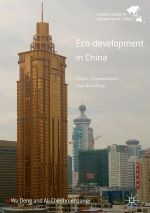 In their book Eco-development in China, authors Wu Deng and Ali Cheshmehzangi examine how specific eco-initiatives and green practices have been applied in a selection of Chinese case studies. They also offer a guide for design and planning trends in China and propose solutions for the future of eco-development worldwide. In our interview below, Deng and Cheshmehzangi explain how this work supports the UN's Sustainable Development Goal #11: make cities and human settlements inclusive, safe, resilient and sustainable.
How does your book address the UN's Sustainable Development Goals?
The book addresses the UN's Sustainable Development Goal #11 of "sustainable cities and communities" through two aspects: first, it offers a comprehensive introduction to eco-development in China, as well as a useful reference for future projects around the world over the coming decades. Second, the book discusses the three different but interwoven spatial levels—city, community and building, which traditionally have been referred to as separate "domains." It proposes policy interventions to combine the co-effect of the sustainability effort at these spatial levels to achieve the UN goals in the context of urban built environment. The book also responds to SDG #11 from the overarching understanding of making sustainable city environments with a harmonious development approach between natural and built environments of our contemporary cities and communities.
What do you think is the best way to measure success against these goals?
Measuring sustainability progress towards these goals should be varying across different socio-economic contexts. In addition, it should be community-based and with the consideration of people at the heart of planning and design. We can measure the success through both implementations and achievement of projects. To implement the goals, we ought to develop/select a holistic approach to city and community design. To achieve the goals, we then have to increase the sustainability benchmarks and work towards making more sustainable urban environments.
In your experience, how is the research community most effective in contributing to sustainable development?
The research community has a major role in the implementation of the SDGs. Academic research provides the basis for new and sustainable approaches, solutions and technologies to achieve the SDGs. The most effective way of the research community contributing to sustainable development is twofold: educating the young generations and proposing policy interventions at an early stage.
How do you hope the policy and business communities might implement your work to solve regional and global issues?
The book is partially based on an urban expansion project in eastern China. We hope more urban projects in China and beyond will start to consider strategies and solutions suggested in the book, and develop a comprehensive urban development program which takes into account the interplay between various spatial levels, minimize policy conflict and support innovative directions of holistic planning and design. We hope these suggestions develop new policies or reform the existing ones to ensure addressing the sustainable development agenda at the local, regional and national level. Policy and business need to adapt to such transformations through a healthy process, and hence with the right will and right direction, we may be able to make tangible progress and impact on regional and global issues of climate change and unsustainable development patterns.
What are the short-term and long-term goals of your work?
In the short term, we would like to continue our work on integration of urban spatial levels and develop a set of methodologies of breaking down sustainability targets through city, community and building level. From a long perspective, we expect to see our work optimize the decision making of urban development through real projects globally. We aim to have impacts on the development of policies and practices and enable new opportunities in the field of eco-development and sustainable urbanism.
Wu Deng is currently teaching in the Department of Architecture and Built Environment at the University of Nottingham Ningbo, China. He is a certified Passive House Designer by the Passive House Institute, Germany. Previously, he was a Lead Consultant and Technical Manager on sustainable city at Siemens Corporate Technology.
Ali Cheshmehzangi, urbanist/urban designer by profession, is currently the Head of Department of Architecture and Built Environment and Associate Professor of Architecture and Urban Design at The University of Nottingham Ningbo, China. He is also Director of Urban Innovation Lab (UIL) with a project on smart-eco-city transitions.
Click here to learn how Springer Nature is supporting global sustainable development through our SDG Programme.
Angie Voyles Askham is the Content Marketing Intern for Springer Nature's Research Marketing team. She received her PhD in neuroscience from NYU in 2015 and has since worked in radio journalism and academic publishing, with the goal of communicating science and research to a broad audience.