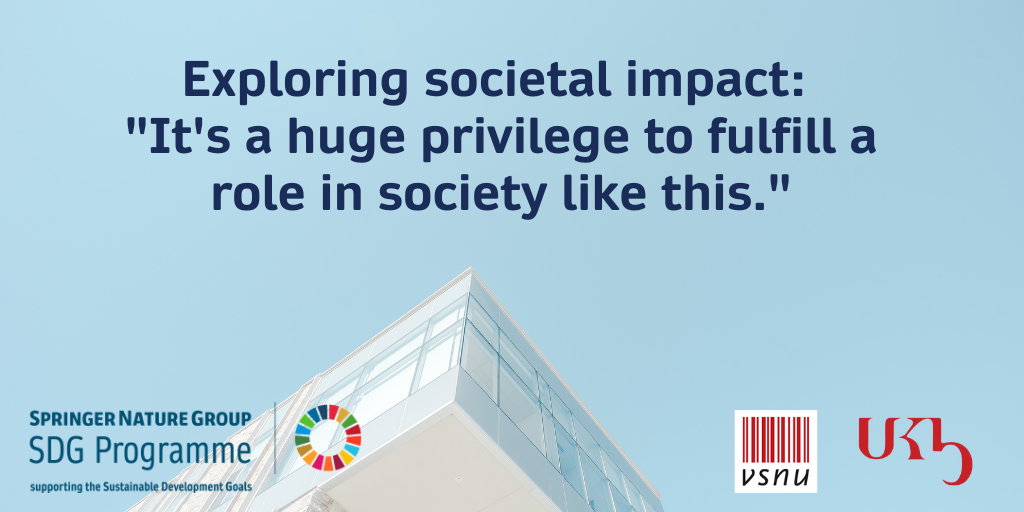 As part of Springer Nature's strategic partnership with The Association of Universities in the Netherlands (VSNU), we're interviewing researchers from a whole range of disciplines about their experiences of creating societal impact through research.
In this interview, we speak to Dr Marieke de Hoon, assistant professor of international law, international criminal justice and human rights at Vrije Universiteit Amsterdam (VU). In addition to her work as a researcher, Dr de Hoon is also the co-founder and director of the Netherlands branch of the Public International Law and Policy Group (PILPG), an NGO which works on issues relating to transitional justice and the International Criminal Court.
She tells us how she defines impact for research, the work she does with her NGO, and the challenges of balancing societal impact work with an academic career.
Your research focus is on the development of the international legal order where it addresses conflict, as well as post-conflict societal repair. How do you define having an impact when it comes to your research?
I see, roughly, four categories of impact when it comes to research. Firstly, science, the actual academic research itself. Having an impact in that sense is about research and about connecting and communicating with other academics in order for society to gain scientific knowledge.
Then the second category is educational impact. I think this is such an important role of academia – to help the next generation in our societies learn how to think, analyse, and shape their brains. And I mean that in the broadest sense – all students who come to the university to learn, not just the next generation of scholars.
My third category is around societal solutions, so translating research to be applicable to society. I think society needs academics and academia to help develop solutions, approaches, new ways of doing things. And it's not just about developing them but also making them usable. A couple of examples in my own case include consulting with politicians about new policies and legislation or the societal projects I do with my NGO, such as assisting in peace processes and helping international tribunals.
And then finally, the fourth category is about providing information. I feel that it's my role as an academic, our role in academia, to use the knowledge we've gained from our research to better inform broader audiences. That's why I give public lectures. I tweet in simple terms so anyone can follow the points I want to make. I talk to journalists and I'm on TV and radio and in the newspapers. I feel I have a responsibility to use my understanding of the complexities of my particular research area to explain them in an accessible manner.
I happen to enjoy each of those four areas of impact and I try to do all of them – although this can be challenging. But I do not, and I really want to emphasize this, I do not believe that every single academic needs to be ticking all of those boxes. As a team, as a university, as a faculty, as a department, we should try to see how we can do this together.
You've already briefly mentioned your NGO. Could you tell us a little bit about how you came to set it up?
Yes, so this happened prior to my becoming an academic. When I was a student, I worked at the American-based headquarters of the Public International Law and Policy Group (PILPG). And I must say, I am heavily indebted and inspired by the founders of this NGO – Paul Williams and Michael Scharf. They set up PILPG 25 years ago when they left the US state department. They were academics, but they wanted to continue to do societally impactful things – or in their words, "cool things".
They created law clinics in their law school so that students could work for the NGO. And I joined that clinical program in 2008, when I was on my student exchange, as a Master's student at American University, in Washington DC.
I absolutely loved it there and when I returned to the Netherlands, they asked me to open up the Netherlands office. I jumped at the opportunity and co-founded the NGO here with my colleague from Utrecht University, Dr Brianne McGonigle Leyh.
Since starting it in 2008, it's developed in small steps – from having one client at a time to two, and then multiple projects. When I started working at VU in 2010, I created a Masters course where students could work on projects with the NGO. That started with just a few students and now it's grown into a semester program with ten students each semester. Plus, on top of that, if we need more students, we have interns coming in as well.
And what type of projects does the NGO work on?
It very much depends on the clients we take on. There's always plenty of work to do in my field – that's the sad reality. Over time, I've learned that I need to select projects and clients that connect with my research. That was one of the things I struggled with in the beginning, because it essentially felt like I had two different jobs. And that just wasn't sustainable.
So now, I really try to connect the work I take on with my research, so that I can publish the things I do that have societal impact and that my societal impact is really fed by the information I get from my research.
We assist clients in peace negotiations and post-conflict justice. Southern Cameroon is a client, for example. We also develop open access handbooks. For instance, we developed a practical handbook for civil society actors, for documenting evidence on serious human rights violations and international crimes.
You've already touched on the challenge of balancing your NGO work with your academic work. Would you say you're able to balance that now or is it still a challenge?
Honestly, no. I'm not managing that balance and I would be very impressed by anyone that is. It's really hard to do. And that's because our academic system has not yet matured in a way that it knows how to recognise societal impact work.
In very practical terms that means that my boss tells me that everything I do, in terms of societal impact, is really important. But it doesn't count towards my academic work. It needs to fit into three per cent of my time and the rest is a "hobby".
And that's frustrating because the work gives recognition to the university and it takes up a lot of time. For example, a TV appearance might only last four minutes, but it often costs me quite a few hours to make sure that in those four minutes, I really know what I'm talking about. I need to know what the specific news cycle is that day, what exactly the problem is in that specific country that I'm talking about and applying my research insights on.
And then I also need to work with the journalist to figure out what society, what the wider public needs to know. And then we haven't even broached the topic of assisting clients and guiding students towards becoming professional lawyers in the work we do with the NGO.
I enjoy the work so much. But not getting the recognition for the time I put into it leaves me stuck in a dilemma – I can only do this work, which I view as an important part of my responsibility as an academic, in my scarce spare time and at the expense of publishing more research, which is what I'm evaluated on.
That's definitely a source of frustration. And I very much hope that in the future evaluation frameworks will change to allow researchers more time and freedom to do this type of work and get recognition for it.
You've clearly put a lot of time and effort into your NGO and also building your reputation with the media. How did you go about starting to work with the media? Where did it all begin?
I think in many ways it's grown organically, but that wouldn't have happened if I hadn't taken up opportunities when they came my way. It started with small things – like former students asking me to do lectures at larger podiums for bigger audiences. And then someone in the audience picks that up and this generates new connections, and so on.
Once you begin to build a reputation for being an expert on certain topics – particularly newsworthy topics like the MH-17 crash which I've testified in parliament about – it can snowball from there.
I also think Twitter is a great tool to communicate with journalists. The approach I would recommend if you're seeking more exposure for your research is to look for discussions and articles being posted about subjects relevant to your research. And if you think you have something to add to the conversation or debate, you can join it. You don't need to be cocky. You can respond by saying, "Actually, I've done research on this, and this is what I found." And then you tag in your articles. Scholarly or non-scholarly. And that is a way for people following the discussion, including journalists, to see that.
Another way to do something similar is op-eds. I've written a few of those too. Usually, because I've read something in the news and thought, "this isn't quite right" or "I can add to this debate".
I think the key thing for academics to bear in mind with this is that you need to be fast. You can't sit back and think and then respond a month later. It doesn't work that way. So you do need to rewire yourself to react more quickly.
Despite the challenges, it's clear you're very passionate about societal impact work. To finish, can you tell us why it's so important to you?
I think it's extraordinary and a huge privilege to be able to fulfil a role in society like this. Firstly, to be paid by society to think – that's pretty amazing in and of itself. But then to serve society through science, through academia, directly – by assisting clients, by talking to victims, by answering questions, by explaining to large audiences through the media. That's sensational to be able to do that with your brain and your time.
I think it's the most beautiful job you can have. It's just a pity that it's so hard to do it. And I'm not the first to say that I'll probably leave academia because of the difficulties, which breaks my own heart because I know that I'm born to do this. It's what I want to do, it's what society would want me to do because I'm at my best in this role. But the parameters, the circumstances make it unnecessarily hard. There's a vital need to break down existing power structures and change the culture in academia.
Learn more about how Springer Nature and VSNU are supporting researchers working to increase their societal impact
About Marieke de Hoon
Dr. Marieke de Hoon is Assistant Professor in international law, international criminal justice and human rights at Vrije Universiteit Amsterdam. She wrote her Ph.D. on the law and politics of the criminalization of aggressive use of armed force. She is moreover Senior Counsel and Director Netherlands Office at the Public International Law & Policy Group.
Follow Dr Marieke on Twitter