As part of the Springer Nature Sustainable Development Goals (SDG) Programme, we're interviewing leaders and researchers about the work they're doing to address the 17 SDGs outlined by the United Nations. Read on for our interview with Dr. Gilbert Rochon and Dr. Thierno Thiam about their work and their recent book, Sustainability, Emerging Technologies, and Pan-Africanism.
by Angie Voyles Askham, Content Marketing Intern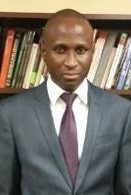 Dr. Gilbert Rochon and Dr. Thierno Thiam's recent book Sustainability, Emerging Technologies, and Pan-Africanism examines how new developments in technology are enabling sustainable development across the African continent. They responded to our questions about the how their work relates to the UN's 17 Sustainable Development Goals and explained why Pan-African unity is an important part of supporting sustainability. This interview has been edited for length.
(Above, Gilbert Rochon (left) and Thierno Thiam (right))
How is your work addressing the UN's Sustainable Development Goals?
Our work has been directly related to several of the initiatives promulgated within the UN SDGs, long before the SDGs themselves were officially codified by the UN General Assembly in 2015. We have subsequently been engaged with the African Renaissance and Diaspora Network (ARDN), under the leadership of Dr. Djibril Diallo, which in close collaboration with the UN spearheads the Pathways to Solutions initiative, committed to popularizing the UN Sustainable Development Goals (SDGs).
More specifically, our long-term engagement with applications of satellite remote sensing (including NASA SEDAC & the Purdue Terrestrial Observatory) has potential relevance to poverty mapping (SDG 1, No Poverty); with respect to addressing hunger, my (Rochon's) MIT dissertation focused on remote sensing of drought-related famine conditions in Sudan (SDG 2, Zero Hunger); [and we were both] engaged in the Mediterranean Dialogue Earth Observatory in Morocco, a multi-year NATO project [that studied] real-time remote sensing for early warning of biogenic and anthropogenic disasters, including vector-borne epidemics (SDG 3, Good Health and Well-being). [Through our work with ARDN and other organizations, we are addressing a number of other SDGs, including SDG 4, Quality Education; SDG 5, Gender Equality; SDG 8, Decent Work and Economic Growth; SDG 9, Industry, Innovation, and Infrastructure; SDG 11, Sustainable Cities and Communities; SDG 13, Climate Action; and SDG 14, Life Below Water.]
ARDN's development of a wide array of partnerships, including UNDP, UNFPA, NAFEO, the African Centre for Study of the United States (ACSUS) at the Univeristy of Witwatersrand, etc., can be found here (SDG 17, Partnerships to Achieve the Goal).
What do you think is the most relevant way to measure success against these goals?
It is clearly insufficient to measure economic advancement solely through aggregated growth in GDP. It is crucial that distributional justice and mitigation of income disparity emerge as primary criteria. Moreover, maternal and child health, eradication of preventable diseases, universal education and empowerment of women and other marginalized communities—indigenous communities, rural communities, and people with disabilities—are essential components of such "success."
Are there differences in how these goals are approached in sub-Saharan Africa and elsewhere?
Yes. Although there have been significant technological advances within sub-Saharan Africa with respect to high performance computing (e.g. South Africa, Egypt) and both earth-observing and telecommunications satellites (e.g. Nigeria, Morocco, South Africa, Egypt, Algeria, Ghana), it is painfully clear that the specter of the Berlin Conference has stifled sustainable development of transportation, communications, export diversification, cyberinfrastructure and the means of production. Collective trade deals for the benefit of the continent's people must be implemented, rather than exploitative individuated agreements that overly benefit solely the foreign partner and domestic oligarchs.
In your experience, how is the research community most effective in contributing to sustainable development?
The research community is most effective when such research is internationally collaborative, evidence-based, data-driven, ideally open-source for accessibility by resource deprived communities and supportive of the full range of engagement, including primary research, grand challenge problem solving and supportive of citizen science.
What are the short- and long-term goals of your work?
As expressed in our Palgrave/Macmillan book, Sustainability, Emerging Technologies & Pan-Africanism, it is evident that the artificial boundaries superimposed upon the African continent by their European colonizers as well as neocolonial economic exploitation and vestigial infrastructural limitations undermine continental sustainable development. Our short term goals are to facilitate research and instructional collaboration among the existing collectivities of universities both in Africa and in the Diaspora (i.e. North, Central & South America and the Caribbean), with an emphasis on collaborative research relating to the UN Sustainable Development Goals. This will primarily be undertaken through ARDN's ADURIE Task Force, on which we both serve.
Our long-term goal is to tirelessly work toward research and implementation initiatives in support of Pan-African unity. The AU's recent success in establishing the African Continental Free Trade Agreement, the movement toward a single continental passport, the Great Green Wall project, the African Standby Force for Peacekeeping, inter alia, are sources of hope and expectation that such unity is ultimately both achievable and ineluctable.
Gilbert Rochon is Professor at the Department of Global Health Management & Policy at Tulane University's School of Public Health & Tropical Medicine. Rochon also serves as a Research Scientist with Xavier University of Louisiana's Department of Public Health Sciences. He is a Senior Consultant with MSF Global Solutions, LLC in New Orleans and in that capacity presented on Pan-African Disaster Resilience at the 11th Conference of the African Association for Remote Sensing of Environment (AARSE), held in Kampala, Uganda. He also has been appointed Co-Chair of the African Renaissance & Diaspora Network's (ARDN's) Higher Education Initiative and, in that capacity, has recently presented in Johannesburg, South Africa and in Niamey, Niger.
Thierno Thiam is the Chair of the Department of History and Political Science, Co-Director of the Integrative Public Policy and Development PhD program and Associate Professor of Political Science and International Relations at Tuskegee University. He joined Tuskegee University in December 2010 from the Institute for State Effectiveness (ISE) based in Washington D.C. The ISE blends conceptual thought, analysis and direct experience to rethink relations between citizens, states and markets in the globalized world.


Angie Voyles Askham is the Content Marketing Intern for Springer Nature's Research Marketing team. She received her PhD in neuroscience from NYU in 2015 and has since worked in radio journalism and academic publishing, with the goal of communicating science and research to a broad audience.