When Plan S published last September the principles it believes all funding agencies need to apply in their dealings with publishers, I am pretty confident that the level of reaction and interest that ensued took everyone by surprise. Publishers were unsurprisingly concerned (I blogged about it here) but what we found more interesting (and reassuring) was that others in the research community, including authors, librarians and other funders, were similarly concerned.
It also put us in a tricky situation. Advancing discovery is our mission and it guides us in all our actions. Springer Nature is passionate about and committed to Open Access (OA) publishing and the greater use of Open Science techniques because of the benefits they enable to the advancement of science and research. Our data shows OA articles attract greater citations, higher numbers of downloads, and increased wider impact. The last thing we wanted was to be viewed as somehow anti-OA when we agree with, and share, Plan S's stated goal of accelerating the transition to full OA.
That is why the consultation which closed on Friday has been so important. It has enabled us to really look at our business, properly reflect on our role as a global publisher committed to meeting the needs of all research, all researchers and all funders, and propose a set of recommendations, backed by extensive experience and hard data that we strongly believe will help everyone to deliver on this joint goal.
This means we are in the position of having to be the 'critical friend', but a friend pursuing the goal none the less.
We cannot be silent if we are to accelerate the adoption of OA
We fear that the route Plan S is currently intending to take could have adverse, potentially counter-productive consequences, and we care far too much about achieving the accelerated adoption of OA to be silent. Our submission to the cOAlition of participants committed to Plan S therefore seeks to draw attention to these risks and to suggest solutions.
Ultimately, we are concerned that researchers have been rather lost in Plan S's approach thus far, something that the wider STM industry has also highlighted. Let me explain what I mean. OA publishing is a dynamic market comprising researchers and funders on the demand side and publishers on the supply side. For it to change we need to stimulate the growth of both supply and demand. This is essential if we are to go as fast as possible. Otherwise markets distort and energy is lost addressing the symptoms of these distortions rather than ensuring we all work together in achieving accelerated change towards OA.
Currently almost all of Plan S focuses on the supply side (i.e. publishers and more particularly on OA journals at the expense of other OA publication mechanisms). While we agree that further change is needed here, change is also needed on the demand side – encouraging more authors to choose to publish OA and more funders to help them do this by demonstrating and promoting the benefits of OA to them. There seems to be an assumption in the Plan S document that there is a ready demand of authors waiting and wanting to publish OA. But we know from our own research and experience that this is not yet the case. We run a continuous journal author satisfaction survey (last year completed by over 70,000 authors across all research disciplines world-wide) where we ask authors to indicate which were the three most important reasons for choosing to submit to the particular journal. The chart below shows how Open Access comes in eighth out of the top ten. This has changed from 5 years ago when it was ninth but there is still a long way to go.
Chart 1: What were the three most important reasons for choosing to submit to the journal XYZ?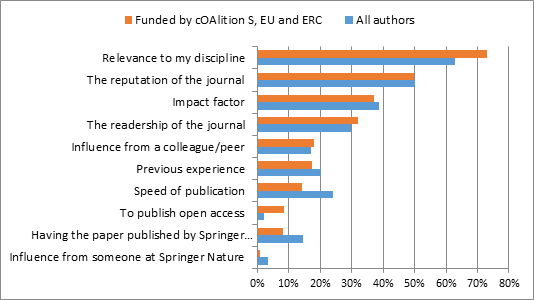 What Plan S is missing and our recommendations
This is why the first recommendation of our six, and the one from which the success of the others flow, focuses on the demand-side. It is what is missing from Plan S today and therefore we are:
Calling for stakeholders to work together and to undertake research in order to demonstrate the benefits of OA and the promotion of it so as to increase author and other funder take up.
Turning to the supply side, this is where our other five recommendations sit. We believe Plan S needs to:
Commit to make transformative deals, such as Publish and Read deals, as a key part of Plan S given their proven ability to drive growth in OA, and to remove its requirement for publishers to commit to 'flip' hybrid journals to OA in the near future;
Rethink more broadly its opposition to hybrid journals at a time when many academic disciplines and many geographic regions are not yet fully supportive of Gold OA;
Recognise that highly selective journals and those with significant levels of non-primary research content are in a different situation;
Remove its requirements for publisher's full public cost transparency, as it is not in line with antitrust norms, and its requirement for publishers to provide APC discounts for middle income countries such as China, which would be unfair, a huge burden on everyone else, and ultimately unsustainable, seeing as China is the largest generator of academic research and the second largest investor in R&D, resulting in Plan S funders "subsidising" authors from these countries at considerable additional cost given the article volumes from these countries; and
Support platforms providing early access to primary research.
Recommendations 2, 3, 5 and 6 are quite targeted so we can address the specific risks we see. Recommendation 4 seeks a rapid exploration of a combination of approaches so all publishers of these small in number but important journals can decide to test their preferred combinations individually and find out what is most effective for each of them and make some real progress in moving these high profile journals to a sustainable OA world.
A complete copy of our submission is available here.
Why do we believe that these recommendations should be adopted?
Springer Nature is an OA first mover. We have been doing more OA publishing, for longer, in more diverse ways than any other organisation in the world. We know the (multiple) challenges that need to be overcome, we have tried many approaches, not all have worked, but through continued commitment and investment we have found a range of approaches that together are already accelerating the growth of OA.
Our recommendations are supported with clear evidence and backed up by data. Our most mature transformative arrangements are delivering OA penetration rates of between 73 – 90%, and we would love to replicate these rates across the world. OA articles in hybrid journals are enjoying greater citations, greater downloads and greater impact. Existing mechanisms are working. Let's not abandon them or commit to abandon them without very good reasons.
We are not seeking to delay progress. We are not seeking to avoid change. Research and science is evidenced based. Our submission is evidenced based. We are hopeful that when presented with this evidence, backed up with 20 years of experience and market leading success, cOAlition S participants will consider it and adapt their approach.
We want to work with Plan S to help ensure that S is for Systematic, Sound and Sustainable i.e. real change based on sound logic that can be implemented across the ecosystem.